Talent has no limitations and no boundaries. The process of learning goes throughout the whole life of a person without any restriction of age limit and time. Anyone can get enlightened with the light of knowledge. The famous actor Malcolm Goodwin is also among the one who doesn't limit his interest within a sector. He is an actor by profession who is always eager to gain new ideas or portray a new and different character.
Career And Net Worth
Malcolm's love for acting began at 'Julia Richman Talent Unlimited Program' in New York City. Later, he got trained at SUNY Purchase College Acting Conservatory and got a bachelor's degree in Theatre Arts and Film. In an interview with Paste Magazine back in October 2015, Malcolm talked about the starting point of his acting career. He gushed,
In Julia Richman, the program was called the Talent Unlimited Program, this little, tiny program—but that's what started it. Years later, I finally heard myself and I was able to make the switch instantly. I thought I sounded the same way on stage, but apparently, I didn't. That's how I fell in love with theater.
He started his profession of acting in the year 1997 and is active until now. Some of his television works are 'Color Of Justice' (1997), ' Law and Order' (2003), ' Raising the Bar' (2009), and ' Detroit 1-8-7' (2010). Likewise, he has also appeared in 'Elementary' (2013), ' Bones' (2013), ' Blue Bloods' (2013), ' House of Cards' (2014), and 'iZombie' (2015 to present). 
Malcolm has also shown his acting skills on films like, 'Wake of Fallen Sun'(2005), ' The Architect'(2006), ' American Gangster'(2007), ' Leatherheads'(2008), 'Brief Interviews with Hideous Men' (2009), and 'Crazy on the Outside'(2010). The movies like 'The American Dream'(2011), 'Freelancers'( 2012), 'Run All Night'(2015), 'The Bigfoot Project'(2017), and 'Ring Ring'( 2017) are also on the list.
Well, Malcolm has not limited himself only in acting line but has shown his talent in other fields as well. He is also a director and producer of many short films, music videos, commercials, sketches and public service announcements. He is also much interested in the camera technology. 
There is no doubt that he has achieved a successful career while enjoying his work and profession. He currently runs his own film production company called 1st Team Entertainment in Los Angeles. Talking about his income, his net worth is assumed to be around $4 million.
Married Or Dating Someone?
It seems that Malcolm is successful in creating curiosity for his friends and followers by not leaving any hints of his love life. There is no any information about his past affairs also. It seems that he is in great love with his profession and gives priority to his career rather than his love life. Nevertheless, he has been sharing pictures with different gorgeous ladies which bemuses his relationship status.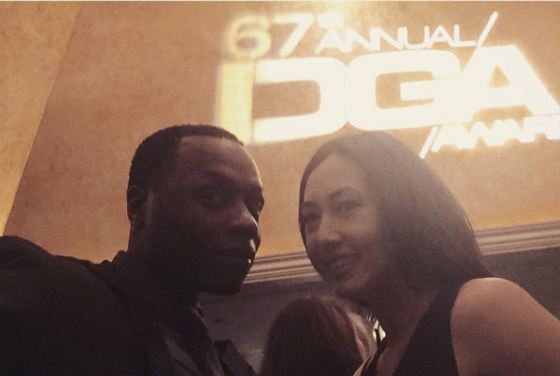 Malcolm's snap with a pretty lady (Photo: Instagram)
On the other hand, Malcolm might be secretly dating someone special and might be keeping their relationship low-key. One snap shared by Malcolm on Instagram might put some light in his relationship. However, it is not clear whether he is dating someone or still single. It seems that his fans should wait for his official announcement to know more about his love life.
Short Bio
Malcolm was born on December 22, 1982, in Toronto, Canada. Currently, he is of 35 years of age, and the birth sign is Capricorn as per wiki. His height is around 5 feet 8 inches tall and belongs to black ethnicity.