Marcel Young is the son of a well known legendary hip-hop artist, Dr.Dre and R&B singer, Michel'le Toussaint. He is known for his low key personal life miles away from the limelight. He often comes to limelight regarding his parent's history of the abusive relationship, which featured in the Lifetime's movie, Surviving Compton: Dre, Suge & Michel'le.
Marcel's Parents and Siblings: All About His Family LIfe
Marcel was born to hip-hop legend Dr. Dre and R&B singer Michel'le Toussaint. His Grammy winner dad is the chief architect of West Coast gangsta rap and co-owner of Death Row Records. He even sold his Beats By Dre headphones to Apple for $3 billion. Marcel's mother is an American R&B singer and songwriter and is known for her songs like No More Lies, Nicety and It Still Hurts.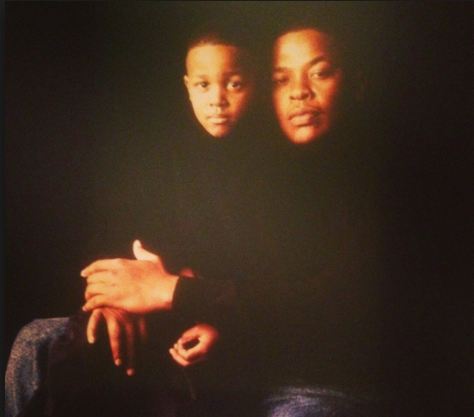 Young Marcel photographed with his dad Dr.Dre ( Photo: Instagram)
His parents started a relationship in 1987 after they worked together for in the World Class Wreckin' Cru. After his birth, their relationship turned sour and got separated in 1996. Marcel has good bonding with his family members even after their split. His mother, Michel'le shared a picture of him and his father Dr. Dre back in February 2015. She also thanked her fans for wanting to know about her son Marcel. 
Later in 1999, his mother tied the knot with the co-founder of Death Row Records, Suge Knight. They welcomed their daughter named Bailei on 28 November 2002. Well, her relationship with him lasted for eight long years, but after that, she got divorced with Suge Knight. She accused Suge of abusing her.
His father has been married to Nicole Young since May 1996. Marcel has siblings Truth and Truly from his stepmother, Nicole.
Except that he also has two older half-siblings named Curtis and Andre. His eldest brother, Curtis is pursuing a career to become a rapper with a stage name of Hood Surgeon. His brother, Andre Young died prematurely at the age of 20 due to the drug overdose in 2008.
Abusive Relation of His Parents; Features In Movie
Michel'le continued accusing publically that Dr. Dre was abusing her physically. She even claimed that he broke her nose and ribs. Back in March of 2015, in an interview with VladTV, she revealed that he even shot at her. She explained,
"We partied…and I guess I don't know what I always did. And I always say it couldn't have just been me. So one night we was arguing, he went and got the gun and I just made it through the bathroom door and he shot at me and missed me."
With this level of brutality and injury going ahead around, Michel'le found separation as the best option. However, the other side of the story is quite a contrast. Dr. Dre and his lawyer claimed that the whole abuse story is merely Michell's fake accusations to get to the spotlight for her movie Surviving Compton: Dre, Michel'le & Suge that aired on 15 October 2016. The truth about the incident can be proved only by Marcel's statements, but he was at a very tender age when the alleged incidents happened.
His parents' tumultuous relationship even featured in the Lifetime movie, Surviving Compton: Dre, Suge & Michel'le.
What Is Marcel's Net Worth?
The net worth value of the person who hasn't revealed anything about his career or any job is something difficult to obtain.
Apart from Marcel, the estimated net worth of his father, Dr.Dre is calculated to be around $830 million, which he summoned as an American rapper and actor. His mother has accumulated the net worth $500K as an American R&B singer.
Short Bio 
Born in 1991 in Los Angeles, California, Marcel celebrates his birthday every year on 6 of February. As per wiki, he holds an American nationality and belongs to African-American ethnicity. He has a star sign of Aquarius.