Hours after the Helsinki joint press conference of supremes of two powerhouse nations, President Donald Trump, and Vladimir Putin, FBI has arrested an alleged Russian agent for influencing American political organization under the direct order of Russia. This comes as a shocking news as President Donald Trump Jr. questioned American's intelligence agencies conclusion over Russian influence in America's Presidential election.
The subject of an FBI probe was Russian political activist and the founder of Right to Bear Arms, Maria Butina. The Russian lady, who also has a teaching degree, had stress during multiple visits from Russia and entered America through a student visa.
Arrested By FBI; Lawyer Defends Maria
Maria Butin, 29, following her alleged attempt to infiltrate American political organizations has been arrested by the Federal Bureau of Investigation (FBI) on 16 July 2018. The founder of All-Russian Public Organization had a gun in her holster and had linked to the National Rifle Association. She wore a custom puffy vest over a striped shirt and jeans gripping her black Russian-Viking pistol. The self-described Russian gun rights activist said that she hoped to have an unforgettable night and there would be adrenaline.
After the incident, the FBI reportedly seized Maria's laptop and iPhone along with the Twitter message that conveyed towards an unnamed Russian official. The alleged Russian agent resided in the United States under a student visa. According to the Justice Department's court filing, she established 'back channel lines of communication with U.S. politicians to advance the agenda of the Russian Federation' from early 2015 to February 2017.
The documents read Maria worked at the direction of a high-level Kremlin official and became a top official at the Russian Central Bank. In her official LinkedIn account, the woman who attended at least two Donald Trump campaigns states that she worked at Russian Central Bank as an unpaid special assistant to the Deputy Governor Alexander Torshin between January 2015 to May 2017.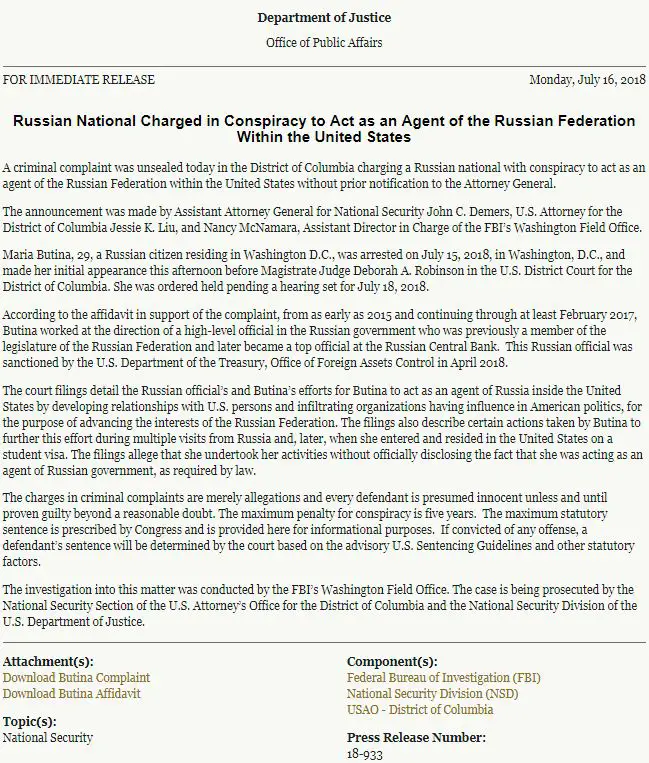 Justice Department releases the documents of court filings of the alleged Rusian agent, Maria Butina on 16 July 2018 (Photo: justice.gov)
In the report, the Justice Department added that she was acting as an agent of the Russian government and undertook her activities without confessing her status as required by the law. Justice Department released their document after several hours following the two presidents Donald Trump and Vladimir Putin joint summit in Helsinki, Finland.
However, her lawyer, Robert Neil Driscoll defended by saying that she is not an agent of the Russian Federation. Criminal Justice reporter Kelly Cohen shared the lengthy statement of Robert.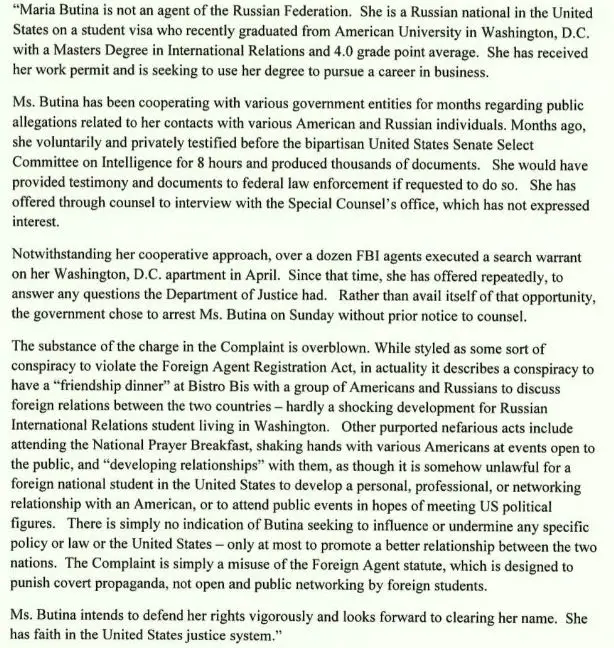 Robert's statement in infamous Maria's case; shared on 16 July 2018 (Photo: Kelly's Twitter)
In the statement, Maria'a attorney claimed that Maria has already testified in front of United States Senate Select Committee on Intelligence for 8 hours on the grounds of her connection with American and Russian officials. Her lawyer also clarified that she has a work permit and is seeking to use her degree to pursue a career in business.
Personal Life: Flew Airplane From Tallin To Riga; Enjoys Gym And Boxing
According to her social media post in June 2013, the Russian Central Bank special assistant knows how to fly an airplane. Her first-time experience was from Tallin, Capital of Estonia to Riga, Capital of Latvia. It approximately takes 50 minutes duration to fly from Tallin to Riga on an airplane.
During mid-2015's, she used to spend times at the gym and has described her gym time as 'an interesting feeling' since no one can interfere with her.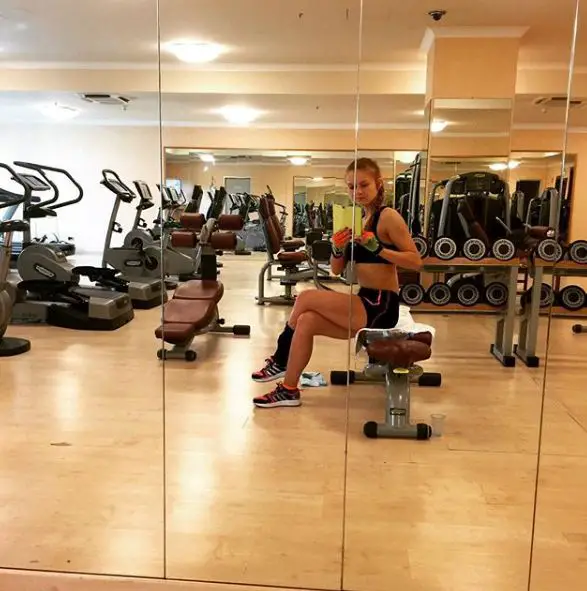 Maria Butina describes her gym time as an 'exciting feeling' in August 2015 (Photo: Instagram)
The founder of The Right to Bear Arms is also interested towards boxing. During 2015, she used to take lessons of boxing at the club Shift on Butyrskaya.
Family Life: Engineer Mother, Entrepreneur Father
Maria describes family is a real treasure on her social media account. In her family, she has an engineer mother and entrepreneur father who built their parental home in the suburbs of Barnaul, western banks of the Ob River in the Altai Krai region of Siberia, Russia.
She also has a sister who mostly likes to eat grill kebabs in their parent's house.
How Does Maria Butina Gather Net Worth?
Maria Butina has assembled her net worth as a political activist since 2006. According to simplyhired.com, a 'political activist' salary ranges between $35,881 to $136,880 and have average payrolls as $70,082. During her one year stint in Eco Standart, LLC, she gathered revenues as Public Relations Manager.
The alleged Russian agent then increased her fortunes by working with Rotary International, Altai Social Chamber, and The Russian Federal Council. She is also procuring some capital as a founder of All-Russian Public Organization The Right to Bear Arms since August 2012.
The Altu State graduate worked as a Public Relations Manager in Eco Standart, LLC at Barnaul, Russia during 2006 to 2007. As a founder and CEO of House and Home, LLC in 2010 she filled her post till 2013. In America, she served as a research assistant in American University- Kogod School of Business since October 2017. Throughout her political journey, she has lectured in a dozen countries over active conflict regions. The Barnaul native also used to be a small business owner while she was an undergraduate in Siberia, Russia.
Short Bio
Maria Butina was born as Mariia Butina on 10 November 1988 in Barnaul, Altai Krai, Russia.
She was at the age of 19 when she got elected to the Public Council of Altai Krai. The alleged Russian agent graduated from Altu State University where she studied political science. As per wiki, during seventh grade, Maria came in second place while running for school mayor.