Sometimes one's life is filled with thrills and off-the-hook moments that their life can be developed into the daunting story plot of the television series. Well, such similar personality is Maria Victoria Henao who had become the talk of the town when she decided to the break the barriers and got married to the Cocaine King Pablo Escobar. After getting together for some four decades ago, television series 'Narcos' now captures the life of Pablo and his wife, Maria.
Who is Maria Victoria Henao?
Maria Victoria Henao is known as the wife of the late Cocaine King, Pablo Escobar. The couple was married for seventeen years before Pablo was shot dead by the local police in 1993.
Maria was first introduced to her husband by her brother who worked with Pablo in drug dealing. As her brother was the primary business partner with Escobar, Maria had many opportunities to meet Pablo. They eventually fell in love and decided to get married. However, her family opposed to the decision because of the lower social status Pablo had.
Nevertheless, the opposition did not separate the lovers, and so they eloped and got married in 1976. When the duo got married, Pablo was 26 years old while Maria was just 15. Despite the happily married life, the drug lord was involved in extramarital affairs and had numerous mistresses. Henao was very well aware of it but denied to leave her husband, one of the reasons being the lavish life she had with Pablo.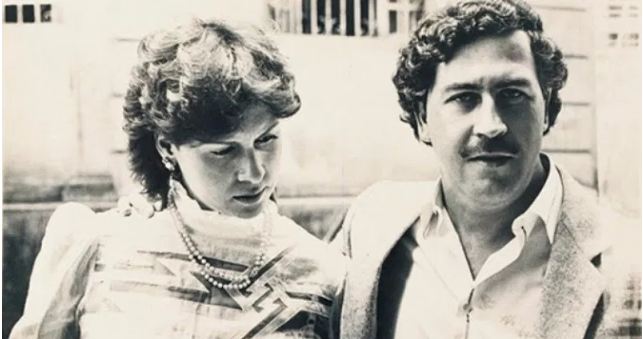 Caption: Infamous Drug Dealer Pablo and his wife, Maria Henao!
Source: Daily entertainment news 
Escobar and Henao's Children!
Soon after their marriage, the couple was blessed with their first child, Juan Pablo Escobar on 24 February 1977. Maria after ten years gave birth to her beautiful daughter, Manuela Escobar in 1984.
Juan is quite supportive of his parents and lives with his mother and grandmother. He is currently working as a lecturer and an architect. Juan has written a book entitled, "Pablo Escobar: My Father."
While Juan stuck by his family, Manuela severed all the family ties and is living a low-key life far from her family. She has never mentioned about her father in public.
Life as a widow of a Drug Mafia!
After the police shot Pablo in 1993, the investigators came to his house and seized all the assets leaving the family broke. Due to his nefarious deeds, his wife and children suffered and lived as a refugee in Columbia.
They regularly changed the name and their identity to be safe from the police. Maria changed her name to Maria Isabel Caballero while her son and daughter had their names changed to Sebastian Marroquin and Juana Manuela Marroquin Santos.
Later in 2000, Maria along with her son was arrested by the police for money laundering. However, after some time they were released because none of the allegations were proved to be right.
As of now, Maria is living a low profile life with her son and mother-in-law in Bueno Aires.
What is Maria Henao's Net Worth?
Maria Henao lived a very troubled life due to her husband's reputation. Most of her life she and her family had to live in shadows. Whenever she made it to headlines, it was only for the infamous deeds. This being the reason, nothing much about her career and job has been shared. And so, her net worth is unknown till date.
Even though Pablo harnessed his earning through an illegal business, he has a huge net worth of $30 billion.
Family and Short Bio of Maria Henao:
The birth name of Maria Henao is Maria Eugenia Victoria Henao Vallejo. She was born in 1961 in Palmira Valle del Cauca, Columbia and probably aged around 57. Maria who belongs to Latin American ethnicity was born to parents, Carlos Henao Vallejo and Leonor Zuleta. Maria is not the only child of her parents. She has two more siblings, Carlos Mario Henao Vallejo and Pastora Henao Bayen.