American Actress Marina Squerciati is mostly reckoned for her character of officer Kim Burgess in the 2014 TV procedural drama, Chicago P.D. She is the recipient of prestigious Agnes Moorehead Award for her role as Judy Holliday in the off-Broadway play, Just in Time: The Judy Holliday Story at the Lucille Lortel Theatre in 2010.
Married College Sweetheart; Welcomes A Baby Girl
The 34-year-old Chicago P.D's actress is reportedly married to her longtime college sweetheart, Eli Kay-Oliphant, who is also her baby daddy. The pair had been dating from their college days. However, Marina and her husband have kept the details of their matrimony, a low-key.
The pair, who enjoys an enthralling married life, welcomed their first child, a daughter in May 2017. The actress first announced the news of her pregnancy by sharing a picture of her on Instagram on 15 February 2017. In the caption, she revealed that it was hard for her to keep the news of her pregnancy a secret. Later, she shared another picture with her friend on 22 February 2017.
Marina first showed the glimpse of her baby daughter to her followers on her social media in May 2017, a few days after her arrival.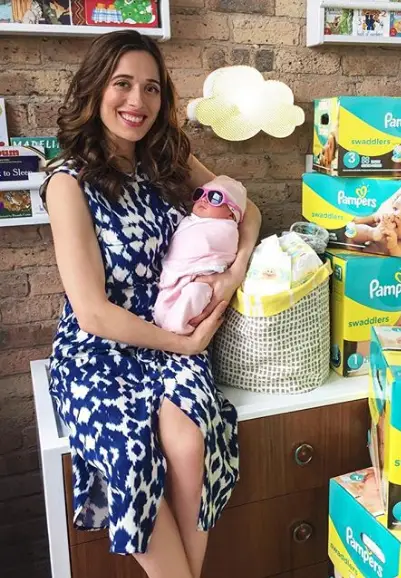 Marina Squerciate with her baby daughter on 9 May 2017 (Photo: Instagram)
In the picture, Marine had put on a sunglasses on her daughter's face. She welcomed her daughter as the newest female detective of her show, Chicago P.D.
Furthermore, Marine thanked all her close friends and family members who got pampers to her newly born in her office registry. Both the parents are enjoying their parenthood, and it's been a year that their daughter has grown up. However, the actual name of the baby is still hidden from her bio.
She also posted another picture of her daughter who recently turned a year old on her Instagram account on 18 May 2018. She described her baby as her peanut and thanked Stages Performing Arts for providing the best birthday musical party.
Don't Miss: Yammy Xox Bio: Boyfriend, Son, Baby Daddy, Age, Family
How Much Is Marina Aquecciati's Net Worth?
Marina has derived a majority of her net worth from her professional work since 1993. She elevated her earnings portraying the role of Hostess in 2014 American Thriller, A Walk Among the Tombstones. The cinema, which was made with a budget of $28 million, made a box office collection of $62.1 million.
The actress previously accumulated a remunerative paycheck from her 2009 box office hit, It's Complicated. She essayed the role of Melaine in the romantic comedy that was produced on a budget of $85 million. The film took the box office by the storm that accumulated a whopping $219.1 million.
The artist is also adding a colossal remuneration from acting in Television. She raised her earnings from the role of Alessandra Steele in TV teen drama, Gossip Girl in 2011 that previously starred actor, Connor Paolo.
Taking some time off her work, Marina recently took a much need vacation to Palermo, Italy and shared holiday pictures on Instagram on 25 June 2018.
Marina recently made big news when she announced that late financer, John R. Jakobson was her daddy. Her father demised due to pneumonia at the age of 86 back in 2017 and left a $100 million fortune for the family. She claimed that her father hadn't kept his words to give her a fair share of the property.
She unfolded her father's secret when she was not included in the beneficiary. John's former wives and their three children including actress Maggie Wheeler were part of the property division. Marina had also been blamed by John's family lawyers about her allegations as 'no basis in fact or law.'
Nevertheless, Marina will surely fight for her right and take the necessary legal action to fight for her justice.
Also Know About: Teasha Bivins Wiki: Age, Wedding, Pregnant, Baby, Parents, Net Worth
Short Bio
Marina Aquecciati was born on 30 April in 1984 in New York City, New York. She has completed her graduation in Bachelor of Science in theatre after attending Northwestern University. The actress stands tall at the height of 1.67 m (5' 6") and belongs to a white ethnic group. Her birth sign is Taurus.