We come across a lot of happy couples and envy their bonding, but little do we realize how far they must have gone to protect their relationship. Likewise, numerous audience adores the pair of Marissa Hermer and Matt Hermer, but merely few know that Hermer shifted to London from New York and embraced the British citizenship to stay intact with her spouse. 
Career and Net Worth: 
After completing her graduation, Marissa worked in London and New York to build a career in fashion and worked for many luxury brands like Nadine Johnson and Syndicate Media Group. She later launched a number of luxury restaurants and nightclubs brands for Ian Schrager.
She has used knowledge of public relation study to grow her family business, "The Ignite Group," an international food, beverage, and entertainment corporation with her husband in the United Kingdom.
She also appeared on the Bravo reality series 'Ladies of London' from 2014 to 2017. She summed up her learning from the show as "meeting some amazing women, developing lifelong friendships and learning a lot about myself."
Marissa published her book, 'An American Girl in London; 120 nourishing recipes for your family from a Californian Expat' in 2017. Besides that, her earnings from a diverse job have helped summon a hefty net worth of $20 million. Despite having a house in London, she and her husband bought a new home at Pacific Palisades area of Los Angeles to enjoy the half of the year in February 2017.
Her Beautiful Married Life with Husband!
During her stay in New York, Marissa reconnected with husband, Matt Hermer, a nightclub owner and restaurateur whom she first met in London. The couple then dated each other for a while and started thinking further where the differences in their country occurred as the nuisance. 
However, both the couple stayed intact and shifted to London in 2008, and after sometime tied to a marital bond in 2010. Following the marriage, the couple became proud parents of three adorable children, Max (2012), Jake (2014) and Sadie (2016).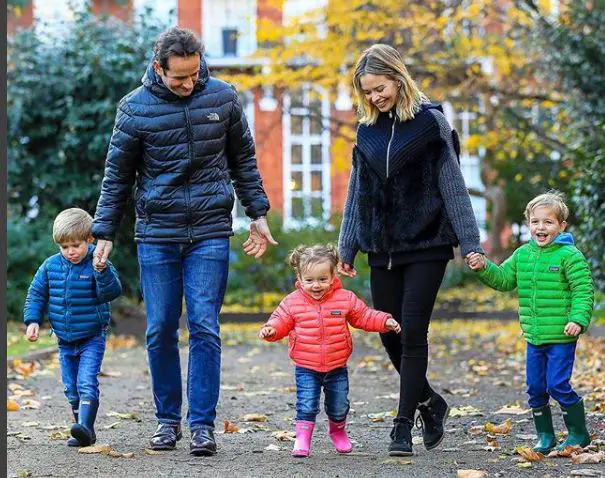 Caption: Marissa Hermer with her husband and adorable children.
Source: Instagram
As of now, she is fulfilling her parental responsibilities towards their children and is also looking after their family business 'The Ignite Group.'
When Did Marissa Become a British Citizen?
Marissa was an American by birth but she later moved to London with her British husband. Completing the criteria, she got her British Citizenship while she was filming for the series, 'Ladies of London.'  Marissa, who claims that home is wherever her family is, explains the moment as,
"Becoming a British citizen has been an emotional experience. I still kept my American citizenship and US passport, so thankfully I didn't need to give anything up- Yet. Still it was a very emotional milestone of my life- the end of one chapter and the beginning of another."
Short Bio and Wiki:
Marissa aged 36 celebrates her birthday on December 30. She was born in the year 1981 in California. Her birth sign is Capricorn, and her ethnicity is white. Marissa attended Middlebury College in Vermont and graduated in Public Relations. She stands tall at a decent height and has a maintained physique.