Mark Giangreco is a longtime sports anchor of ABC-affiliated WLS-Channel 7. He has been working with the station since 1994. For his broadcasting works, he has received five Emmys and the two Associated Press Awards along with several accolades in his name.
But, on the other hand, Mark's broadcasting career had also brought some controversies—he got suspended after tweeting irrelevant remarks on President Trump in 2017. He was even suspended for a week for his sarcastic comment over Detroits and Pistons game back in 2004.
Who Is Mark Giangreco's Wife? His Married Life
WLS-TV sports anchor Mark Giangreco was married to Chindi Giangreco. While in a marital relationship, he and his ex-wife Chindi had three beautiful kids.
Their first child, a son named Mark, was born in 1984. Likewise, the estranged couple had embraced two other sons Christopher and Matt, in the years 1986 and 1988, respectively.
Read This: Tanya Rad Wiki, Age, Dating, Relationship, Salary, Education
Despite their prosperous family bonding, Mark and Chindi couldn't stay amicable and separated in 2005.
As a part of their divorce settlement, they settled for their Tudor mansion in Wilmette. Within a year of their divorce, Chindi sold their five-bedroom house for $2.78 million. He and his former-spouse had bought the estate for $1.5 million back in 1995.
Dating Anyone Now?
After his married life came to an end, Mark was seen romancing his co-host Janet Davies during New Year's Eve in January 2016. He celebrated the 'Countdown Chicago' with a big lick on Janet's face.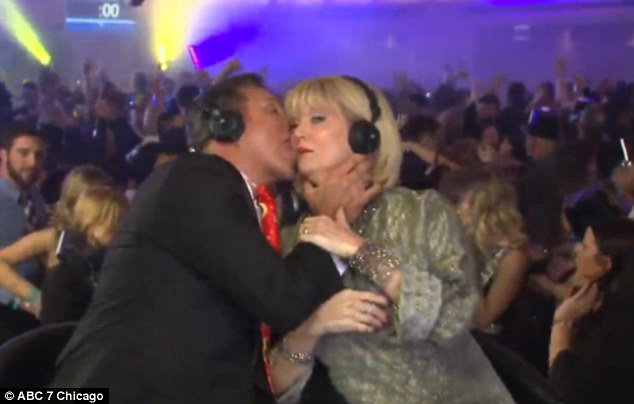 Mark Giangreco with his co-host Janet Davies (Photo: dailymail.co.uk)
For a while, their 2016 New Year stage moment became a subject of gossips. But in due time, it faded away— it was nothing new for the Chicagoans who were regular viewers of ABC.
Their fans have known them for a long time and believe that Mark and Janet are just close friends, who often show their flirty antics and enjoy each other company. As for his current relationship, Mark has preferred to remains silent and keep things close to his chest.
Salary/Retirement Plans?
The lead sports anchor Mark Giangreco signed a three years deal with ABC in October 2019, confirming that he doesn't have any retirement plans. While their settlement was undisclosed, Mark continues to become one of the highest-paid local sportscasters in America.
Before his new contract with ABC 7, Mark was reportedly receiving a million-dollar annual salary from the station.
Prior to ABC, he worked at WLKY-TV in Louisville from 1978 to 1982. He had even served as a weekend sports reporter of Dayton's based station WDTN-TV from 1976 to 1977. While in college, his broadcasting career started with WING-AM Radio in Dayton as a sports reporter.
Mark Giangreco's Bio, Age
A native of Buffalo, New York, Mark Giangreco was born on the 13th of May in 1952. The 67-years-old sports reporter currently resides in Chicago.
You Might Like: Ella Craig Wiki: Facts You Need to Know Daniel Craig's Actress Daughter
Mark received his education from the University of Dayton, where he graduated with a degree of Bachelor's in Communications in 1974. Besides that, his hobbies include drawing, hockey, and classic cars.