Marshmello is an electronic dance music producer known for his giant cartoon marshmallow mask. He has hidden his identity by wearing a giant mask and has been one of the mysterious figures with a huge fan following. His pseudonyms Dotcom and his white-clad bucket-headed marshmallow dress up is one of his stage characters.
How Much Is Marshmello's Net Worth?
According to Forbes, Marshmello has accumulated the net worth of $21 million as the American music producer and DJ between 2016 and 2017. As per Socialblade, his self-titled YouTube channel receives the estimated monthly earnings between $55.7K - $891.6K and his estimated yearly earnings ranges between $668.7K - $10.7M. Marshmello has received lucrative revenues from his YouTube channel since 2015 which helped to increase his net worth.
He first uploaded song called WaVeZ on Soundcloud in 2015. He continued to upload original mixes and gathered attraction towards various DJ's including Skrillex. In January 2016, he issued debut album called Joytime with the ten mallet melodies and smooth bass tracks. His album peaked #5 on the Top Dance/Electronic Albums chart in the U.S. His notable singles are Ritual; Moving On; Chasing Colors; and Silence.
Marshmellow released the song called Spotlight in collaboration with deceased rapper Lil Peep in January 2018. He also collaborated with various musical artists such as Slushii, Anne-Marie, Logic, Juicy J and James Arthur. Marshmello announced his sophomore album Joytime II on 18 May 2018 via his Twitter. His awaited album is set to be released on 22 June 2018.
Who Is Marshmello?
There were tons of speculations regarding Marshmello's identity. During the 2015 dance music scene at EDC Vegas, Dutch producer Tiësto also gimmicked Marshmello. He appeared in disguise and unmasked his helmet during the unexpected turn of events.
After the event in Vegas, people further began to gather curiosity how Marshmello looks Without Mask. His name began to link with the musical artist Dotcom a.k.a. Chris Comstock. During the interview with the American record producer Skrillex, Marshmello accidentally slipped his surname as 'Chris' before hanging up. Many people began to suspect his identity as Dotcom.
Further, on 8 July 2017, Indian actress Urvashi Rautela posted a picture of her alongside Chris, Moe Shalizi, and Maejor on her Facebook. She accidentally tagged their photo to Marshmello which hinted that Chris was the real face of Marshmello.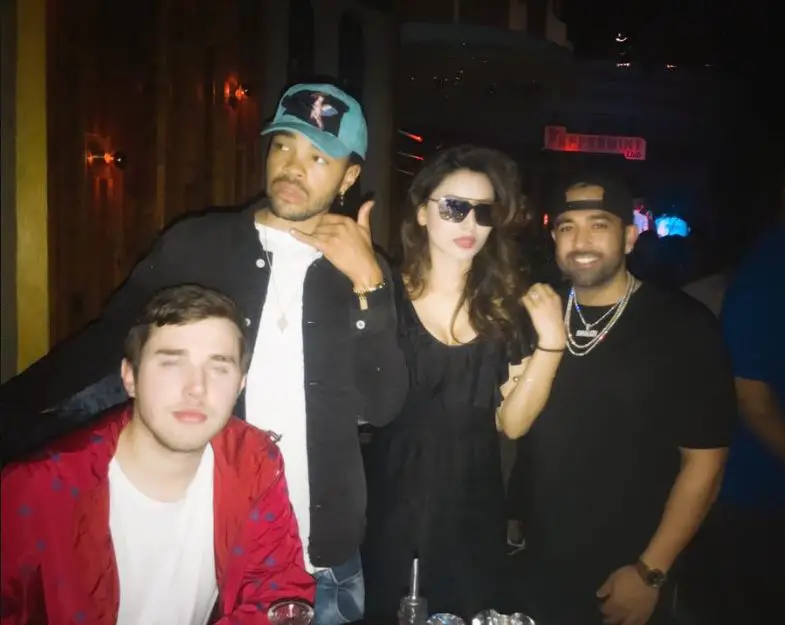 Indian actress Urvashi Rautela hinted Chris Comstock (red-shirt) as Marshmello via a picture posted on 8 July 2017 (Photo: Facebook)
While his initial identity was not confirmed, the speculations of him as Chris Comstock came true after Forbes confirmed the rumors in late 2017. Forbes disclosed Marshmello as Christopher Comstock, an American DJ, in November 2017 and declared Marshmello and Christopher were the same people.
Short Bio
Marshmello, whose real name is Chris Comstock, was born in 1992. The native of Philadelphia, Pennsylvania, Chris has his birthday on 19 May. He grew up in Pennsylvania's largest city in Philadelphia with his family. As per wiki, he wears a custom helmet to keep his identity secret on his public appearances.