Martin Von Haselberg in an Argentine-born actor who is best known as the other half of the British performance art/comedy duo 'The Kipper Kids. The other half of the duo consisted of Brian Routh whom Martin met in 1970 while studying at East 15 Acting School.
Martin, along with Routh, performed their shows around the world gaining more traction with every show they did. They made two TV projects, 'Mum's Magic Mulch' and 'K.O. Kippers'. Along with his work in Kipper Kids, Martin has also acted in several different films throughout the years, namely, 'Your Turn to Roll It #54,' 'Quiet Lives' and 'People Are No Damn Good.'
Who Is Martin Von's Wife? Any Children?
For over 30 years, Martin von Haselberg has been married to singer/songwriter and actress Bette Midler. The pair tied the knot on December 16, 1984, and have been going strong ever since despite some minor hurdles along the way. Their marriage of 30 years is the longest union in Hollywood.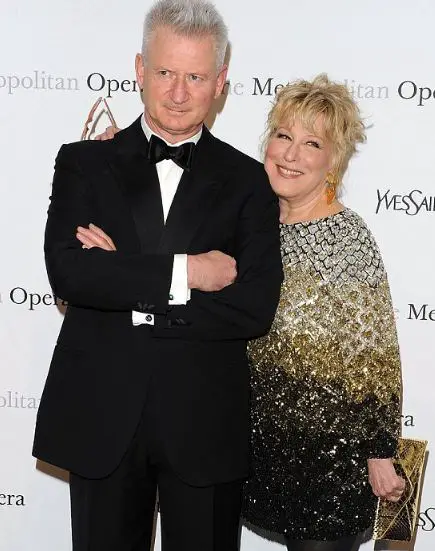 Martin von Haselberg poses for a photo with his wife Bette Midler (Photo: dailymail.co.uk)
Having been blessed with a wonderful married life, Martin's marriage to Bette also brought them a bundle of joy in the form of their only child, daughter Sophie Von Haselberg who was born two years after their marriage in 1986.
As of now, Sophie is an actress and a producer. In one of her interviews, Bette revealed that at one point in her marriage, she and her husband were at a point of ending their marriage. However, for the sake of their child, they stayed together, and that turned out to be a blessing in disguise.
Read More: Kayden Gaulden Wiki, Age, Mother, Facts
For Martin, his marriage with Bette is his second. Confirming with  Latimes magazine, he revealed it was his second marriage. He did not disclose any further information except for the fact he was on his second marriage and had hoped that it would be his last. It turns out; it was his last one!
Career, Job & Net Worth!
Martin Von Haselberg is a performance artist, and an actor, who came into the spotlight as being the part of the British performance art/comedy duo The Kipper Kids along with Brian Routh. The pair performed in different places from 1971 to 1975, making a name for themselves. Later Martin along with Routh starred as part of 'The Kipper Kids,' in the 1980 musical fantasy–comedy 'Forbidden Zone.' They also appeared in the 1989 comedy 'UHF.'
Along with that, Martin also starred in several different movies such as, 'Your Turn to Roll It #54,' 'Quiet Lives' and 'People Are No Damn Good.
As of now, Martin has also made quite a name for himself as a painter having made several different photographic images that have been turned into inflatable sculptural shapes which have been labeled as the "Flatulence."
And with all that, he has managed to accumulate a decent net worth to his name. As of 2019, Martin reportedly has an estimated net worth of about $20 million which is quite short in comparison to his wife's net worth, which stands at a staggering $230 million.
Bio: Age, Education
Martin Von Haselberg, whose birth name is Martin Rochus Sebastian von Haselberg, was born on the 20th of January 1949 in Buenos Aires, Argentina. The youngest of four sons to his parents, Martin is of German descent. He was raised in Germany and later in England. And at the age of 12, he left Germany.
Interesting: Cindy Hayden Wiki, Age, Husband, Net Worth
About his education, Martin did mention had changed his schools quite often. later, he reportedly attended the British drama school 'East 15 Acting School.' When it comes to his height, he stands at 5' 7".