Age is just a number for Marty Raney, who is notable for his daring and risky experiences in Alaska. 
Marty is a mountain climber with a record of making a first phone call from the top of Mount McKinley (Denali).
Also, he is a reality star and the host of his show, Homestead Rescue. His TV credit also includes Marty's appearance in National Geographic Channel's Ultimate Survival Alaska.
Personal Life: Wife And Children
Marty has been married to a woman named Mollee Roestel since 1974.
Know The Married Life Of Tom Oar: Mountain Men Star's Wiki, Age, Family, Net Worth
Together, the duo has four children: two daughters and two sons. Marty's first daughter, Melanee, was born after Marty and Mollee moved to a remote homestead in Haines, Alaska, which was surrounded by Alaskan brown bears.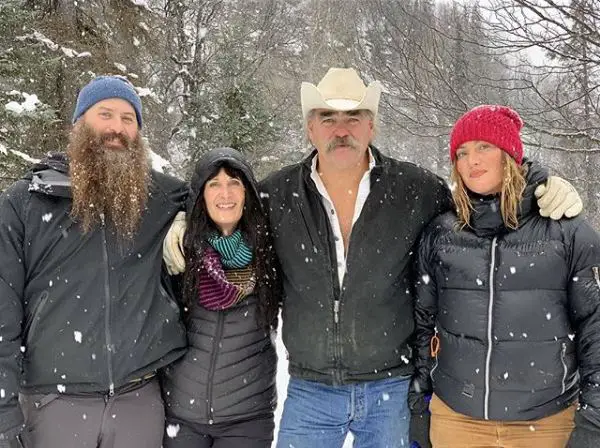 Marty Rayne and his wife Mollee Roestel with their daughter, Misty Bilodeau (first from left) and son, Matthew Rayne (first from right) on 12 November 2018 (Photo: Misty Bilodeau's Instagram)
During the time of Melanee's birth, Mollee's water broke in the middle, and there were no doctors and hospitals as well. As a result, it led to an emergency plane ride to Whitehorse, Yukon Territory.
Likewise, another son named Miles and a daughter called Misty were born in Sitka, Alaska. Marty's son, Miles, is regarded as the most traveled human to date. Until now, he has moved over 200,000 km on a mountain bike.
Later, the couple gave birth to their youngest child named Matthew in Anchorage.
Detail On Marty's Daughter Misty
Marty's youngest daughter, Misty, is an actress recognized for appearing in a show called Homestead Rescue in Discovery Channel.
Also, she is a farmer, homestead builder, and a carpenter. She has the talent to turn vegetables and meat into survival food to last the year. Plus, she can protect livestock from bears, mountain lions, and coyotes.
Also A Mountain Cimber: Mountain Men's Eustace Conway Married, Wife, Gay, Family, Net Worth
Misty is married to her husband named Maciah, who is a carpenter and a surfer. Together, they have built an 800 square foot cabin from the ground up in Hatcher Pass, Alaska.
Meet Matthew Ryne
Marty's daring son, Matt, is a reality star known for appearing in the show, Homestead Rescue.
Matthew, who grew up spending the Alaskan winter without direct sunlight, defines himself as a hunter, guide, and homestead builder. As the specialist hunter among his family members, he has encountered bears and wolves. He even ran naked with the Caribou once.
Back in 2015's summer, Matt alone brought over 1000 pounds of fish, Moose, Caribou, and Sheep- which helped the entire family throughout the Alaskan winter of that year. 
Wiki: Age, And Career
Marty was born in 1957 and was brought up off-grid in North Bend, Washington. He attended school but left at the age of 16.
Marty undertook a daring journey in the logging camps of Southeast Alaska in the year 1974. 
In 1986, he climbed Mount McKinley (Denali) for the first time with his wife and four children. And, he began guiding in 1988.
Another Mountaineer: Mountain Men Star Morgan Beasley Wiki, Age, Wife, Family, Net Worth
After being famous for climbing mountains, he appeared in films like the Spirit of Alaska, Surviving Denali, Han-Denali, Against All Odds (PBS), and McKinley: Grand Mountain of the Far North.
For the last few years, Marty has been appearing as a host in the Discovery Channel reality show Homestead Rescue, which is on air since 2016.
Facts About Marty Raney
He climbs the mountain with a guitar on his back. 
He has built a guitar-shaped like the state of Alaska.