Things related to celebrities always find a place in the global limelight even if they are not intended. When talking about partners, celebrities can't help but expose their partners to the media. Same is the case with Mary Austin, the long-term partner of late rockstar Freddie Mercury.
She never got officially married to Freddie, but stayed with him to the end of his days. The song Love of my life is dedicated to her.
Wiki- Age, Family 
Mary Austin was born on the 6th of March, 1951, and grew up in London, England. The 68-years-old woman is famous as Freddie Mercury's friend. Mary came from a middle-class family and struggled with economic issues in her teenage years.
Realizing her blemishes, Austin dropped her formal education at fifteen and started making a modest income with her job as a receptionist. Later, she began working at a boutique in fashionable London near Kensington.
Read More: Zara Larsson Wiki, Boyfriend, Dating and Net Worth
Not much is known about her parents, but sources reveal that her father did the work of a trimmer for Wallpaper specialists. As for her mother, she was the owner of a small domestic business. As confirmed, both her mom and dad were deaf and communicated via sign language and lip-reading.
Husband, Children?
Mary first came to know about British singer Freddie when she was 19. As it happens, the future superstar worked in a clothing stall near Mary's job venue. Her initial impression of the 24-year-old Mercury was skeptical as he seemed very confident, the complete opposite of her character.
Also, See: Aundrea Fimbres Wedding, Married, Husband, Pregnant, Net Worth
When the two started dating, Freddie had not reached his fame pinnacle yet. The two lived in a small apartment in Holland Road, and years later, Mary confirmed that it took her almost three years to fall in love with the guy. According to Mary, Freddy had proposed her casually with a ring at Christmas. On that particular X-mas of 1973, the gift he brought her had a jade ring. Mary accepted the marriage proposal at that time.
But, the marriage never did happen, and she speculated that it was high changing sexuality that had changed his mind.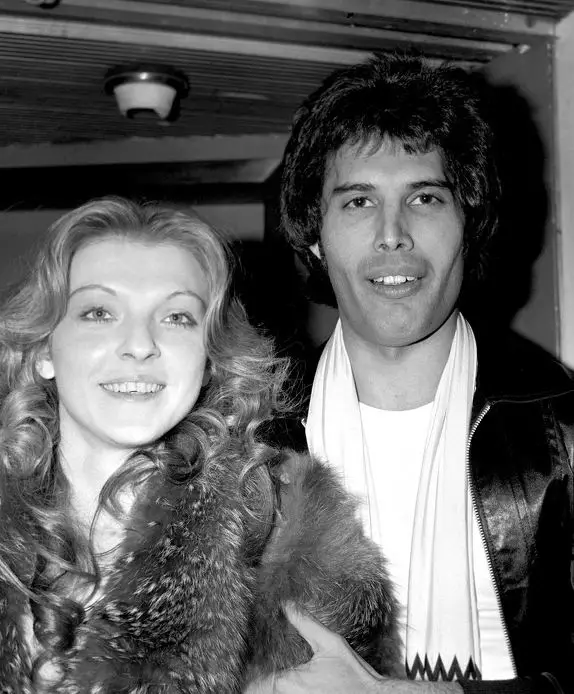 Mary Austin and Freddie Mercury back in the days(Photo: Brightside.me)
Nonetheless, Freddy always considered Mary his love. He used to refer her as his common-law wife and in a 1985 interview, stated that no one could ever replace her. After he started living with his boyfriend, Mary left. She got a £300,000 apartment from Freddy's company. Freddy and Mary dated for six years but remained friends to his death— Freddie passed away in 1991 due to complications from AIDS.
Mary never got officially married to Freddie, but she got married twice before and after her relationship with the singer. Her first husband was Piers Cameron, a painter by profession. The two remained in a relationship from 1988 to  1993. In the midst, the couple got blessed with two babies, and the children's names are Richard and Jamie.
Later, Mary got married to businessman Nick Holford in 1998. She parted ways with Nick after five years of marriage in 2002. Since then, she has never been reported to be in a relationship with any man.
Net Worth- Now
After the death of the love of her life, Austin struggled for a long time but finally found her inner turmoil as time passed by. She is still alive now and lives a peaceful life away from the public eye.
Never Miss: Jungkook Wiki, Bio, Girlfriend, Dating and Net Worth
Mary has an estimated net worth of about $115 million. Most of her wealth comes as the heir of Fredy Mercury. He left 50 percent of his wealth to his love as he passed away. Before leaving the world, Freddie had a real estate equivalent of $40 million and $13 million as liquid assets. The total comes around $50-60 million. After his death, Mary's share got increased to 75 percent of Freddy's wealth. She also got the Georgian palace in Kensington, where she lives to this day. 
Also, Mary got £40 million in royalties for the movie Bohemian Rhapsody as his former fiancée. She also has a foundation in Mercury's memory, called the Mercury Phoenix Trust.