Some people get famous with their great work while some achieve popularity with the dark sides of their life. Mary Kay Letourneau got famous with the later one, as a female pedophile, by making it to the sex offender list for the rest of her life.
Mary was an elementary school teacher who was declared guilty of second-degree child rape after her relationship with one of her thirteen-year-old students was revealed.
Mary's Past: How Mary And Vili Got Together?
During Mary's college life, she was dating her classmate Steve Letourneau and became pregnant. After a few years, She got married, dropped out of the college and moved to her husband's hometown, Alaska. They later moved to Seattle and got settled with three more kids making the family of six.
Read More: Robin Roberts Married, Husband, Partner, Gay, Cancer, Salary, Net Worth
In 1989, Mary was working as one of the respected teachers in Shorewood Elementary School, until her relationship with her 6-grade student, Vili Fualaau, flashed. Vili spent a lot of time with her and often visited her home. The secret of their relationship was revealed when Mary's then-husband saw the love letter to his wife by the kid, one of his relatives later reported it to the school's administration. She was then arrested and charged for the rape case. After the shock, her husband filed for a divorce and moved to Alsaka with his kids.
However, despite all the evidence and news about the relation of a teacher and a juvenile, Mary does not accept herself as a rapist. Instead, she says that the love between them started after Vili and she was taking classes in the same community college and is not guilty at all for the love that flourished between them.
When she was behind bars for the sexual assault, she was pregnant with Vili's child. She was bailed out of the jail and gave birth to Vili's daughter Audrey in May 1997. She was again sentenced to prison for six months and later after a lot of pleas; she was out of jail with a restriction to see Vili. 
But they were found violating the term and was arrested by the police from the parked car in Seattle. Again after the violation incident, she became pregnant with his second child. This led her to a longer prison sentence.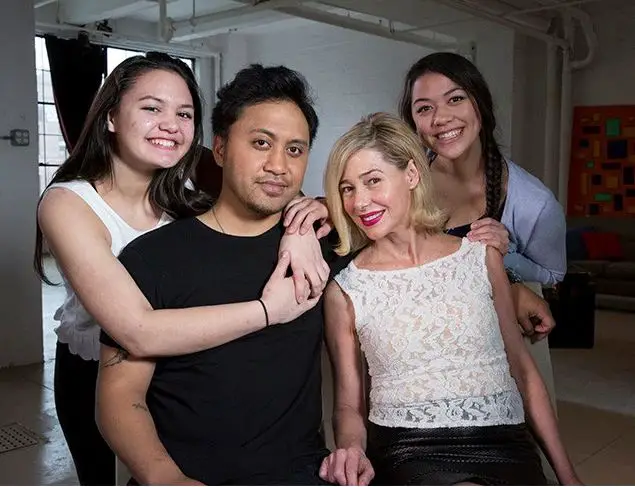 Mary with Vili and their two daughters (Photo: intouchweekly.com)
Vili had enough time on his own and could leave his past behind move forward with a younger girl. But he did not choose to do so, he was committed to Mary and waited until she was released from the bars to live a happy family life.
Also See: Robin Weigert Married, Husband, Lesbian, Dating, Net Worth
After 20 Years, Are Mary And Vili Still Together?
They lived a happy life with their daughters and celebrated 10th wedding anniversary in 2015. She revealed the details of their relationship and about their daughters after ten years of their wedding. Having been each other's support for more than 20 years now, are the two still together? The answer is no they have technically separated now though they do not have any hard feeling for each other. They have moved different paths because Vili started a weed business and did not want to involve his family in the matter. 
But the couple got back together in November 2018 after a year they filed for a legal separation in 2017 and were discovered around the Seattle area. Some wiki sources stated that "they'd been together and had now reconciled after working through a lot of issues." His wife, Mary accompanied Vili, who is a DJ by profession and the couple hosted "Hot for Teacher" night at a Seattle bar. 
But their relationship could not last more than three months. The couple, who relished the controversial relationship filed documents for a private separation arbitration with King County Superior Court in Feb. 2019. Mary was discovered having sexual intercourse with her sixth-grade student, Vili in the late 90s. They had reconciled after she was released from prison in 2005. 
The couple's daughter spoke about their parent's scandal which surfaced over one and a half decade ago. One of her daughters, Audrey stated that the stories of their parents are not brought to her attention and she is adopted on the situation as she grew up with such circumstances where people used to be surprised with Vili and Mary's scandal. 
How Much Is Mary's Net Worth?
The former teacher has summoned the net worth of $400 thousand. She garnered a small amount as a teacher, but her dramatic story caught attention, adding the fortune in her life, and was featured in the 2000 TV movie All-American Girl: The Mary Kay Letourneau Story. In May 2018, she relived her story in the A&E biography special "Mary Kay Letourneau: Autobiography."
May Relate To: Lilit Avagyan Wiki, Net Worth, Ethnicity, Family, Age, Height
Short Bio
The California native was born on 30 January 1962 as Mary Katherine Schmitz, as per wiki. She was born to a professor father John Schmitz and Roman Catholic mother, Mary Schmitz.