After the successful serialization of the acclaimed manga and anime series Naruto and Naruto Shippuden, Japanese manga sensei Masashi Kishimoto worked on his big project, Boruto: Naruto Next Generations. When the Okayama native inaugurated the story of a new generation of ninja in Boruto, he also opened a lot of things about his personal life that relates to the anime adaptation.
Masashi joins the millionaire rank alongside the likes of famous Japanese mangaka artists such as Eiichiro Oda, Akira Toriyama, and Tite Kubo. He submitted his first manga Karakuri to Shueisha in 1995 and got debuted in Weekly Shonen Jump in December 1997.
How Much Is Masashi Kishimoto's Net Worth?
Masashi, 43, is one of the renowned Japanese manga artists who savors the hefty net worth of $20 million. He gathered some fruitful amount of fortunes from his Shonen manga series Naruto, which got serialized between 1999 to 2014 with an approximate sales of 235 million worldwide.
His 2014 movie The Last: Naruto the Movie earned $4.35 million during its first weekend and grossed over $11.2 million in its third weekend. After Aniplex released the DVD in Japan, the movie sold 34,687 copies making it one of the best-selling DVDs throughout 2016.
Don't Miss: Paige Wyatt Wiki: Boyfriend, Engaged, Net Worth, Now
Masashi worked on his masterpiece Naruto in 1999, which soon claimed him to fame. Currently, he is working on Naruto franchise Boruto: Naruto Next Generations, which adapted an anime serialization on 5 April 2017 in Japan.
Went On Honeymoon With Wife After Completing 'Naruto'
Masashi relates his married life and his personal experience to the script of his movie The Last- Naruto the Movie. In an interview with artist Rina Ikoma in December 2014, the famous mangaka revealed that the romance between the protagonist Uzumaki Naruto and Team 8 Konoha member Hyuuga Hinata implies his personal experiences.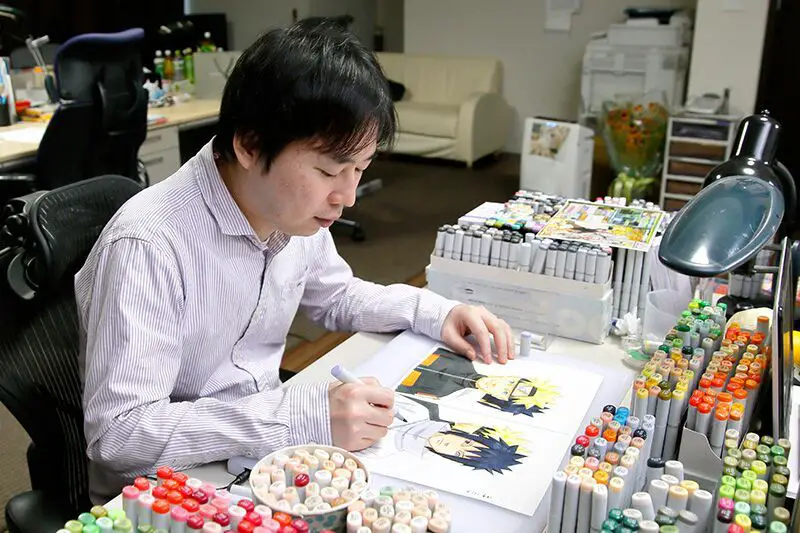 Masashi Kishimoto drawing 'Naruto' character, Uzumaki Naruto and Uchiha Sasuke (Photo: reddit.com)
His wife knitted a scarf for him, and that gave the idea to Masashi to do the same to Naruto with Hinata. When he went to the production team with the plot, they mocked him by stating that 'weaving a scarf for the boy is inconvenient' but they became surprised after he told the story of his wife.
The scene of Hinata knitting the scarf and Naruto accepting it in the movie became the best moment for both Naruto and Masashi's wife.
See Also: Brendan Penny Bio, Age, Birthday, Married, Wife, Gay, Family, Net Worth
Throughout the last decade, the manga sensei remained focused on Naruto and Naruto Shippuden which did not even gave him a chance of rarest vacation. Although the Kyushu Sangyo University graduate married his wife during 1990's, he got a big break after the serialization of the manga of Naruto completed in 2015. Even though his son was grown-up, Masashi went on honeymoon with his wife. The manga artist compares his son's age with Boruto, Naruto's son.
Short Bio
Born on 8 November 1974, Masashi Kishimoto is a native of Okayama, Japan. As a child, the manga artist watched fellow Akira Toriyama's Dragon Ball Z with his twin brother Seishi Kishimoto. At the age of 21, Kishimoto received an award for his first manga publication, Karakuri.
While creating the acclaimed manga Naruto, Kishimoto analyzed various religions and cultures of the world such as Islam, Hinduism, Christianity, Buddhism and got his idea of Hokage Monument of Konoha from the landscapes of Mount Rushmore of Northern America. 
Initially, the Kyushu Sangyo University graduate surrounded the mystery regarding Naruto's parents but ultimately foreshadowed them to be the Fourth Hokage Namikaze Minato and his wife, Uzumaki Kushina.