People get famous either for their contributions or their talent. However, some people enjoy the limelight due to their association with an already established partner. Matthew Kirschenheiter is the one, who garnered the curiosity of thousands as an ex-husband of star Gina Kirschenheiter.
Making his way from a finance worker to a Reality Star household, Matt gained peoples' interest when he ended his long-lasting relationship with his partner. His degrading family structure and journey to the stardom is the entire article journey for people who wish to take a closer peek at their beloved reality star.
Girlfriend- Married?
Sometimes good things slump apart so better things can fall together. But in the case of Matthew, the saying worked conversely. After the divorce with wife Gina, the life of Matthew didn't go better.
He got married to Reality Star Gina Kirschenheiter on the 15th of May, 2010. Together, they share three kids, Nicholas, Sienna, and Luca, with ages seven, five, and four years, respectively. But, the relationship couldn't work, and with misunderstandings, Matthew split from his wife on the 30th of March 2018. Later, they filed for divorce on the 2nd of April of 2018.
Before the divorce, the couple showed some signs of reunion in June, but their marital problems escalated when Matt got arrested for domestic violence on June 22 of 2019. They will remain legally married until December of 2019 under court orders.
Never Miss: Jef Holm Wiki, Bio, Age, Girlfriend, Dating and Net Worth
The whole police situation granted a restraining order against Matthew to Gina. She got the physical custody of the kids, but the former couple would co-parent their kids. 
Before the split, Matt used to work and live in LA, whereas the rest of the family lived in Orange County. The distance caused due to his professional blemishes. And also, it is considered as one of the contributing factors for the divorce.
After Divorce
After the eight years couple split up, Matt is to pay almost $10,000 every month to the mother as per the court orders. To be exact, the total of $9,627 is to be split $4,500 for child support and $5,127 for spousal support. The news came to light somewhere in August of 2019.
Matt protested against the order revealing his ex-wife's income via the Reality Show The Real Housewives of Orange County. The number totaled $63,000, which far exceeded Matt's income. He added that he was jobless and couldn't afford the payment.
Also, See: Zach Nichols Married, Wife, Girlfriend, Dating and Real World
Another shocking news surfaced the media when Gina revealed that her husband had been cheating on her years before their divorce. However, Matt has yet to confirm the allegations.
In September of 2019, Gina showed the world she moved on by posting her couple photos with a new man.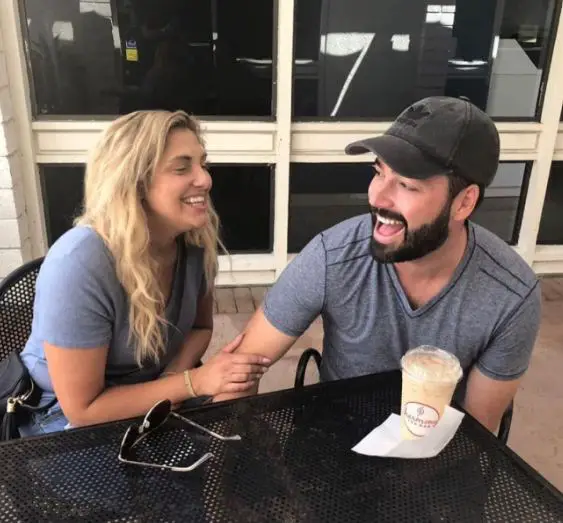 Gina Kirschenheiter with her new boyfriend Travis(Photo: usmagazine.com) 
The guy is Travis Mullen. Travis is a divorcee himself and has fathered kids with his previous partner.
More About Gina
His ex-spouse Gina Kirschentheiter, who celebrates her birthday on the 11th of March every year, is prominently known as a cast member of The Real Housewives of Orange County in its thirteenth season. It aired on 2018, and the star had to move from NY to Long Island to participate.
Kirschentheiter is also a graduate of Hofstra University and holds a degree in Psychology. Her professional contribution includes her job as a flight attendant for North American Airlines.
Bio (Age)- Job & Net Worth 
Matthew received his Bachelor's degree in Business Administration and Finance from Hofstra University. He was a student of psychology. This educational choice led him to his career as a financial planner later on.
Also, Explore: Lo Bosworth Wiki, Age, Engaged, Married, Husband, Boyfriend, Dating, Net Worth
Although not confirmed, sources reveal that Matthew has worked at Merrill Lynch from June 2006 to December of 2007. Moving on, he started his next vocation as the Vice President, Regional Manager at PIMCO Investments located in Newport Beach. He has been a part of the organization since February of 2011. But his work timeline is unclear.
As it seems, Matt has a low-key social media profile, which makes retrieving information quite tricky. Bits of deets about the come from his former wife's Instagram.
When Matt got ordered for the monthly payment for his wife and child support, the amount was based on Matt's yearly finance-related job and earnings of $421,000. After the split, Matt parted ways with his personal belongings and a 2015 Lexus.
On the other hand, his ex-wife holds an estimated net worth of $1 million.