Maximilian Dood is a YouTube star and has focused on fighting games like DragonBall FighterZ, Street Fighter, and Mortal Combat. He opened his game channel, Maximilian Dood at the age of 24. His channel has gathered more than 41 millions video views from four thousand videos. The YouTube star is also active on Twitch and has garnered more than 500,000 followers.
How Did Maximilian Dood Gather His Net Worth?
Maximilian Dood has accumulated his net worth from career as the YouTube star since 2007. According to Socialblade, his YouTube channel, Maximilian Dood falls in B grade category. His estimated monthly earnings range from $1.5K - $24.5K whereas his yearly payrolls range from $18.4K - $294.1K. Maximilian is receiving some great fortunes from his social media accounts through which his net worth has increased.
Likewise, he is also generating incomes from his second channel YoVideogames. As per Socialblade, his second YouTube channel has estimated monthly earnings of $238 to $3.8K. His channel YoVideogames also falls in B category and generates estimated yearly revenues from $2.9K to $45.7K. Maximilian who formed YoVideogames on 24 November 2011 has accumulated 115,839 subscribers.
Maximilian's Married Life; Wife Plays Video-Games
Maximilian Dood is married to Jessica. In the YouTube video, he posted on 24 February 2013; he revealed the history of his married life. 
The YouTube star said he met his wife, Jessica at his workplace in the electronic boutique. After the duo set their sights, Jessica often visited his workplace and often talked about games with him. She was interested towards his artworks of video game characters which he hanged on the store. They eventually got to know each other, but they didn't commence dating right away.
Maximilian, occupied with his college studies and his workplace as a full-time worker, was also playing competitive games. It was the busiest time in his life, but he eventually decided to choose love over career. After brewing great friendship, Maximilian and Jessica started dating.
Maximilian and Jessica share the common interest towards video games. His spouse also played the Bandai game Ni No Kuni with Maximilian. When the video game trailer Ori and the Will of the Wisps emerged, he posted a photo with Jessica on 11 June 2017 where he captured the reaction of his wife.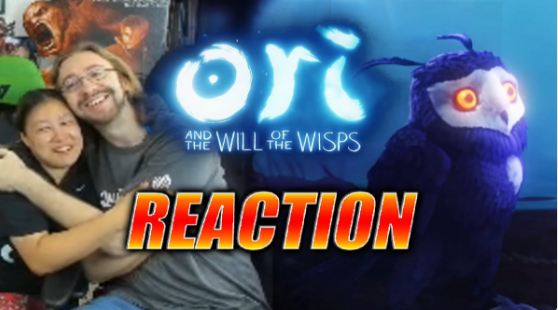 Maximilian Dood and his better half, Jessica posted on 11 June 2017 (Photo: Twitter)
Maximilian who is passionate towards video games did not have to give up his affection for gaming. At the time of his marriage, the gaming nerd was in the MMORPG game Final Fantasy XI. But he did not let the game affect his relationship with Jessica as he was enjoying times with games as well as his wife.
Short Bio
Maximilian Dood, whose real name is Maximilian Christiansen, was born in 1983. The YouTube star is a native of Los Angeles California and celebrates his birthday on 23 September. Maximilian stands at a tall height with the ectomorph body structure. According to the wiki, he has a sister named Tess as his family member. Maximilian shares a great relationship with her mother and posted a picture on Twitter having Mother's Day dinner with his mom on 8 May 2015.