It is normal for the children of the Hollywood couple to follow the footstep of their parents. American actress Mayan Lopez also endorsed the same routine and appeared in the TV series of her father titled, George Lopez.
Mayan played the role of the Translator in the Netflix movie Handsome. On her father's show, she portrayed the character of Jackie. The American actress has also made a cameo appearance on the TV series Celebrity Family Feud.
Family Life: Parents Had Divorce
Mayan was born to her parents, George Lopez and Ann Serrano Lopez. Her mother Ann, 57, is a film producer and has the hometown on Hartford, Connecticut. She became the executive producer for TV shows like The Wonderful World of Disney and Kiki Melendez' Hot Tamales Live. While George's health deteriorated due to a genetic condition, Ann donated him one of her kidneys in a transplant operation in April 2005.
Her father, George, 57, is an American actor and comedian, known for his movies like Outta Time; Rio 2; and Gnome Alone. The Mission Hills, Los Angeles native actor also has a successful stand-up comedy career and has become one of the few Latinos to shine in comedy TV shows. The San Fernando High School graduate has also hosted Latin Grammy Awards for two times and co-hosted the Emmy Awards.
Mayan's parents married each other on 18 September 1993. However, the duo separated from each other, and they filed for divorce in November 2010. After a heated court battle, the estranged pair settled their divorce on 1 June 2011.
Close Relationship With Her Estranged Parents
The American actress shares a strong bond with her parents. Recently, on 3 January 2018, she attended a basketball game between the Los Angeles Lakers and the Oklahoma City Thunder in Los Angeles with her father George.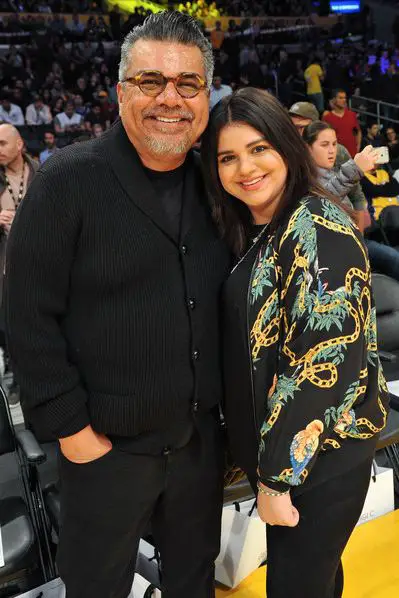 Mayan Lopez attends a basketball game with her father George Lopez on 3 January 2018 in Los Angeles (Photo: zimbio.com)
She also hints about her relationship with her parents on Instagram. The San Fernando native shared a photo with her mother on 13 May 2018 and wished Ann 'Happy Mother's Day.' Further, on 17 June 2018, the Celebrity Family Feud star uplaoded a childhood photo with George and wished him Happy Father's Day. 
How Does Mayan Lopez Gather Net Worth?
Mayan Lopez, 25, has gathered her net worth as an American actress since 2007. Her stint in TV shows like George Lopez and Celebrity Family Feud served to garner her some decent amount of revenues. She has also added fortunes from the movies like Mr. Troop Mom and Handsome: A Netflix Mystery Movie.
Her American actor father, George Lopez has accumulated the net worth of $45 million. He gathered a salary of $12 million during his five years time in the standup comedy show, George Lopez Show. He also collects $8.5 million a year from his stand up comedy shows. Once, the American actor had worth over $50 million but lost his half of the money in the divorce.
Mayan was at the age of 11 when she debuted in her father's show, George Lopez with the role of Jackie. In 2009, she appeared in the movie Mr. Troop Mom and portrayed the character of Yvette. She also emerged in the 2017 Netflix movie, Handsome as the Translator. In the same year, the actress appeared on the TV series, Celebrity Family Feud. Her film, 'Kill Her! Mata La!' is in the pre-production phase. In the Qwest Films Network production movie, she is now operating the role of Selia. 
Dating Life With Photographer Boyfriend
The American actress is dating a guy, who goes by the name of 'theworldofsterling' on Instagram. The couple has shared numerous pictures of each other on Instagram. Mayan shared a snap with her photographer boyfriend on 7 July 2018 and captioned the image as 'Happy kiss day my fur baby.'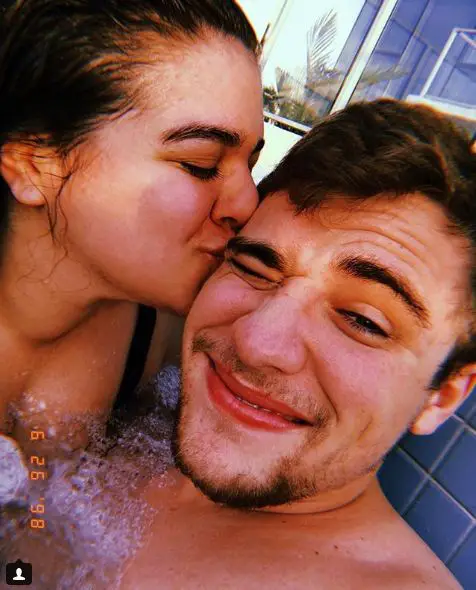 Mayan Lopez and her photographer boyfriend in an image posted on 7 July 2018 (Photo: Instagram)
Her boyfriend hails from Chicago and is a photographer. The duo started dating each other in May 2017, and since then, the pair is together. 
Short Bio
Mayan Lopez was born in 1996 and celebrates her birthday on 2 April. She has her hometown on San Fernando, California.
The TV actress was at the age of 13 when she joined the film Mr. Troop Mom alongside her father, Goerge Lopez and cast member Laine MacNeil. As per wiki, her parents wrote the Season Two episode of A Kiss is Just a Kiss on the TV series, George Lopez.