American television Mel Robbins is best acknowledged for her work news reporting work at the CNN News Broadcast. She has a media company named The Confidence Project, Inc., which gives personal development pieces of training and online courses for the global student and corporate partners. Mel is also the recipient of the 2014 Gracie Awards for Outstanding Host-News/Non-fiction for News 96.5 (WDBO).
How Did Mel And Her Husband Meet? All About Their Wedding Details
Mel Robbins and her husband, Chris Robbins, who is the Managing Director at The Confidence Project Inc., first met while attending a black-tie party at the Puck Building in 1994. The couple loves outdoor sports and were smitten with knowing each other's similarities at their very first getting together.
The couple exchanged numbers after having a conversation for ten minutes and promised to go for a morning walk, the next day. Mel often mentions that she knew Chris would be her future husband.
The pair got engaged in 1995 and shared wedding vows on 24 August 1996. The wedding was held at bride's family house on Bear Lake in North Muskegon, Michigan, and was performed by Pastor Glenn Wagner. All the close friends and family members gathered for dinner in a tent under the evergreens by the lake.
The couple chose Montana for their honeymoon and went fishing since both the bride and groom adore outdoor funs. The duo left their Manhattan house, a year after their wedding and now resides in their new home in Sherborn, Massachusetts.
Blessed With Three Children, Talks About Open Marriage
The lovebirds are blessed with three children and welcomed their first child, a daughter named Sawyer Laurel in March 1999. They also have another daughter Kendall and a son named Oakley.
Being an active user of the social media, Mel often posts family pictures. Back on 18 June 2017, she shared a photo of her family and described her husband as the foundation of love and strength of which her family is built. She also wished Chris with a Father's Day greetings.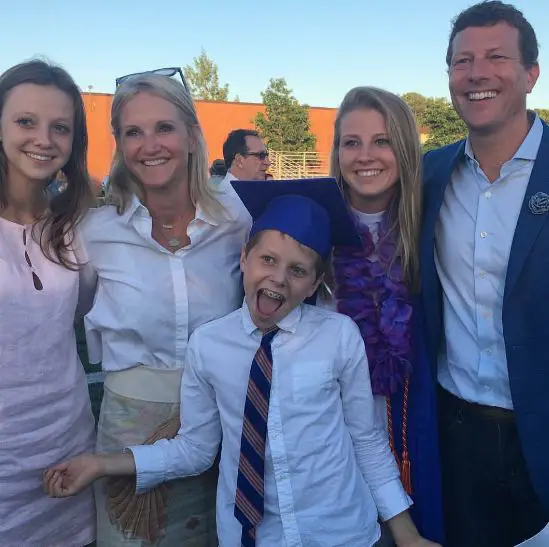 Mel Robbins with her family on 18 June 2017 (Photo: Twitter)
The media person wrote an article titled "What's inside an open marriage?" on CNN on 9 June 2015, in which she revealed that she discussed "open marriage" with her husband. Mel, who believes that having a physical contact has nothing to do with open marriage, said its a personal choice at the end of a day whether a person decides to sleep with opposite sex outside their marriage or is living with one partner for the rest of their life. 
The couple did consider an open marriage as an honest, open-minded medium to live a committed relationship. But the TV host later realized that you are not only having an intimate relationship with outsider but also inviting them into their whole life. She also revealed that idea of having an outsider having access to her life and family scared her and her husband. In the end, she concluded that their marriage remains closed in spite of Sunday New York Times magazine's cover "The Virtues of Infidelity's claims that cheating strengthens marriage.
Mel's Family: Talks About Father's Surgery
Mel on her Twitter Post on 16 December 2015 has talked about the completion of her dad's brain surgery. Her father was taken to UMich Neurosurgery to complete the treatment and Mel shared the happiness of her father's recovering phase and his return to home.
In the tweet, she also wrote that she was enjoying her time watching the film, Magic Mike XXL while her mother is enjoying Margarita.
Short Bio
The American reporter was born as Melanie Robbins on 6 October 1968 and raised in North Muskegon, the Michigan States as per wiki. Her sign is Libra.
The CNN Reporter attended Dartmouth College in1986 and graduated studying history, film, and women studies in 1990. After that, she went to Boston College Law School in 1994 and completed her law degree in the year 1994.