Limiting Meredith Vieira's reputation to just a popular media personality would be an injustice towards her career. Since the mid-1970s, she has made her strong presence in the news industry, being associated with the most reputed shows in the television history, covering politics, daily issues, crimes, celebrities, and more.
Married / Husband / Richard Cohen
Meredith and her husband, Richard Cohen, share the same profession as a journalist, as a result, both are likely to have a mutual understanding relating to their works, including their daily-life issues. Maybe thats the secret the couple are still going strong despite Richard's struggle with multiple sclerosis since the age of 25. The condition has taken a toll in his eyesight, making him completely blind.  
But their successful relationship cannot be only attributed to them sharing the same profession. The pair have been a successful couple more because of love and commitment towards each other. 
Moreso, Meredith's devotion to Cohen can be linked to his success in his professional life (When he was in CBS, he won Emmy thrice). She got married to him despite his condition and has stood beside him in ups and downs of life. Similarly, it's not hard to guess that he has similar feelings for her. 
Of course, they sometimes reach a point when they want to give up, but their allegiance towards one another pulls them back to hope. Along the journey, Cohen has also understood that Meredith has done a lot for him, and he needs to grasp her emotional needs at times.
Here's Another: Rebecca Romney, Husband, Net Worth, Family
Now, the couple are hopeful that modern development in stem cells can assist them in fighting his condition. After chairing the opening paneling in the Vatican about stem cells therapy for autoimmune disease in 2012, Richard enthusiasm to fight against his sclerosis was revitalized. He began to tune in his journalistic experience in search of what he calls 'hope' or his fight against the disease. He began to interview the expertise ranging from scholars, doctors scientists, religious leaders, and other patients in search of light in his life. 
In 2018, his book, Chasing Hope: A Patient's Deep Dive into Stem Cells, Faith, and the Future, was published and the world got to know the intricate details of Richard's struggle with his deteriorating health. In the book, it was revealed that not only sclerosis but he had also fought other life-threatening conditions in the past - he has recovered from colon cancer twice and a severe blood clot in his lungs once.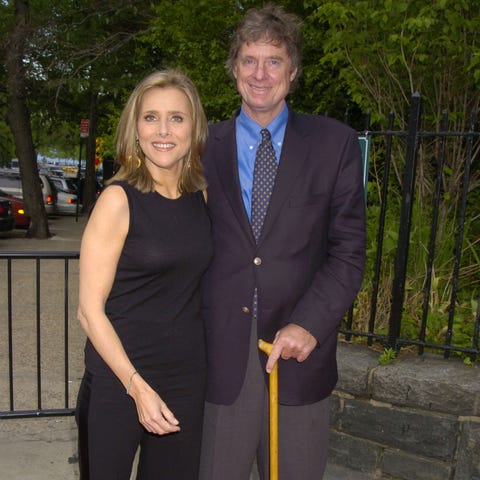 Husband & Sclerosis: Emmy winning journalist Meredith Vieira with her journalist and author husband, Richard Cohen, who at present is legally blind (Photo: Goodhousekeeping.com)
Meredith and Richard had tied the knot in 1986 after three years of knowing eachother. The pair have three children together. The went through 3 painful miscarriage before the birth of their middle son Gabe, who now works a reporter for KOMO-TV in Washington. 
At present, Meredith and Richard reside in Irvington, Westchester Country, New York.
How She Maintained Balance Between Job and Family?
Along with being successful in her career, Meredith has had hectic periods in her life. Her job as a reporter took her to many different parts of the world and kept her away from her family on many occasions. However, none of her busy schedules and professional obligations could crumble her family. Instead, she turned down opportunities in her career when her children were young or at the times her husband suffered severely from his condition.
Meredith Vieira's Net Worth and Salary 
She can be counted as one of the most successful names in the history of journalism. She has been active on television since 1975. Her net worth is estimated at $40 million.
If you don't know, she is the second woman to win an Emmy and the first-ever to earn a multiple of them (Who Wants To Be A Millionaire). She has hosted some major programs on the TV and many popular game events.
The famed journalist and media personality returned to The Today Show as a guest anchor in 2017 and 2019. Previously, she ran her own syndicated show, The Meridith Viera Show, from 2014 to 2016, after her long stints at NBC. 
Short Bio
She holds American Nationality and belongs to Portuguese ethnicity. The leading and stunning journalist still have managed to maintain a healthy body even at her 60's. She has absolute measurements with a height of 5 feet and 3 inches.
Meredith Vieira was born as Meredith Louise Vieira on 30th December 1953 in Providence, Rhode Island, U.S. She was raised by her parents Elsie Rosa and Edwin Vieira along with her three elder brothers named Edwin, Steve and Jeff.
She was phenomenal at her studies in high school. She scored 1330 on SAT as a high school junior and 1330 as a senior, ranking in the top 90 percentile over the 1.7 million students taking the SAT. 
She later graduated in English from Tufts University in 1975. She worked as the original host of the popular game show Who Wants To Be A Millionaire between 2002 to 2013. 
Career
She was the host of her own syndicated show, The Meredith Vieira Show, from 2014 to 2016. The show was produced by NBC.
Vieira began her career in 1975 as a young news announcer for WORC radio and later joined CBS News after a nationwide recognition. As a part of the news station, she worked as a correspondent and a co-anchor for the CBS (1985-1993) Morning News. She later joined the ABC News (1993-2006) as one of the six regular reporters for its news magazine show, Turning Point. During the same time, from 2002-2013, she hosted the world-famous game show, Who Wants To Be A Millionaire 
Interesting: John Wolford Wiki, career, Family
Her career reached new heights when she succeeded Katie Couric on NBC's Today show in 2006.