Inspiring YouTuber Mia Maples has captivated millions of heart of her social media following at an early age. The journey, which started by creating a beauty video, peaked after she collaborated with Marketing company Style Haul.
Canadian Internet sensation Mia became an internet sensation and was known by her name Ivorygirl48. 
How Does Mia Generate Her Net Worth?
The 19-year-old Internet star garners her net worth from her self-titled YouTube channel. Its been more than five years that she has been actively uploading her daily vlog videos to her channel (since 14 February 2013).
Don't Miss: Dominique Sachse Wiki, Bio, Age, Husband, Divorce, Salary, Net Worth
According to Social Blade, Mia makes a monthly income between $5.6K to $89.2K and yearly paycheck ranges from $66.9K to $1.1M. Her soaring popularity is unmatched in the Internet platforms likes Instagram and YouTube where she manages to surpass over 95.7k followers and 1.2 million subscribers.

Contrary to her lucrative earnings, Mia's clothing expenses take a different route. On 22 December 2017, she posted a vlog titled 'Wearing $5 Clothes From eBay For A Week!'. The Internet star talked about buying clothes from the online portal eBay that took almost two months for arrival.
Some of her attire included a Calvin Klein cropped T-shirt worth $5.13, black shorts and a black suede effect baseball cap of $3.84 and $2.52 respectively. She also purchased a red floral off-shoulder dress of price $5.63. The YouTuber seemed happy about the quality of the apparels she acquired at a fair price.
Also Know: Brittany Cartwright Wiki, Age, Weight Loss, Before & After, Net Worth
For now, the YouTuber has changed her YouTube channel name to Mia Maple but received formal request to change her name back to Ivorygirl48 by a person named Stuart Berke. A petition was signed by Stuart, whose boy Stu Beanz wanted to have his name titled IvoryBoy48.
Mia's Boyfriend Perfectly Knows Her Attire
The social media star is dating a guy named Luke ever since 2015. On 14 November 2017, she posted a YouTube video, 'BOYFRIEND BUYS MY OUTFITS!' addressing her fan queries that they are still together. 
Although they are dating for three years, they have different choices of clothing. Mia's boyfriend prefers branded attire and has Raw-helm ankle jeans and Sweater Knit lace-up crop top worth Canadian $43.90 and $22.90. However, Mia often rallies for low-priced garments.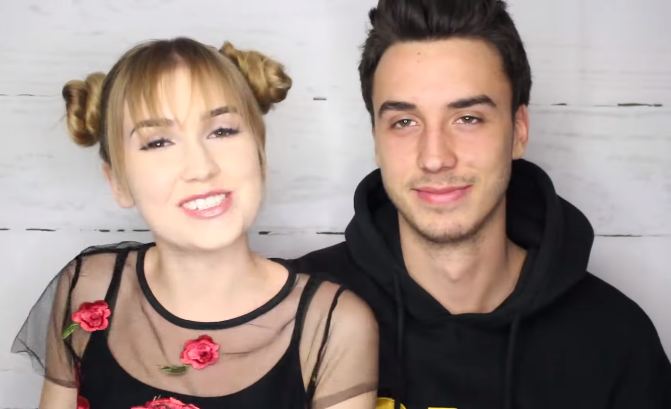 Mia Maples and her boyfriend, Luke on 14 November 2017 (Photo: youtube.com)
On 6 May 2018, Luke featured on her another YouTube video; 'BOYFRIEND DOES MY MAKEUP!!'. Luke almost messed up the challenge video when he spilled some foundations on her dress. However, her love interest finished strong and used eye-liners and bright red lipstick to contour her facial structure.
Their bond in videos reflects how comfortable they are with each other and also shows that they don't shy to flaunt their chemistry with their social media followers.
Read About: Stephen Sharer Wiki, Age, Girlfriend, Dating, Gay, Family, Height
Short Bio
The YouTuber star celebrates her birthday on 18 March. Mia is 19 years of age as she was born in the year 1999 as per wiki. The Canadian blogger stands shorter to the height of pop-singer Shawn Mendes, who is 1.88 m (6' 2") tall.
Mia's family members include her parents and a brother named Alfonzo, who is seen in a couple of her social media post and videos. She shared a YouTube video titled "My Brother Does My Makeup!" on 4 August 2013.
Mia shares a close-knit bond with her father and misses to go on vacation with him. She relived a beach vacation with her dad with a throwback picture on 17 January 2018. Similarly, she also shares a strong bond with her mother, who in her words in a devoted and supportive woman.