If you have got over the engagement news of Ed Sheeran and Cherry Seaborn, then we have a story about a new couple who recently got hitched. Yes, Darren Criss and Mia Swier are the duos we are talking about who broke their engagement news through an Instagram post. Following their announcement, the couple has shared their wedding vows recently and poured the happy news on the media.
Engaged- All About Darren Criss Fiancée:
Wedding Bells has already rang for Darren Criss and his girlfriend of more than seven years, Mia Swier. Criss announced the news of engagement via Instagram on January 19 while posing with her in front of a chateau with the caption,
"Mia and I have had seven and a half years of fun, wacky, wonderful, CRAZY adventures together. And I'm happy to announce that we're kicking those adventures up a notch. We're goin for it. To boldly go where neither of us have gone before. Engage."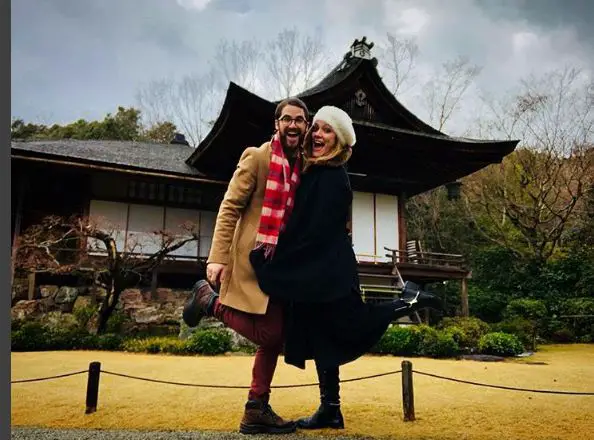 Mia and Criss sharing the joy of their engagement to the fans, posted on January 20, 2018 (Photo: Instagram)
The lovely couple, who started dating each other since 2010, hasn't revealed the exact date of proposal, but they last attended the Los Angeles premiere of the FX series in Hollywood together on January 8 where they were seen without a ring. 
Moreover, back in 2013, Criss shared with Kiss FM that he had been together with Mia for a long time. The actor further shared that he didn't know he would land up in movies when they first started dating.
Wedding Bell Tolls
After a year of engagement between the duo of producers, Mia Swier and Darren Criss, the couple shared their wedding vows in February 2019 and has splashed the color of happiness all over the media. The marriage ceremony was held at a hotel in New Orleans where many of the co-stars of Glee attended along with the couple's near and dear ones.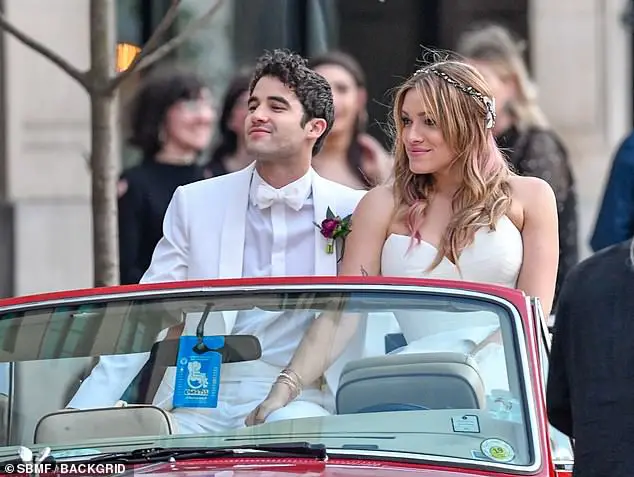 Mia Swier with her husband, Darren Criss, on their wedding in February 2019 (Photo: dailymail.co.uk)
The couple is together for about eight years and has given their love life a new direction by carrying out their married relationship. The couple relishes the keen bond as a husband and a wife and relishes their married life with immense love and harness. 
Career and Net Worth:
Like her fiancé, Mia doesn't appear in front of the camera, but she has been working hard from behind. She is a talented TV producer, and a writer and producer at Fox Networks. She has also worked as a producer for Showtime Networks. As a producer, Mia has produced and directed promotional content for several TV series like Scream Queens, Gracepoint, The Mindy Project, New Girl, Raising Hope, and also Glee. Her husband, Darren Criss has starred in the series Glee as Blaine Anderson.
Don't Miss: Lesley Murphy Wiki: Age, Job, Family, Engaged, Boyfriend, Dating
In late 2018, Mia's spouse announced that he will no longer be portraying the gay characters in the series. He asserted that getting to play those characters is inherently a wonderful dramatic experience which he mentioned as the reason for making a decision not be taking part as gay in any of his actings.  
Similarly, she had also been a part of ABC, NBC and USA Network while she was in university. She has an experience of working experience with White Cherry Entertainment and the shows such as, 'The Tony Awards,' 'The Super Bowl,' 'Saturday Night Live,' 'Who Wants to be a Millionaire' and many more.
In 2009, she co-founded a film production company called 'Effin' alongside Dan Bricker and has also directed and co-wrote the short mockumentary A (Not So) Civil Union. 
Before starting her career as a producer, she used to perform as a bassist and vocalist with some bands namely 'Shoot the Freak,' 'Guns n' Hoses' and 'Mad Moon Riot' under her stage name Mia Von Glitz.
Besides that, Mia hasn't revealed the details of her earning, but her fiancé who is also a 90's heartthrob enjoys a splendid net worth of $3.5 million.
Discover More: Finn Balor Wife, Girlfriend, Gay, Net Worth
Short Bio and Wiki:
Belonging to white ethnicity, Mia Swier was born on September 1, 1985, in Alabama. Her current Age is 33 years old, and her birth sign is Virgo. Speaking of her parents, her father was a painter and used to work under the name Laszlo Von Glitz. She attended New York University and earned a bachelor degree in mass communication and media studies in 2007. Mia stands at a decent height of 5 feet 6 inches.