Michael Avenatti is an American attorney who has represented various celebrity defendants as well as filed suits against several top-notch companies. He became a sensation after representing pornographic actress Stormy Daniels in her lawsuit against American president Donald Trump.
Avenatti was also considering to run for 2020 Presidential election but opted it out after numerous legal and professional setbacks.
Net Worth
As of 2019, Michael Avenatti has the estimated net worth of $8 million from his career as an American attorney and entrepreneur. He is among the top-class lawyers who have won more than $1 billion in judgments for his clients. He even came victorious in the lawsuit of $454 million 2017 fraud verdict against Kimberly-Clark's former health care company, Halyard Health.
Read On: Kristin Kreuk Husband, Boyfriend, Ethnicity, Parents
Amongst all that, Michael is notorious for his controversies, both in his personal life as well as business. He faced a legal problem in March of 2019 when he got arrested for a charge with financial crimes. As per the sources, he allegedly tried to obtain $20 million from Nike.
Apart from that, back in 2018, Micheal's law firm had its share of a problem when his former partner Eagan Avenatti filed for bankruptcy. He even was once alleged of stealing $300,000 from American pornographic actress Stormy Daniels.
Married With Wife
Throughout the years Michael Avenatti has been married twice.
He was 21 years old when he met his first wife, Christine Avenatti-Carli. He and Christine's married life lasted for 13 years, and in the course of their relationship, they welcomed two children, both daughters- one of them is Lauren.
You Might Enjoy: Craig Robinson Net Worth, Wife, Family, New Show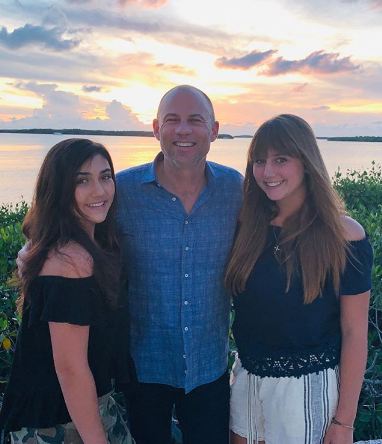 Michael Avenatti with his daughters in July of 2019 (Photo: Instagram)
After Christine, Michael married businesswoman Lisa Storie in 2011 and soon welcomed a son. Their relationship lasted for six years before the couple headed for the divorce when Lisa filed the petition in November of 2017.
Divorce Issues
Initially, the court dismissed the divorce petition. But after Michael filed for divorce in May of 2018, they got officially separated from each other. In the court documents, Lisa cited physical abuse and Michael's drinking problems as the reason for their divorce. However, Michael, as well as his first wife Christine, denied the allegations against him. His former wife even took his side and wrote on Twitter to oppose the accusations. She said;
I have known @MichaelAvenatti for over 26 years we met when he was 21 years old and we were married for 13 years. Michael has ALWAYS been a kind loving father to our two daughters and husband to me. He has NEVER been abusive to me or anyone else. He is a good man.
In contrast, Micheal, who has since denied the claims made by Lisa, alleged her of ruining their relationship. Their divorce battle continued, and in December of 2018, the court settled the heated dispute. Michael agreed to pay his ex-wife Lisa $80,000 for child support and even gave her some of his assets.
Bio & Wiki
Born on 16 February 1971, Michael Avenatti hometown lies in Sacramento, California. The 48 years old lawyer enrolled his high school in Missouri and later graduated with a major in Political Science from the University of Pennsylvania in Philadelphia.
You Might Enjoy: Kay Murray Wiki, Age, Married, Husband, Boyfriend, Height, Family, Salary
Michael attended law school at George Washington University from where he received an Alumni Achievement Award in 2010.
Facts
Some of the quick-facts you might find interesting about American attorney and an entrepreneur Michael Avenatti.
Michael once dated Mareli Miniutti, but their relationship gained controversy. In November of 2018, his then-girlfriend alleged him of domestic violence. The lawyer even got arrested for the suspicion of domestic violence. But in February of 2019, he was not found guilty of the charges.
 
The American attorney grew up with his parents in Colorado and Utah. His family then finally settled in St. Louis in 1982, where his father worked as a liaison. From his mother's first marriage, Michael has two half-siblings.