Whether starting a restaurant with its brand name or trying a different course of recipe meals, Michael Chernow has always put a smile on his customers. Michael is one of the celebrated restaurant proprietors and a chef who has an incredible dining experience spread across the States. Curious to know more about him? Here is all that you need to know!
Michael Chernow, A Restaurateur
Michael Chernow's restaurant career began with a job of a delivery boy, working for a New York-based restaurant, at the age of 13. With some years of experience at the eateries, he opened a wine bar named Punch and Judy in the Clinton Street in early 2000.
It was in the year 2007 that Michael graduated with honors in both Culinary Arts and Restaurant Management in the French Culinary Institute. Today, the chef is the proud co-owner of a restaurant named 'The Meatball Shop' with his colleague, Daniel Holzman, which has been expanded to six more locations across Manhattan and Brooklyn after it was opened on the Lower East Side in 2011.
How Much Is Michael Chernow's Net Worth?
The perfect mix match menus of meatball items that include sauces and sides have always become an instant for the food lovers. And it is since their opening that the restaurant has gone for more than 75000 gallons of sauce in prepping different kinds of cuisines.
Michael and Daniel raised almost $400000 from friends and family to start their business plan. At the present context, their every restaurant at Williamsburg, Chelsea, and West Village make a gross sale of more than $3.5 million a year from which we can estimate that Michael has a net worth that crosses a million dollar mark.
Personal Life: Marriage and Children
Apart from the successive chain of the restaurant business, Michael has a blissful married life to cherish. He is married to Dona Chernow, a former Ford model who also has a sheer passion for culinary arts. Sharing the same fondness for making different food recipes, Michael's wife is also a pastry chef and a yoga instructor by profession.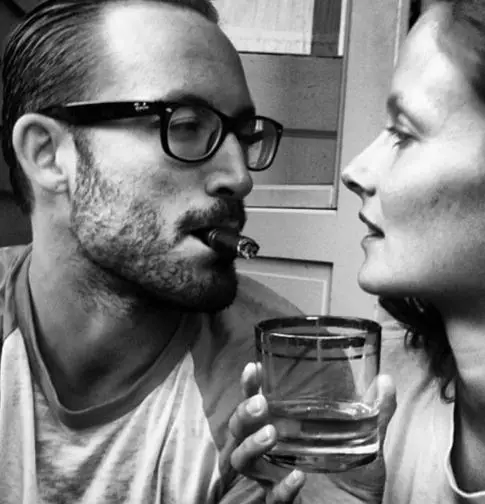 Michael with his wife, Dona, in the image posted on February 23, 2018 (Photo: Instagram)
The pair has never spoken any details that relate their wedding, so the proper information of their togetherness is still nowhere disclosed. Michael first met his wife at Hemmingsen while she was on a date with a mystery man. And when her date left her to go to a concert with one of his friends, Michael scooped her up.
Michael dated the woman of his dreams who is the proud mother of their two kids. While the pair loves sharing the many pictures of their two boys on social networking sites, their actual name is still not adequately provided by the parents.
His Short Bio
As his wiki says, Michael Chernow was born on October 21. But the real age of the American native has not been disclosed anywhere that is why it is difficult in knowing his actual age. Michael stands an adjacent height and belongs to Caucasian ethnicity.