Wrestling is entirely different from other sports where the wrestlers attract the audience with their wrestling moves. Similarly, it is the commentator who adds dynamics to those moves amongst the fans and makes them engaged through their commentary. Michael Cole, the name behind all the shows of the World Wrestling Entertainment grabbed massive attention from his excellent analysis and hosting skills amongst the audience.
Ringside Announcer:
It's been more than two decades that Cole has been involved as ring commentator. He has been a part of World Wrestling Entertainment from the year 1997 where the perfect blend of sports and entertainment is given to the audience in every paper view. The association and ties with the company made him one hell of a superstar as he is seen in the rings competing in some of the matches with John Cena, Jerry Lawler and many more.
His Work and Commitments:
For Michael, his work is business, and he has dedicated his quarter-life to the fans favourite show 'WWE'. He is seen balancing the commentary on both the shows of WWE, 'Raw' and 'Smackdown'.
Besides that, Cole previously worked as the journalist for CBS Radio. He had reported the Presidential campaign from Michael Dukakis in 1988 to Bill Clinton in 1992. Many people have highly appreciated his active role as a reporter in the aftermath covers of the Oklahoma City bombing in 1995.
How Much is Michael's Salary and Net Worth?
Cole association with the WWE has been for the longest time. The lucrative deal and salary with both his inside and outside the ring have made him tied up with the company for all these years. The ring commentator has acquired a total net worth of $4 Million and still have left many years of association with the WWE.
Happy Married and Not Likely to Divorce!
Apart from his job as a wrestling commentator, Cole is a married man. He has been living with his wife, Yolanda Cole and their two adopted sons, Calvin and Mark Cole. Cole is a complete family guy and is highly responsible towards his children and spouse.
The commentator shares a warm and affectionate relationship with Yolanda. There haven't been any reports of their divorce or stress in the relationship ever in the news. There seems to be enjoying each other's company along with their respective work.
Cole has just taken two times off from his duty during his tenure as the commentator. In September 2017, Scott Fishman tweeted that Cole missed his professional commitments to enjoy his oldest son, Calvin's wedding.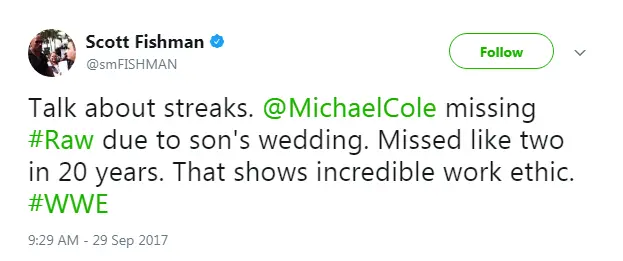 His Short Bio:
Michael Sean Coulthard, popularly known for his ring name, Michael Cole was born on December 8, 1968, in Syracuse, NY, the United States as per wiki. Cole went to Webutruck High School and later attended S.I Newhouse School of Public Communication at Syracuse University. He is 5 feet 9 inches in height and is 176lbs in body weight. Cole holds an American Nationality and belongs to white ethnicity.