Michael Landsberg is a Canadian sports television persona and one of the best Canadian broadcasters. He is also well known for using his professional status to reduce the stigma of mental illness by speaking about his battles with depression.
How does Michael Landsberg generate his Net Worth?
Michael Landsberg has generated most of his net worth from his career as a broadcaster. His work for TSN since 1984 has rewarded him with lucrative contracts and huge paycheques. According to Payscale, the median salary for a sports broadcaster working at TSN is $62,000. And as one of the marquee names associated with the network, Michael's salary exceeds that of the average value. 
After TSN, he later mustered a huge amount of money as an anchor on SPORTSCENTRE, hosting more than 5,000 episodes.
Michael has been twice nominated for the Gemini Award for Best Honor or Interviewer in Sports Program or Sportscast. He anchored TSN's Olympic Daytime during the London 2012 Olympic Games.
The Canadian Alliance on Mental Illness and Mental Health also named him one of its champions of mental health in 2012. His documentary Darkness and Hope: Depression, Sport and Me was nominated for a 2013 Canadian Screen Award for Best History or Biography Documentary Program. He was awarded the Humanitarian Award at 2015 Canadian Screen awards.
He hosts many charities supporting mental health awareness. He takes to Twitter to encourage discussion around mental health and creating a forum for those needing help.
Talks Depression on Television & Social media; Saves Distressed Woman Through Twitter
Landsberg realized that he was suffering from depression in the year 2000. He was very open and comfortable with his process of seeking help and taking medications to counter the illness. But he struggled to publicly talk about depression on television for a few years.
The year, 2008, was one of the saddening years for the broadcaster as he struggled with frequent episodes of depression and even lost a recollection of himself. However a year later, he found a ray of hope during one of his television interviews with former NHL player Stephane Richer, who was also suffering from depression.
The two candidly talked about their illness, and the interview received positive feedback through numerous e-mails from various men. They all expressed how his interview gave them the courage to share their own battles against depression. 
The interview let them know that they were not alone and gave them hope and inspiration. Through these feedbacks, he discovered the power in opening up publicly.
He later discussed depression in platforms such as Twitter and Facebook. Being socially active, he ended up saving a life of a distressed woman later in 2013 through Twitter.
He received her worrying message that stood out from the rest of his 56k followers. With the help of his followers, he was able to locate her and urge for a rescue team to provide help. After being awared by Michael, the authorities reached her and saved her life.
Family life; Wife Karen Landsberg Supports Him Through Illness
The sportscaster has been married to Karen Landsberg. The married couple share three children- two sons named Corey, 16, and Bichon Frise Whistler, 8, and a daughter, Casey, 14. 
His wife Karen gave him relief and a sense of purpose during his depression battle. It was his wife who had urged him to take medications for depression in time. 
Michael was able to battle the horrifying conditions with the support of his family, especially his wife. 
'Hitler gives lovely pink triangles to gay men' On Twitter
In 2017, Michael tweeted the following picture edited with pink triangled colors, replying to a tweet by controversial American conservative Dinesh D'Souza, stating 'Hitler was not anti-gay.'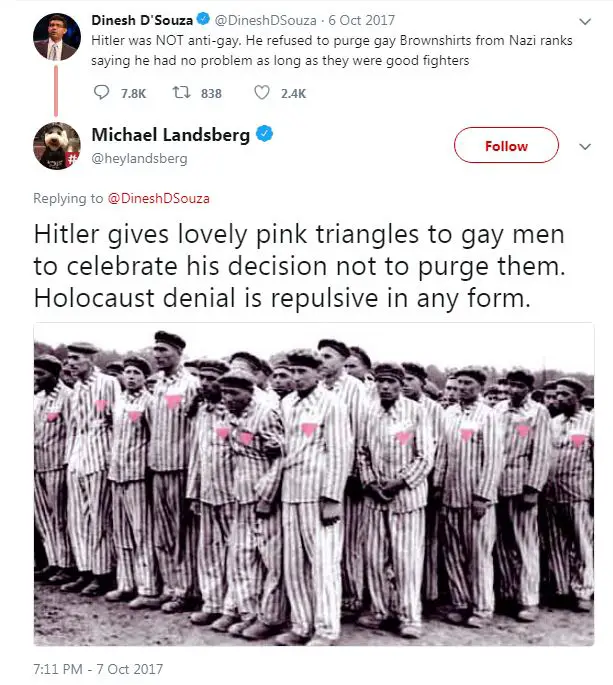 Gay Men With Pink Triangles: Michael Landsberg presents humorous instance against Holocaust denial (Photo- Twitter.com)
Michael sarcastically joked that Hitler once celebrated his decision not to purge gay men by providing them with pink triangles. The television presenter was supposedly trying to aware people about how disgusting Holocaust denial was. 
Short Bio
Michael Landsberg was born on 22nd July 1957. He was born a Canadian. He graduated from Forest Hill Collegiate Institute.