The Young And The Restless star Michael Mealor is a big dreamer, his dreams to Hollywood began when he was an 8th-grade student, and his habit of watching the movie on a 7-inches screen turned into big dreams of becoming a Hollywood star one day. He had achieved massive success in the world of both Hollywood and romantic life as well.
Breaking the hearts of ladies fans, Hollywood star Mealor has embarked on a romantic journey with girlfriend Britt Johnson, a SoulCycle class member.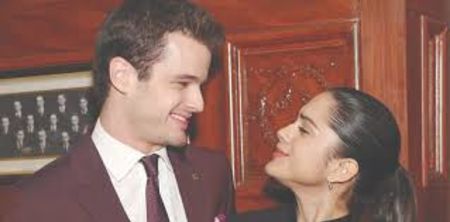 How Does Mealor's Romantic Life Begin?
At first, Mealor faced 4-5 rejection before asking Johnson out, and on the other hand, he would get less time to meet her as she used to travel for her work. He was still in a relationship until July 2018 as he gushed about his affair with 'Soap Opera Digest Magazine', where he had mentioned both of them are alike and get along pretty well, as both happen to be fond of foods and curious about life. However, Mealor's relationship status with Johnson is hazy now, and there are no new posts or updates available on him and his partner at the moment.
Discover More: Anna Woolhouse Wiki, Age, Married, Net Worth
Is Mealor Married?
After hitting stardom and coming into the public's eye, Mealor preferred keeping his personal life a part of public attention. Due to his privacy concern, his previous love affair has always been overshadowed. However, his low-keyed life about his relationships might have raised the question and contemplated that he might be gay. But there is no official confirmation that he is gay. Aside from rumors, he might be trying to keep his dating life as private as possible and only the future will unfold the truth. To date, Michael hasn't been reported about getting engaged or married yet, which is why he has no wife at the moment.
Mealor's Journey To Hollywood
 The Super Girl actor Mealor was born on 29 February 1992, celebrating his birthday on the same day as rapper Ja Rule and rocker Mark Foster. He was raised with his sister Caroline in Atlanta, Georgia, USA. 
Hailing from a middle-class family of four, he was a sports star and was a member of his school's football team. But, being on a football team, he didn't let his passion for Hollywood dream fade; Mealor used to visit theater productions and secretly wish to perform alongside them.
Later, he quit the school's football team after not being able to meet eye to eye with the new coach's program in his senior year. He lost access to the school's gym after quitting the football team and went for membership at a local gym. An opportunity evolved in favor of Mealor when a modeling scout, who was hosting at Orlando in Disney World, noticed Michael and invited him. After his participation at 'Disney World', he was signed by the Wilhelmina Modeling Agency and the rest is history; Michael moved to Los Angeles and started auditioning for commercials and participated in modeling gigs. He had no idea to fast-forward his career but had visualized that one day he would achieve it. Michael's first breakthrough role was considered from the film Indigenous in 2014, and ever since he has featured as characters like Frat guy in Chasing Life, the Fratty Dude in Supergirl, Tom Shields portrayal in Fall Into Me, and as Josh in Roadies. Most prominently, he is recognized for his role as Kyle Abbot in the series The Young and the Restless since 2018.
Never Forget: Jerry Reese Salary, Net Worth, Wife, Son
How Wealthy Is Mealor?
Since his involvement in Hollywood, American actor Michael has been featured in different modeling gigs and series and gained recognition from his character Kyle Abbot on the CBS's soap The Young and the Restless. Mealor was a fan of the 'CBS soap' since he was a kid, and it was like his dreams came true when he got to be part of the show that he admired. Not only that, but he had been nominated for 669 awards and won 272. Well, Mealor is earning thousands of dollars from his career as an actor and model. Though the exact amount of his earnings is not revealed, we can assume that he enjoys a decent fortune. Some sources claim that his net worth is around $200,000.