English actor Michael Socha is best known for his appearance as Bully in British Drama movie; This Is England. He is also recognized for his character in BAFTA Scotland-award winning film Summer and TV series Once Upon A Time. The Derby-born actor had a stage performance in Glamour, and This Is Living.
How Did Michael Socha Gather The Net Worth?
Michael Socha gathered the net worth from his career in Hollywood industry. He collected the revenue from his hit movies like This Is England and Summer. As per the Box Office Mojo, the film, This Is England collected $8,176,544 (£5 million) at the box office. The movie was made out of a budget £1.5 million.
Michael Socha has been receiving the payroll from numerous movies and TV series since 2006. His longest running TV series like Casualty (2008–2009), Being Human, (2011-2013), Once Upon a Time in Wonderland (2013–2014 ), and Once Upon a Time (2014–2015), helped him to increase the fortune. 
The 30-year-old actor had a breakthrough performance in his acting career after he appeared on This Is England. He auditioned in his first play during his school days, when he was only at the age of eleven. 
Michael Features On Gay Times Magazine
Being Human's actor Michael Socha featured on the Gay Times Magazine in Nov 2010. Also after completing shoots, he tweeted on 23 November 2010, saying he just finished the Gay Times Magazine shoot. The magazine is kept on Amazon for sale and cost about £15.00.
Michael's photo shoot indeed stormed the internet with rumors of him being a gay. However, he has a son named Elis Michael Socha from his ex-partner, which eliminates the rumor about his sexuality.
Welcomes A Baby Boy; Michael Remains On Good Term With Ex-Partner
Michael and his then-girlfriend Faye welcomed their baby son named Elis Michael Socha in 2012. He and his ex-partner reconciled in 2010 following a break in their relationship.
He revealed about his relationship with Mail Online in October 2010. As per the Mail Online, Michael said that his girlfriend is Faye, with whom he ended-up relationship after five years of togetherness.
In the interview, he also mentioned that Michael and his girlfriend met each other in the park.
After the birth of their first baby, Michael and Faye again split. Though the couple separated from each other, the two still has a friendly relationship and remains in a good term with Michael sister.
On 22 April 2016, Faye re-tweeted a photo of Michael's sister, Lauren and her child. In reply, Lauren wrote that her daughter loves her aunt, Faye.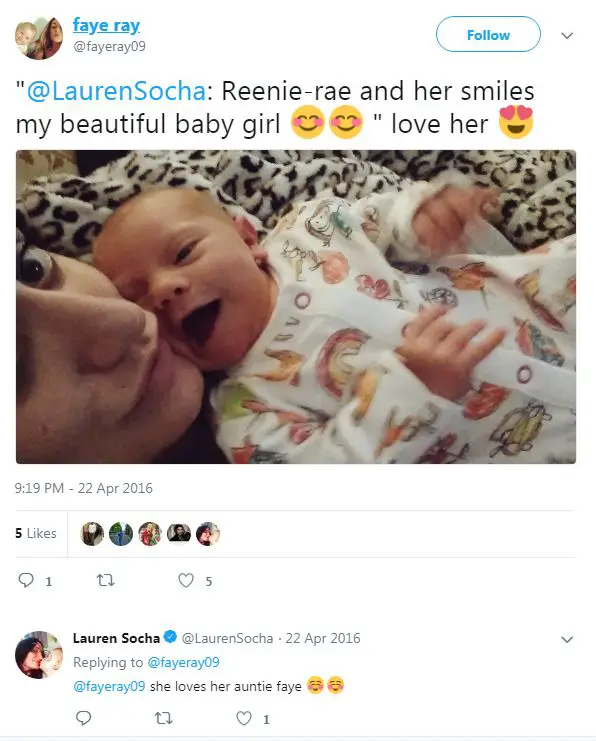 Her Twitter conversation hints that Faye remains in contact with Michael's family and shares a good relationship.
Michael's Family: Father Died Of Heart Attack, Sister Is An Actress!
He is the son of Kathleen T. (Lyons) and Robert Socha. Michael's father, Robert died of an alcohol-induced heart attack in 2004. He was a long-time alcoholic.
He has mentioned that his mother suggested him and his sister audition for Chellaston Youth Players.
Michael was raised along with a sister named Lauren Socha. His sister, Lauren is an actress and is best known for her role in Misfits. She also starred alongside Tim McInnerny in the movie Missing in 2010. She has portrayed a minor role in the television mini-series, Five Daughters.
Short Bio
Michael Socha was born as Michael Robert Socha on 13 December 1987 in Derby, Derbyshire, England. Michael, who stands at the height of 5' 8" (1.73 meters), belongs to mixed ethnicity (Polish, English, Irish, Italian).
He attended St Benedict Catholic School.