Michelle Phan is a beauty vlogger and entrepreneur who became able to gain fame at an international level via her self-titled YouTube channel beauty company, Ipsy.
Highlighting her expedition to the stardom, she created the YouTube channel and uploaded a video related to the basic method of using make-up; targeting the beginners and the expert as well. Through her efforts, she grabbed the attention of the public through her easy-to-understand instructions.
Soon, her videos got thousands of views and her channel, as of January 2020, has more than 8.92 million subscribers and over one billion views. Not only this, but she also got a chance to collaborate with the cosmetics brand L'Oreal to launch her variety of makeup products under the brand name Em by Michelle Phan.
For her contribution to the beauty and makeup industry, she was awarded the Streamy Award for the "Inspiration Icon Award" as well as the Shorty Award for "Best YouTube Guru" in 2014. Also in 2015, she received the People's Voice Webby Award for Best How-To and DIY Channel.
Michelle Phan Boyfriend
Michelle was sharing a romantic relationship with a model and dancer, Dominique Capraro for several years.
Speaking about their link-up, the two first met in 2008 in Paris, France. And they officially started dating from 2010. The pair came in the limelight when Michelle uploaded the video titled, "My Boyfriend Does my Makeup" on her channel in July 2013. They both were going strong until 2016.
Notable Beauty Blogger: Jackie Aina Wiki: Age, Birthday, Engaged, Wedding, Ex-Husband, 2018
However, Michelle chose to stay out of media in 2016 and has kept her love-life confidential since then.
Bio And Family
Michelle was born on 11th April 1987 in Boston, Massachusetts.
Michelle is a daughter to her parents who were both Vietnamese Refugee. She was raised by her mother, Jennifer Phan who was a nail technician as her father left them when Michelle was only six years old.
he has an older brother, Steve Phan and a younger half-sister, Christine Phan, in her family.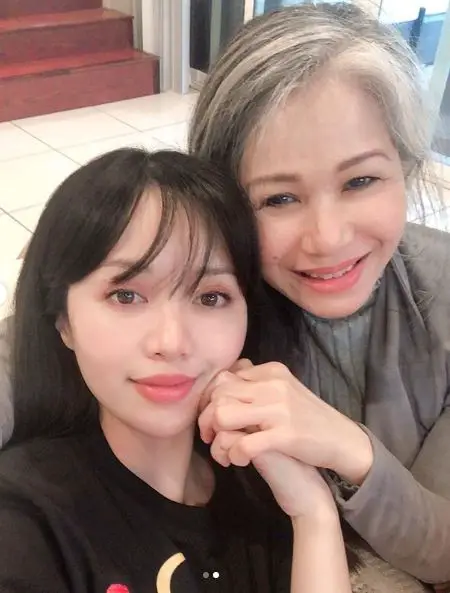 Michelle Phan posts a picture with her mother on 13th January 2019 (Photo: Michelle Phan's Instagram)
Talking about her physical appearances, her ethnicity is Asian she has dark brown eyes and hair.
Career
Michelle stepped into the world of beauty when she first started a personal blog in 2005; sharing her tips on make-up.
After two years in 2007, she uploaded video tutorials on the site Xanga under the username 'Ricebunny' as per the request made by her fans. Then, she devoted herself to this field and went on uploading the videos more often. 
Similarly, Michelle gained more popularity when BuzzFeed featured her makeup tutorial 'How To Get Lady Gaga's Eyes' in 2009. In the same year, BuzzFeed also covered Michelle's other video which assisted in garnering her more followers and attention of the public.
Likewise, Michelle's got to taste another success when she was approached by a makeup brand called Lancôm to be their official video make-up artist.
Net Worth
As per Celebritynetworth, Michelle's net worth is $50 million which is fueled via her career as a make-up artist and a vlogger.
Another Make-up Artist: Isabella Jane Cruise Wiki, Net Worth
In addition, she also makes a daily income of around $ 7.00 from her website, michellephan.com which is 1 decade 4 years old and its worth is estimated to be $ 1,680.00.from her online beauty product company, Ipsy, she raised $100 million in 2015.
Interesting Facts About Her:
Back in 2016, her cosmetic brand, Em, failed and she faced many online trolls. As a result, she suffered from depression and had to quit social sites.
She is a talented musician who can play the trumpet and piano.
She launched an online digital comic book, Helios: Femina, which ran for 26 weekly episodes in March 2016.
Promise Phan (Tamang) a famous transformative makeup artist is Michelle's sister-in-law.
She came back in her business in early 2019 by uploading "24/7 Magic Hour Radio:collection of songs" which she handpicked herself. She collected the song of the artists like Omar Apollo, La Hara, Valntn, Ryan Little, Qveen Herby, ninjoi. Cody Lovaas, Kevin Garrett and Dylan Rockoff.
She raised $100 million in 2015 through her online beauty product company called Ipsy.
Her birth sgn is Aries.