Colin Powell once said, "Success is the outcome of perfection, hard work, learning from failure, loyalty, and persistence." Australian screen and radio personality, Mick Molloy is the person who could attain success with all these qualities. Despite many missteps in life, his enthusiasm towards comedy helped him to grasp popularity in short time.
Before Mick Molloy rose to fame, he joined the comedy troupe, The D-Generation, during his college days. Currently, he hosts the national drive show on Triple M alongside Jane Kenned.
Mick Molloy's Love Life; Married Or Singe Now?
When having a glimpse at his love life, the father of twin children, Mick Molloy has few dating histories. It was in June 2012, when he hinted about his partner for the first time after he made a shocking announcement of becoming a father during his Triple M Hot Breakfast radio show. However, he made sure to conceal the identity of the lady with whom he was together for five years. He told;
"She's not in the business so I'd prefer to keep it under wraps at the moment and of course there is a fair way to go."
Finally, on 11 July 2012, Mick became the father of his twin boys. More than that, his happiness let him spill the beans about his partner. While speaking with news.com.au, he revealed the name of his lady as Angie. With happiness, he said,
"I'm just so excited, I'm the proud father of two baby boys... You've gotta see them, they're just little sweethearts. They're real little troopers mate, they're young and they had a go and I just can't believe it... I'm really proud of my partner Angie who was awesome."
However, Mick's love life with Angie became mysterious and confusing after his affair with The Real Housewives Of Melbourne star Susie McLean surfaced on the Internet in March 2017. As confirmed by The Herald Sun. Susie confirmed her whirlwind romance with Mick. She even mentioned him as the most brilliant man she ever met.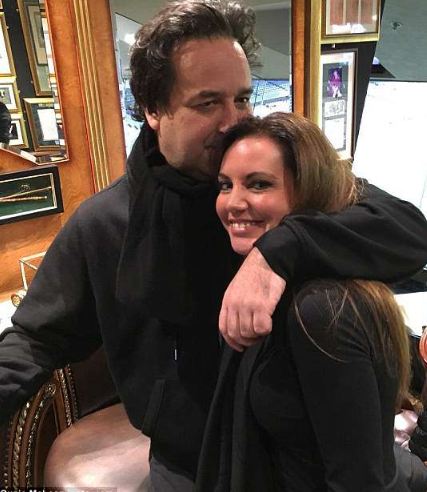 Mick Molloy and his former girlfriend, Susie McLean, separated in September 2017 (Photo: dailymail.co.uk)
Everything was going smoothly until 2018th Valentine's Day. Susie Instagrammed a cozy shot with two ladies on Valentine's Day and wrote in his caption mentioning themselves as single ladies. While the couple's love life was still a mystery, Susie finally came up with a reply to fans' queries. Confirming about separation with Daily Mail Australia, she admitted that she and Mick broke up in September 2017 before they could get married.
You Wanna Know More: Amy Bruni Wiki, Age, Married, Husband, Net Worth
Currently, Mick has not flaunted the romantic flair of his relationship which hints as if he is single now. Similarly, he hasn't shown the possibilities of making any lady his wife. 
Mick Molloy's Net Worth
The actor and producer Mick Molloy, age 52, have accumulated the net worth of $8 million from his involvement in the Hollywood industry since 1987. Having an interest in comedy stints, he wrote and performed for the first time at the University of Melbourne in 1987. After then, he collaborated with Working Dog Productions on several projects. He worked as the writer for several shows including, The Comedy Company, The Late Show, and Frontline. Likewise, his appearance in the movies Macbeth and Bad Eggs was noteworthy.
Discover: Zach King Wiki: Married, Parents, Nationality, Net Worth
Mick's Short Bio
Born on 11 July 1966 in Mick Molloy Canberra, Australian Capital, Mick stands at the height of 6 feet 0½ inch (1.84 meters) and weights around 105.7kg. He has two siblings brothers named Richard Molloy and John Molloy in his family.