Miguel Bose has been one of the legendary Latin singers for the past three decades. With countless awards and chart-topping, people have seen his popularity reach great heights. Shifting from Television to the Stage might be difficult for some, but for Miguel, it turned out to be his greatest achievement.
From an early age, Miguel had always been surrounded by arts. His family helped him establish a mindset on what he wanted to do. Along with the expertise, the Latin singer captivated the audiences with his wide array of music ranging from all genres.
Openly A Gay; Married Now?
It is not a secret that Miguel Bose is a gay man. He has never been shy about that aspect of his life. His music videos often show him dressed uniquely. His sexuality has never been the topic of the conversation.
When it's about his personal life, Miguel was in a long time relationship with his partner Nacho Palau. He met his Nacho in 1975 when he was 19 years old. After almost 17 years of meeting, the couple started dating in 1992.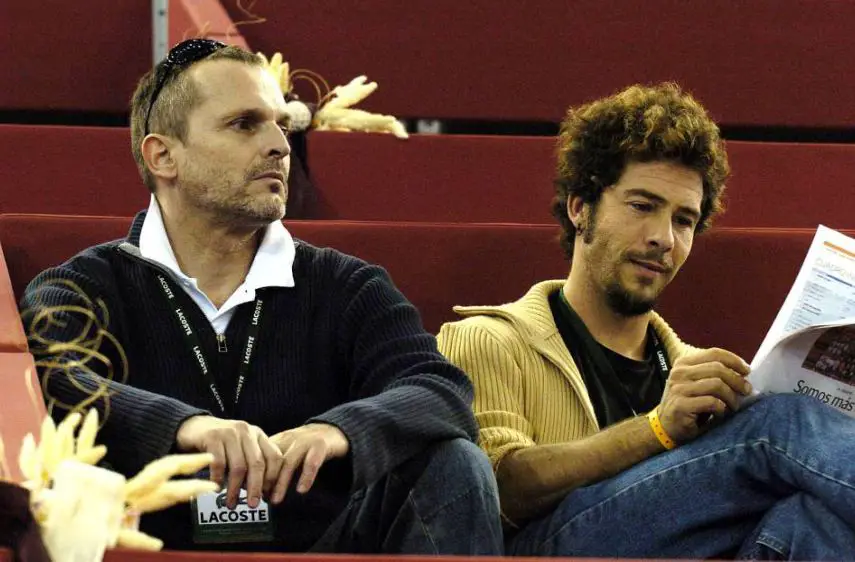 Miguel Bose in 2004 seen with his former partner Nacho Palau. (Photo: elpais.com)
Interesting: Charlie Neff Wiki, Husband, Net Worth
With the flourishing relationship, they became the parents of four children. Miguel and his partner welcomed twin boys Diego and Tadeo in 2011. And after seven months of their babies' arrival, the family of four were blessed with another pair of twins, namely Ivo and Telmo via the surrogate mother.
Despite the happy bonding with family, Miguel's relationship with Nacho faded with time. After 26 years of intimacy, they decided to split in October 2019. His ex-partner even filed a lawsuit against him on 17 October in defense of the rights and interests of their children.
After their departure, two of their children live with Miguel while the other two live with Nacho. As of now, he is not married and relishes his time with children.
How Much Is Miguel Bose's Net Worth?
For over 30 years, Miguel Bose has been somewhat of a force in Latin music. From the age of 15 years old, he has always been involved in film and music. He first started as an actor, and at 21, he began his musical career.
During Miguel's career in music, he released chart-topping singles, albums, and duets. Miguel has a long list of chart-topping albums such as Bandido, Salamandra, and Bajo el Signo de Cain. His hit single Linda was a chart-topper in three countries. Likewise, Miguel's 2002 single Sereno was one of his most successful ones which saw him bag a Latin Grammy along with countless other awards.
Apart from that, Miguel also has his own Youtube channel rightly named Miguel Bose. As per socialblade, his estimated monthly earning from Youtube is around $2.2k-35.4k, and his yearly earning is around $26.5k- $424.5k.
Find Out More: Lawson Bates Wiki, Married, Siblings, Net Worth
Miguel's net worth is somewhat uncertain as the exact numbers have never been fully disclosed. Thirty years at the very top is sure to have helped him accumulate a decent sum of net worth.
Besides, he was awarded the Latin Grammy Academy as the person of the year in 2013.
WIki & Facts About Miguel; Family And Height
Miguel Bose was born on the 3rd of April 1956 in Panama City, Panama to parents Lucia Bose and Luis Miguel Dominguin. Miguel's mother was an actress and his father was a bullfighter. In his family, he has two siblings sisters named  Lucía Dominguín and Paola Dominguín.
Standing at the height of 6' 1¼" (1.86 meters), Miguel is fluent in speaking Spanish, English, French, and Italian.