The sudden shutting down of the succesful show is not something desirable for any media personality. But Mike Greenberg flourished in his career after another show replaced Mike & Mike Show in 2017.
Mike Greenberg is the host of ESPN morning talk show called Get Up. The author of New York's Best Selling Book, Mike, came to limelight after he started to get paid in millions for the show.
New Show Worth Of Million Dollar Salary!
The American anchor Mike Greenberg is making a substantial income from his new morning sports talk show called Get Up. His show debuted on ESPN on 2nd April 2018. The launch was initially scheduled for the beginning of the year. The date was later moved back to April because of delay in the finishing of the studio of the set.
Read Also: Is Bob Morley Gay? His Girlfriend, Dating, Relationship, Family, And More
Mike's much-anticipated show competes with already packed Manhattan-based National TV shows like CBS's This Morning, NBC's Today and ABC's Good Morning America. Also, it strives to the cable shows like CNN's New Day, Fox's Fox & Friends and MSNBC's Morning Joe
The show was opened with a mock movie trailer where Greenberg and Company featured themselves in a superhero costume with capes and masks. He appears alongside the other co-hosts, Michelle Beadle and former star Jalen Rose. As per THR's Marisa Guthrie, ESPN is paying $6.5 million to Mike and $5 million and $3 million to Michelle and Jalen. But after almost a year with the show, Michelle left the show in September 2018 to focus her time on NBA coverage.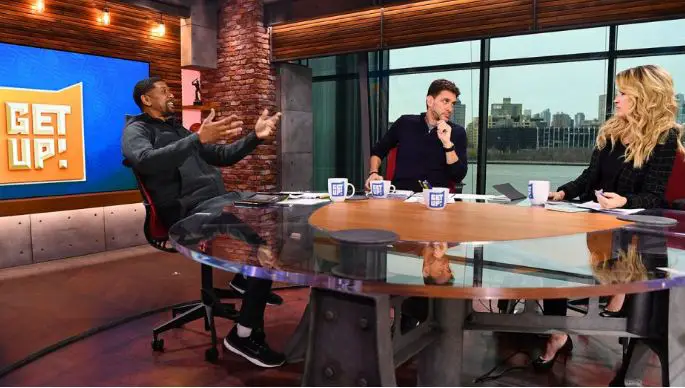 Mike Greenberg hosts his new show 'Get Up' along with Michelle and Jalen (Photo: hollywoodreporter.com)
The show was premiered on 2 April 2018 on ESPN channel. Mikes' 'Get Up' focuses on presenting various news, opinion, and analysis from hosts and multiple guests regarding various sports-related topics as well. The ESPN spokesperson cleared that the team of 'Get Up' has no intention for discussing political matters unless it is a national topic.
He started his ESPN career in 1996 after leaving Sports Channel Chicago. Mike was one of the first hosts of ESPN NEWS when it began to broadcast. His media career promoted into the different height from his previous show Mike & Mike Show.
See Also: Max Shifrin Wiki, Age, Net Worth, Wedding, Sara Haine
He hosted the show along with NFL player Mike Golic. The anchor duo started a bitter relationship with each other from mid-2017. Their presentation was later replaced by successor show called Golic and Wingo hosted by Trey Wingo and Mike Golic Jr.
What Is The Net Worth Of Mike Greenberg?
After Mike graduated from the University, he worked as a sports anchor and reporter at WMAQ-AM in Chicago in 1989. He left his job after three years and served at WSCR-Radio as a reporter. He covered various events like the World Series and the Super Bowl.
The American reporter was also a columnist for Copley News Service from 1993 to 1995. Mike had his contribution in SportsChannel Chicago and CLTV as an anchor, reporter, and host of various shows. His career skyrocketed after he joined ESPN in 1996.
He released his first book called Why My Wife Thinks I'm An Idiot: The Life and Times of a Sportscaster Dad in 2006. It was on a fourteenth position on the New York Times Bestseller list. He later published two more books called Mike and Mike's Rule for Sports and Life, and All You Could Ask For.
Mike has led a pretty flourishing career as a sports anchor and radio host. His dedication to the sports sector has undoubtedly garnished him with immense fame and enormous net worth. As of 2019, he has accumulated a staggering net worth of $18 million. He makes $5 million annually from his job as a host of different shows. He has harnessed his fortunes mainly through his media career. He has also collected substantial wealth from his bestselling books.
Short Bio
Mike Greenberg was born on 6 August 1967 in New York City. He was born to Jewish parents. He holds an American nationality and belongs to white ethnicity. Talking about his height, he is 1.8 m (5 feet 10 inches) tall and has appropriate body figures.
See Also: Robin Weigert Married, Husband, Lesbian, Dating, Net Worth
He graduated from Stuyvesant High School in 1985. He also received a degree from Northwestern University in 1989.