If you have seen the Stranger Things on Netflix, you might recognize Millie Bobby Brown as a girl with psychokinetic and telepathic abilities, Eleven. This talented teenage British actress has got commemorated as UNICEF's Goodwill Ambassador, which makes her youngest-ever Goodwill Ambassador to honor the title.
The Emmy-nominated actress is a recognizable face in the series like Intruders; NCIS; Modern Family; and Grey's Anatomy. 
Millie As UNICEF's Youngest-Ever Goodwill Ambassador
During the World Children's Day on 20 November 2018, British child actress Millie Bobby Brown became the UNICEF's youngest ever Goodwill Ambassador. As per the breaking news of UNICEF, the 14-year-old Stranger Things star received her appointment at the United Nations Headquarters and the Empire State Building in New York.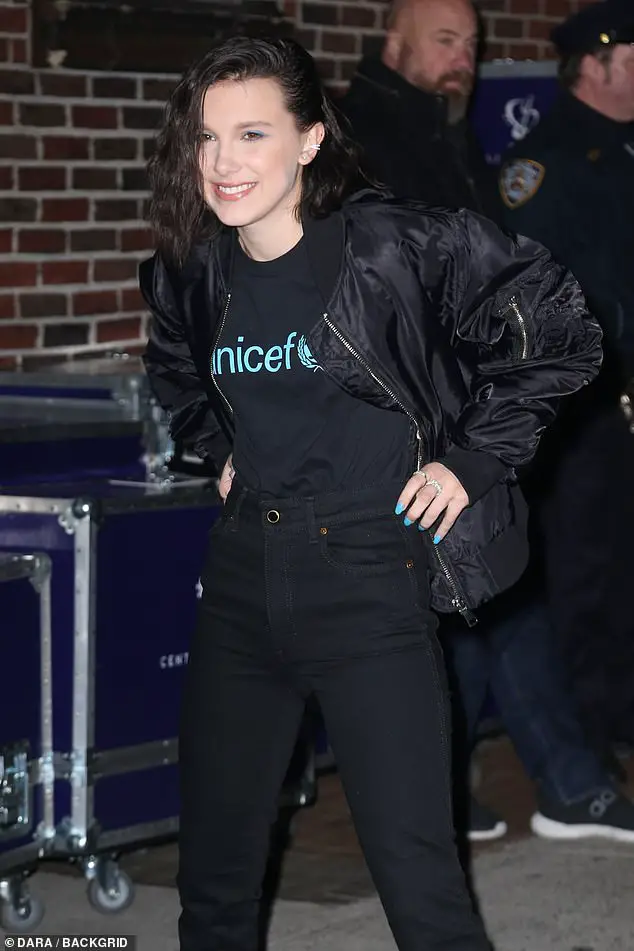 Millie Bobby Brown became the UNICEF's youngest ever Goodwill Ambassador on 20 November 2018 (Photo: dailymail.co.uk)
Millie who supported the organization work since 2016 proudly said:
It's a dream come true to become a UNICEF Goodwill Ambassador. It's a huge honor to join such an impressive list of people who have supported UNICEF over the years. I am looking forward to meeting as many children and young people as I can, hearing their stories, and speaking out on their behalf.
Her affiliation with the United Nations dates back to 2016. She hosted the United Nations 70th-anniversary celebration in 2016 and also championed it's inaugural World Children's Day in 2017.
Don't Miss: Loserfruit (Twitch Star) Wiki, Age, Boyfriend, Gay, Lesbian
She joins the top-notch list of Unicef Goodwill Ambassadors like David Beckham (who has a son named Brooklyn Beckham), Priyanka Chopra, Leo Messi, Shakira, Katty Perry, and more.
How Much Is Millie Bobby Brown's Net Worth?
Millie Bobby Brown relishes the net worth of $4 million from her career as a British actress. The Intruders starlet is one of the highest paid child actresses who bags an average salary of $300 thousand per episode while starring in the Netflix hit series Stranger Things. 
The Emmy-nominated actress reportedly secured $10,000 per episode during Season 1 and earned $30,000 per episode during the Season 2. For Season 3 in the Netflix series, she negotiated for $350,000 per episode.
Read Also: Tamara Holder Wiki, Age, Birthday, Married, Husband, Boyfriend, Affair
Millie made her acting debut in 2003 from ABC series Once Upon a Time in Wonderland as Young Alice. The Marbella native got a big break in Hollywood industry in 2016, where she landed a role of Eleven/Jane in Netflix series Stranger Things.
She is set to portray a character of Madison Russell in 2019 movie Godzilla: King of the Monsters and it's franchise Godzilla vs. Kong, scheduled to hit the theatres in 2020.
Facts Of Mille Bobby Brown
Here are some of the facts about British actress, Millie Bobby Brown;
The teenager was dating 15-year-old singer Jacob Sartorius. The 14-year-old actress and her ex-boyfriend started their relationship during early 2018, but their teenage romance ended in July 2018.
 
She shares a good bond with rapper Drake. The duo met at a concert in Australia in November 2017, and since then, the 32-year-old rapper has been a role model of Stranger Things actress. During the Emmy's in September 2018, Millie revealed that God's Plan singer even provided her some relationship advice.
See Also: Pat James-Dementri QVC, Wiki, Age, Birthday, Husband, Daughter
Short Bio
Born on 19 February 2004, Millie Bobby Brown is a native of Marbella, Spain. She lived in Marbella till age four before moving to England with her parents Robert Brown and Kelly Brown. The Brown family soon moved to Orlando, Florida in the United States. To fulfill Millie's dream as an actress, her parents reportedly sold everything to move and settle in Hollywood.
Despite having an American accent, Millie is British who learned American accent watching the Disney channel. The actress has a height of 1.63 m and holds British nationality. As per wiki, Millie has three siblings, two sisters, and an older brother.