America is indeed one of the most powerful countries in the world, and its normal for the president of such superpower country to get undivided attention. Mollie Hemingway, who is a journalist and political commentator, came into the limelight after she became the avid supporter of President Trump and is now considered to be the Federalist's most reliable Trump defender. 
The Career of Mollie Hemingway:
Mostly, Mollie had pursued her career as a journalist and political commentator. Her first job in journalism was in 'Radio and Records.' In 2002, she moved to Gannett Publishing and started to work at 'The Federal Times.
Currently, she is working as a senior editor at the online magazine 'The Federalist' and also as the contributor for 'Fox News.' On March 26, 2017, there was an announcement that she was signed as a contributor in 'Fox News.'
Throughout her career, she had also worked for various posts like The Wall Street Journal, CNN, RealClearPolitics, USA Today, The Los Angeles Times, The Guardian, The Washington Post, National Review, and Christianity Today.
How Much is Mollie's Net Worth and Salary?
Mollie had set her professional life as a famous journalist and is much devoted to giving her contribution in the field of journalism. As of her net worth, she had not given the exact detail of her financial status. Though not disclosed yet, looking at her professional life it is safe to say that she is entitled to a handsome salary.
Her Married Life, Husband and Children:
The journalist has a settled married life with husband Mark Hemingway. After she met her future husband for the first time in Northern Virginia, they started dating right away.
The couple took the next step in their relationship, when she married Mark on 15th September 2006 and have been happily married for 11 long years.
The wedding ceremony took place at Immanuel Lutheran Church in Alexandria and was followed by a grand reception at Historical Lesley J. McNair Officer's Club in Washington.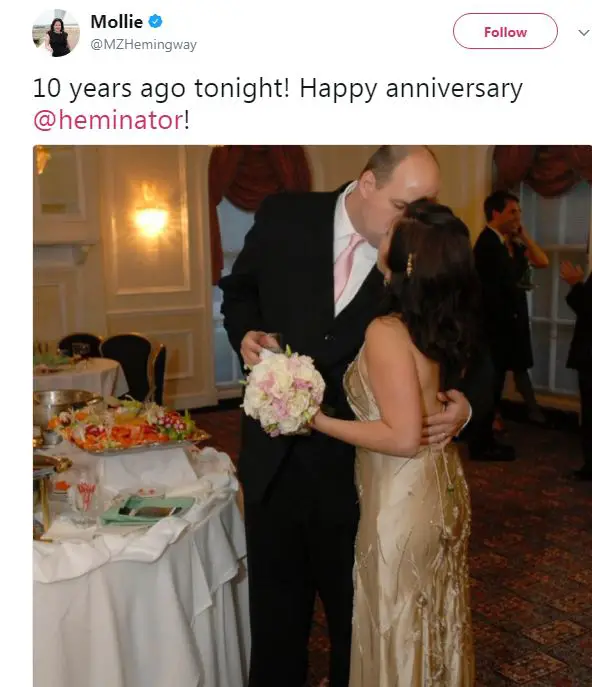 Caption: Mollie sharing the snap with her husband on her 10th marriage anniversary, posted on 15 September 2016
Her husband Mark is also a senior writer for 'The Weekly Standard' and freelance writer who had given his contribution for many publications. She along with her husband has two adorable children.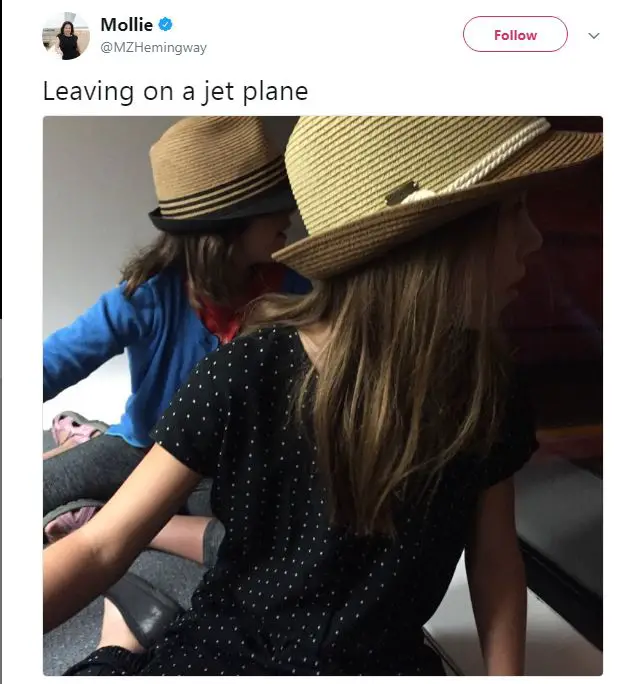 Caption: The snap of Mollie's daughters, posted on August 2, 2016
She Wasn't a Trump Supporter, but She is Now!
Mollie is not only famous as a journalist, but her name is also known as The Federalist's most reliable Trump defender. So, what's the real matter?
Mollie had shared her views on 'The Washington Post' which put some lights on it. She said,
"Trump was not my first or even second choice for president, but a full two years ago I predicted he would win. I also predicted he'd be a progressive president, which explained why I was not among his supporters and why I am so pleased now."
Her statement hints that she portrays Trump to be a progressive president and is now pleased with his current proceedings.
Short Bio and Wiki:
Mollie was born around 1974 in Denver, Colorado. She had not given the exact detail of her birthday till yet. About her age, she is in her 40s. She was born to parents Rev. Larry and Carolyn Ziegler. Mollie's father is a retired pastor of the Lutheran Church–Missouri Synod, whereas her mother, is a retired school teacher. 
She completed her graduation from Douglas County High in Castle Rock in the year 1992. She had also earned the degree in Economics from the University of Colorado. She stands at a decent height and has body shape which suits her personality.