Montana Jordan is a familiar face on CBS series, Young Sheldon where he portrays the role of Georgie. The child actor is known for his featured role in the spin-off prequel of the famous series, Big Bang Theory. He has also made a film debut in 2017 Netflix's comedy movie, The Legacy of a Whitetail Deer Hunter.
Montana's Family: Shares Good Bond With His Parents
Montana was born to his parents Kelli Pieratt Smith and Tony Jordan. He also has two siblings named Katelli Jordan and Jaden Jordan. He is youngest among his siblings. The child actor is maintaining a healthy bond with his family. He has used social media platforms to gush about his family life.
The Legacy of a Whitetail Deer Hunter actor shared a selfie of him alongside his mother, Kelli on 13 November 2017 on Instagram. The combo of mother-and-son flaunted a smile on their face while looking towards the camera. Montana also took his Instagram and shared a snap with his father Tony on 17 June 2018. The child actor wished his father 'Happy Father's Day' and said that he has always been there when he needed him most.
In March 2018, he pranked his mother and uploaded a video on his YouTube channel. Montana waited until his mother went out of the home and carried the giant plasma LED-screen with him and his friend. They successfully hid the LED-TV and replaced it with the old one. When his mother returned to the house, the mother-and-son duo chatted for a bit and Montana performed a fake interview with her. Meanwhile, he took a toy gun and started hitting the TV which bewildered his mother. She even warned him whether its okay to miss two or three teeth.
You May Like: Rachel Levin Boyfriend, Dating, Family, Interview
After the TV broke into pieces, she had a moment of relief after noticing it wasn't the actual TV that they had in their house. His mother somehow got confused and knew that it was a prank. The confused mother then uttered she was tired of jokes but the duo of mother-and-son had a fun day.
On-Screen Role In 'Young Sheldon'
In the series Young Sheldon, Montana plays the role of Georgie, Sheldon's older brother. Sheldon and Georgie don't get along because Georgie often gets compared to his genius little brother. The difference between Montana's real and reel life is that he gets along with his all siblings in his real life. He has also shared a picture with his on-screen cast members of Young Sheldon via his Instagram on 12 January 2018.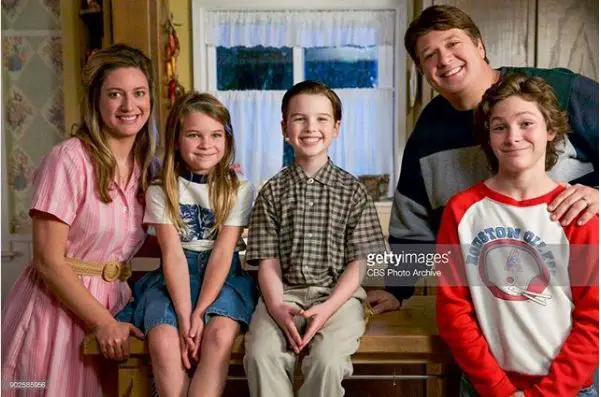 Montana Jordan along with cast members of 'Young Sheldon' in a picture shared on 12 January 2018 (Photo: Instagram)
The child actor also competed against 10,000 kids and got the role of Jaden in the Netflix comedy movie, The Legacy of a Whitetail Deer Hunter. Montana is sharpening his acting skills and his role as Georgie has also garnered him popularity.
Read About: Chosen Jacobs Wiki: Age, Height, Parents, Girlfriend, Affair, Ethnicity, Net Worth
After everyday work, Montana follows his everyday routine and puts the cactus lotion on his face. His hair designer helps the child actor to give extra features on his hair. After finishing his makeup as a daily routine, he heads towards his school and enjoys the time with his friends and studies. At home, he loves to ride on his bicycle and often performs a stunt on it.
How Does Montana Jordan Gather Net Worth?
Montana Jordan has gathered his net worth from his career as an American actor since 2017. He has gathered revenues from Rough House Pictures and
Scott Rudin Productions, as he plays the role of Jaden Ferguson in the Netflix movie, The Legacy of a Whitetail Deer Hunter. Likewise, his stint on TV series Young Sheldon since 2017 has also served to raise his earnings.
Montana also has a YouTube channel called Montana Jordan Vlogs, which he created on 15 April 2017. According to Socialblade, his YouTube channel has estimated earnings between $33 - $547 monthly and $400 - $6.6K yearly. He has gathered more than 13,000 subscribers on his YouTube channel. He also has uploaded prank videos alongside vlogs on his YouTube channel.
Montana debuted in the entertainment industry at the age of 14. He started his career as an actor with 2017 TV series, The Talk. The actor then appeared in Young Sheldon and debuted in the episode called 'Pilot' in 2017. In the year 2018, he made a cameo appearance in the TV show, Steve.
You Don't Want To Miss: Meredith Foster Wiki, Bio, Age, Height and YouTube
Short Bio
Montana Jordan, who was born in 2003, has his birthday on 8 March. As a native of Longview, Texas, he possesses American nationality. The American actor stands at the casual height with ectomorph body structure. As per wiki, during the auditions in The Legacy of a Whitetail Deer Hunter, he beat 10,000 kids and selected for his role.