Moroccan Scott Cannon got his first name as Moroccan after his father purposed his mother in a room decorated in Moroccan style. He is known as a son of the well-known figure Nick Cannon, a TV personality and Mariah Carey, a pop singer. He also has a twin sibling Monroe Cannon and is the second-born of intimate twins.
Moroccan's Celebrated Family
Moroccan Scott Cannon, age 7, was born alongside his twin sister Monroe to rapper and TV personality Nick Cannon and pop singer Mariah Carey. His parents married on 30 April 2008, in a private ceremony in the Bahamas.
His parents renewed their wedding vows in 2013 in Disneyland; however, they split a year after they renewed their vows in August 2014. His dad, Nick released a statement where he affirmed the couple lived apart for several months.
Their divorce finalized in 2016 and the same year, his mom Mariah got engaged to Australian businessman James Packer in New York City, only to split after nine months of engagement. After James, she also had a relationship with dancer Brian Tanaka.
Alike Mariah, his father Nick also had an affair with Brittany Bell. He even welcomed a son Golden Cannon with her on 21 February 2017. Nick also stated he would support Monroe and Moroccan's career path even though he does not like his kids to become an entertainer.
Even though Nick and Mariah separated, they remain good friends and care for their child. On March 2018, the family of four attended Nickelodeon's Kids' Choice Awards on the orange carpet where Moroccan and his father wore the Inglewood.
Moroccan was a split image of his father whereas Mariah and Monroe wore black leather jackets complementing the father-son duo.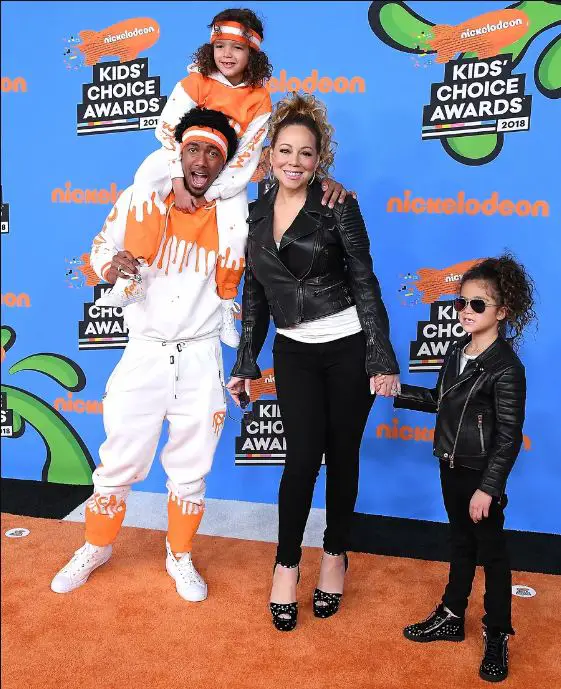 Moroccan Scott Cannon along with Nick Cannon, Mariah Carey, and Monroe Cannon during Kid's Choice Awards (Photo: people.com)
The estranged couples are parenting their children even they are no more in the relationship. Nick claims they are selfless individuals when it comes to fostering their children and prioritize Moroccan and Monroe despite their alienated affair.
Moroccan School Life
Moroccan and his twin sister Monroe attend a summer school in Las Vegas. On 10 July 2015, his mother Mariah shared the picture of her twin kids on her Instagram, where both Moroccan and Monroe can be spotted getting ready for the first day of their summer school.
The twins, who were both four years, stood in the classroom while their mother kneels between them holding hands of her twin kids.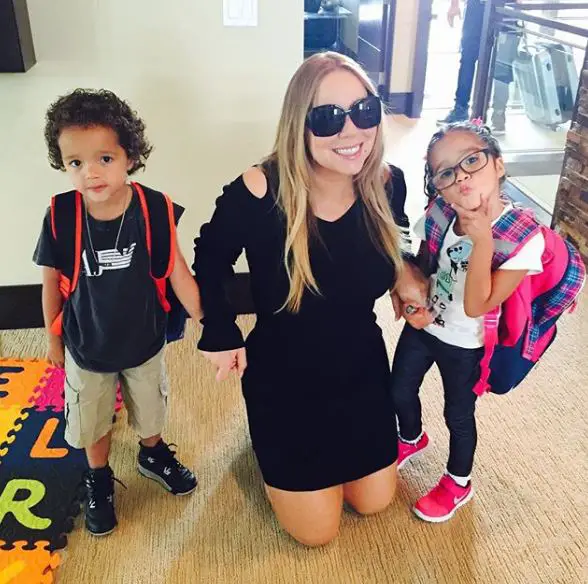 Moroccan Scott Cannon and his twin sister, Monroe Canon attending summer school in Las Vegas (Photo: Instagram)
Mariah often visits the classroom of her kids and shares their photos on her social media. On 30 March 2018, she went to their summer school and shared a cute snapshot of her twins via her Instagram.
Moroccan and Monroe, who are seven years old, are developing their education maintaining a good bond with their friends as well as father and mother.
Short Bio
Moroccan Scott Cannon, who was born in 2011 in Los Angeles, California, celebrates his birthday every year on 30 April. He shares his birth sign Taurus with his sister long with American nationality.
His father Nick has a height of 1.83 m and his mother Mariah is 1.73 m tall. As per wiki, Moroccan and his twin sister Monroe was born on the occasion of the third anniversary of their parents' wedding.