Jimmy Donaldson- better known as MrBeast for his YouTube channel- is a famous internet personality. He has amassed great fame for his kind heart and the crazy acts he does for the entertainment of his viewers.
Jimmy started his career creating a YouTube channel in 2012 through which he uploaded a video series titled Worst Intros on YouTube. Soon after, he gained more attention with expensive videos that included a lot of money, such as 5$ For Hot Girls To Advertise Your YouTube Channel, Giving A Random Homeless Man $10,000, Gave $500,000 To Random People, and more.
Moreover, the YouTuber garnered more success when he advertised Pewdiepie to help him get more subscribers than T-series by making a video "I bought every Billboard in my city to do this."
Apart from YouTube, Jimmy is also invested in social causes. He is the one to start the "20 million tree plantation challenge," which made a substantial impact on restoring trees.
Who Is Jimmy Donaldson's (MrBeast) Girlfriend? 
Jimmy is dating a social media influencer and Instagram model, Maddy Spidell.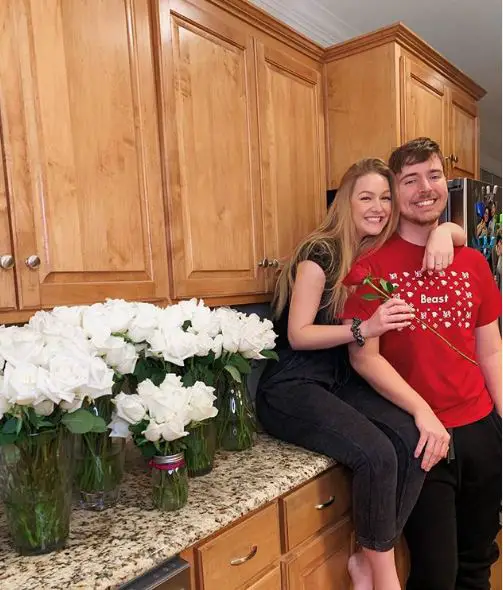 MrBeast and his girlfriend, Maddy Spidell on 23rd December 2019 (Photo: Maddy Spidell's Instagram).
Talking about their link-up, the pair's love life came into the highlight when Jimmy first uploaded the picture with girlfriend Maddy on 17th June 2019. Since then, the two have been together; they even celebrated 2019's Thanksgiving together. 
Made Homophobic Comments Towards Gay Community
Jimmy a.k.a. MrBeast holds a history of making jokes upon the bisexual community. He is often criticized by adults for his patronizing acts on the social media platform. Like, in the video titled Giving $10,000 To Comments On This Video, he wore a t-shirt emblazoned with the words, I'm not gay, but $20 is $20.
However, on his 20th birthday, Jimmy finally apologized for his acts and claimed that he would stop making fun of the gay community.
Jimmy Alias MrBeast's Net Worth
MrBeast's net worth is estimated to be $4 million as of now.
Another YouTuber: Kian Lawley Dating Status Now, Insight His Girlfriend History
Additionally, he makes a monthly earning of $79.5K-$1.3 million and yearly income ranging from $953.7K to $15.3 million from his YouTube channel, which has more than 28.4 million subscribers.
On top of that, he also has a website named Shopmrbeast, which was nearly two years old at the end of 2019. From this website, his daily income is estimated to be $318, while the site is assumed to be worth $228,960.
Bio And Family Detail
MrBeast's creator was born in 1998 (birthday: 7 May) in Greenville, North Carolina, United States. His real name is Jimmy Donaldson and he stands tall at a height extending 6 feet and 3 inches (1.9 m).
Concerning Jimmy's upbringing, he has kept it quite confidential. However, he is close to his mother as was raised by her.
Apart from his mother, he has a brother named CJ Donaldson- who is also a YouTube star with a channel named MrBro.
Interesting Facts About Him:
Jimmy started 20 million trees plantation challenge to celebrate the milestone of gaining 20 million subscribers on his YouTube channel and to restore the forests on 13th October 2019. His campaign was joined by many celebrities like Alan Walker, Ninja, and more.
He privated his videos from the web series, "Worst Intros on YouTube" commencing on 28th March 2018.
He was nominated for Vlogger of the Year at the 2019 Shorty Awards.