MysticGotJokes is one of the famous YouTube comedy channels which is run by the YouTube star Mark Williams. Mark has also got a second vlogging channel called The Mystic Vlogs which has exceeded one million subscribers. He is an actor, comedian, and entertainer who gathered his spotlight after featuring comedy and prank videos on his YouTube channel.
How Does Mark Gather Net Worth?
Mark Williams has accumulated the net worth of $6 million from his career as the YouTube star since October 2011. According to the Socialblade, his YouTube channel MysticGotJokes falls under B+ grade category. His channel's estimated monthly earnings range from $5.2K - $83K whereas his yearly payrolls range from $62.3K - $996.3K. Mystic is receiving a lucrative income from his YouTube channel through which his net worth has increased gradually.
Likewise, he is also generating earnings from his YouTube channel called MysticGotVlogs since August 2017. As per Socialblade, his YouTube channel falls under B- category with estimated monthly earnings of $143 - $2.3K. His channel's yearly income is expected to be $1.7K - $27.4K. 
Mark opened his comedy channel, MysticGotJokes at the age of 21. Up-to-date, his channel has gathered 984,154,804 video views from his 459 video uploads. He has racked 4,012,725 subscribers and has nine featured channels. Whereas, his other YouTube channel MysticGotVlogs has 9,251,830 video views since it's initial launch on 30 August 2017. He has uploaded 212 videos and has gathered 154,764 subscribers.
Features Prank Videos With Girlfriend
Mark Williams, 28, began dating Jasmine Johnson in 2017. He has featured his girlfriend Jasmine in most of the videos on his YouTube channel MysticGotJokes. He has mostly uploaded the prank videos along with some challenges with Jasmine. 
In the video uploaded on 15 February 2017, his girlfriend Jasmine played a prank declaring she was pregnant with Mark's child. She even stuffed her room with some toys and teddy bears. She called Mark, and he was happy to learn he was going to become a father. He called his dad and shared the news with his family. Later, when his girlfriend said she was playing a prank, Mark was emotional and left the room with an angry face.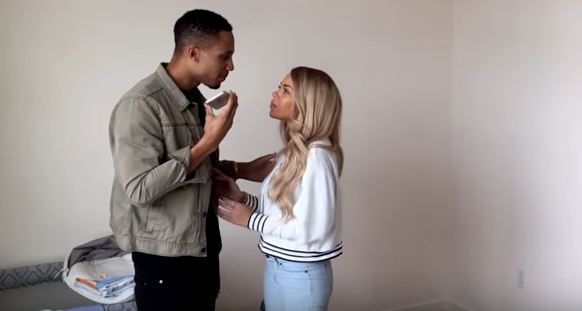 Mark's girlfriend Jasmine Johnson plays a prank of being pregnant on Mark in a video posted on 15 February 2017 (Photo: YouTube)
Mark has also played pranks on Jasmine. His family pranks on October 2017 and tattoo prank with Jasmine has backfired towards the YouTube star. The couple took 24 hours handcuff challenge, which Mark posted on 6 March 2018 on his YouTube channel. Though Mark and Jasmine compete for jokes most of the times, they are maintaining a good bond and uploading the videos for entertainment purpose.
Mark's Previous Affair; Former Girlfriend Needs Medical Help After Cheating Scandal
Before dating Jasmine, Mark was in an affair with a girl named Jessica. In early 2010's, the pair started dating until they had a dispute regarding their relationship. Mark was found cheating on Jessica because of which she separated with him in 2016.
Later, it was revealed that Jessica had to undergo psychiatric tests due to Mark's cheating. Mark got criticized which damaged his reputation. He also got scrutinized where most of the people claimed his videos were fake. However, Mark denied all the rumors of his video and claimed they were all genuine.
Short Bio
Mark was born in 1989 has his birthday on June 15. His real name is Mark Williams and is the native of Arizona in Southwestern U.S. state. Mark, who has a height of 6 feet 3 inches, posses a birth sign of Gemini. As per wiki, he attended Arizona State University and graduated from Military Boarding School from Virginia.