Japanese actress Naoko Mori, who wanted to be a singer in her childhood, is known for portraying the character, Sarah in BBC sitcom series, Absolutely Fabulous. She is also known for appearing in the medical drama, Casualty, portraying the character, Mie Nishi-Kawa. She has gained acclamation her role, Geisha Girl in the BBC Two comedy/drama series, Manchild. Her other well-known characters are Nicola in the comedy movie, Spice World, and Toshiko Sato in the British science fiction television series, Torchwood. 
How Naoko Mori Derives Her Net Worth?
Naoko has gathered most of her net worth from her acting career in the United Kingdom. Her 2015 biographical adventure film, Everest grossed $203.4 million at the box office with the production budget of $55 million. The movie based on conquering the world's highest peak, Mount Everest located in Nepal, was one of the most challenging projects of her career.  She portrayed the character, Yasuko Namba in the famous movie. On its opening weekend, Everest grossed $28.8 million from 65 countries. 
Likewise, she has also been earning fortunes from her television stints, including Absolutely Fabulous (1992 to 2011), Casualty (1993 to 1994) and Torchwood (2006 to 2008).
Naoko debuted in the Channel 4's comedy series, Desmond's as Caroline in 1992. From 1995 to 2016, she further increased her net worth working on several TV series and movies, including Hackers; Running Time; Hiroshima; The Revolting World of Stanley Brown; Me and the Apocalypse; and The Amazing World of Gumball.
In 2018, she played the voice role of Momakase in the Disney's animated series, Big Hero 6: The Series. Her popular video game credits, including Genji: Dawn of the Samurai; Perfect Dark Zero; and Hitman, also helped the Japanese actress to boost her wealth.
Is Naoko Mori Married; Her Short-Lived Funny Relationship?
The Japanese actress is active on Instagram. She shares snaps related to her life on the social media, including posts dedicated to her close ones.
Naoko, on 9 May 2016, shared a picture on her Instagram with her godson Graham, writing on the caption that he was all grown up. Moreover, the actress joked about a possible date with her Torchwood costar, Owen Harper, on 14 November 2017 on Instagram.
The Japanese-Buddhist follower further shared two funny photos on Instagram on 30 March 2018. In the first picture, she labeled a dummy with a cartoon face as her new boyfriend. Her followers even joked saying the duo made a lovely couple together.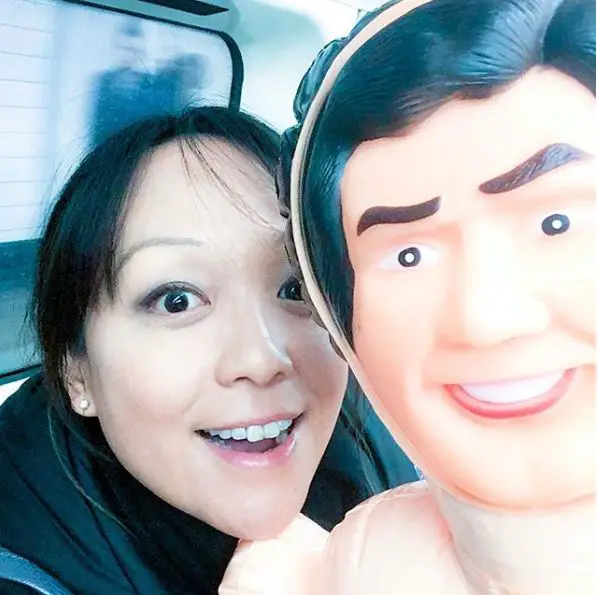 Naoko Mori jokes about her "new boyfriend" (Photo: Instagram)
In her second post, after some hours following the first, Naoko shared a snap of her dummy boyfriend again, but this time labeling him as her ex-beau. After the post, some of her followers joked that the new couple lived a short-lived dating life. However, some were saddened as they sarcastically wanted to see the lovebirds turn into loving "husband" and "wife." 
As of 2018, she is reportedly unmarried. She is enjoying her time focusing on career and visiting her close friends.
Short Bio
Naoko was born in Nagoya, Japan, on 19 November 1971. She moved to England with her family when she was 12 years. Later, her father let her stay alone as she wanted to become independent. She has the height of 1.59 m (5' 2½"). Her ethnicity is Japanese. As per wiki, she attended Royal Russell School, an Independent school in England.