Nathan Schwandt is an Instagram star, social media personality, and model- who gained all the spotlight and attention after his relationship with the famous makeup artist, pop singer, designer, and performer Jeffree Star surfaced into the media.
He was often featured on Jeffree's YouTube channel and even worked as in-charge of the shipping department of Jeffree's company, Jeffree Star Cosmetics. Also, he has modeled for various Jeffree's products. 
Nathan Schwandt's Wiki, Age, Birthday
Nathan was born on 19 August 1993 in Michigan, the USA. However, he now resides in Los Angeles, California. He is the first child of his parents, and he has a younger brother named Zachary Taylor Schwandt. His father has also appeared on Jeffree's YouTube channel. 
Height, Interests
Nathan- who stands at a height extending 1.75 m (5'9")- is a huge guitar lover and a skilled skateboarder.
How Nathan Met The Makeup Mogul?
Nathan gained the spotlight as the boyfriend of the makeup mogul and internet personality, Jeffree Star. Nathan was an Instagram follower of the star, and Jeffree had noticed him after Nathan sent him a DM. Initially, they started communicating and became close friends.
Also A Internet Personality: Tanya Burr Divorce With Husband: Net Worth, Weight Loss
Overwhelmed by Nathan, Jeffree invited Nathan to visit him in Los Angeles, where they went for their first date to the Santa Monica Pier in March 2015.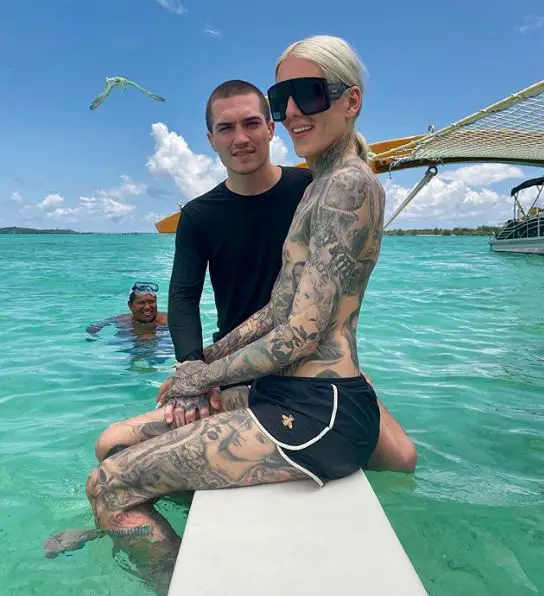 Jeffree Star with Nathan Schwandt on 22 November 2019 at Bora Bora. (Photo: Instagram)
The couple later lived together at Jeffree's residence in California and worked together until they split in 2020. 
Nathan Schwandt Splits With Jeffree Star
The most famous pair on social media- Nathan Schwandt and Jeffree Star have officially split after five years of dating. Jeffree confirmed the split on 11 January 2020 via a YouTube video and tweet. His twitter that has 6.17 million showcased his video with the heartbreaking caption,
"We broke up... Sorry for the silence, I've been trying to heal and it's been really hard."
In a video titled We Broke Up, Jeffree revealed that they had split a few weeks ago and even expressed his deep grief for losing his soulmate. The YouTube star further commented, 
"We were too busy being there for each other, that we forgot to be there for ourselves."
Jeffree concluded the video saying he and Nathan would remain friends and always have feelings for each other.
Details on Accusation
Following the breakup, the media were quick to create rumors on a hypothetical basis. A YouTube drama account accused Nathan of cheating Jeffree for another woman. It suggested that Nathan was in Malibu with a woman while Jeffree released a breakup video on 11 January 2020. 
Gay Star: Ryan Cabrera Wiki, Married or Girlfriend, Dating, Gay and Net Worth
It was out of Jeffree's patience when another famous drama account Nick Snider also tweeted the same post (rumor) on its timeline. Jeffree quickly responded to the tweet claiming that the accusations were fake. He even mentioned that Nathan was together with him when the allegations surfaced.
Labeled Gold Digger For Dating Jeffree
Nathan was previously alleged as a gold digger for dating Jeffree. He was leveled with the title "gay for pay" as he had never dated any men before Jeffree. He was assumed to be a straight guy as his previous affairs were with only girls. 
On the other side, Jeffree was aware of his sexuality since he was in the fifth grade. However, as of now, he refers to himself as androgynous.