Celebrities do not always marry a public figure or someone who is as popular as they are. Some selected A-list celebrities fall in love with the people who are miles away from the limelight. And on the top of our list falls Ned Rocknroll and his wife, Kate Winslet.
Being a famous actress, Kate married Ned, who was not generally in the limelight. Despite their previous failed marriages, the couple has been enjoying a strong marital life, giving new relationship goals. 
Ned Rocknroll, Husband Of Kate Winslet Changed His Name Back To Smith:
When you are married to a well-known artist, you will surely catch the eye of the people who are around your partner. Similarly, Ned became the center of attention overnight after he was spotted with Kate Winslet in late September 2011.
Want To See: Renee Zellweger Wiki, Husband, Divorce, Boyfriend and Plastic Surgery
It was after Ned's divorce with his socialite wife Eliza Pearson was finalized. Eliza is the eldest daughter of Sussex landowner Viscount Cowdray. Ned separated from Eliza in April 2011 and applied for a divorce in June. On September 2011, Ned had told Eliza he was in a relationship with Winslet.
Ned had fallen for Kate during the trip to Necker in August 2011. Kate had arrived on the island with her on-off boyfriend model Louis Dowler, and it was during this trip that Kate saved Sir Richard Branson's 90-year-old mother, Ned's grandmother from a fire. Kate was with her children Mia, and Joe, when she carried Ned's grandmother Eve downstairs, after Sir Richard home on the island burned to the ground on 22 August 2011.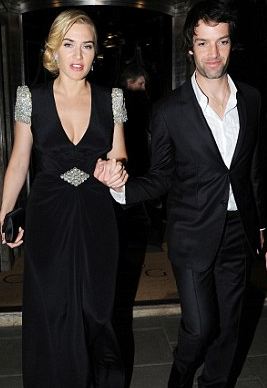 Ned Rocknroll and Kate Winslet photographed back in 2012 (Photo: dailymail.com)
Learn About: Martin Lawrence Wife, Divorce, Girlfriend, Dating and Net Worth
A year later, Ned tied the knot with Kate in December 2012. As per DailyMail, the family of both the bride and groom didn't attend the wedding. However, the presence of some of the illustrious artists in the showbiz like Leonard DiCaprio made their wedding a glittery affair. The pair welcomed a son named Bear Blaze just within a year of their marriage in 2013.
Ned had previously changed his surname from Smith to Rocknroll because he had always wanted to change his boring birth name to something fun. But because he did not want it to have an implication on his son bear, Ned changed his name back to Smith. The spokesperson of the couple has declined to comment on the topic but, according to The Sun, 24 February 2019, a source has confirmed it. 
His Wife Kate Winslet's New Shows
His wife made her appearance on the BBC based genealogy program Who Do You Think You Are? in August 2019. In the show, the actress herself approached the producer of the show to discover her Scandinavian side of her family. She learned about her family roots tracking its way to her working-class family in Sweden. She was also shocked when she identified her family had been affected by the famine of the 1830s.
She even sobbed when she found out her great-great-great-grandfather was sentenced to 35 lashes after stealing potatoes and honey to feed his hungry family. However, the Titanic star criticized for her reaction to her knowledge of her family history. Fans online even went as far as to brand her Drama Queen.
Kate is also all set for an English language remake of Bille August's Danish language movie Silent Heart released in 2014. The remake is scheduled to premiere on 67th San Sebastian Film Festival on 20 September 2019.
Previous Marriages
Ned's first affair was with socialite Eliza Pearson. Their wedding was an outdoor pagan-style ceremony on the Caribbean Island in August 2009. But just after being together for two years, the lovebirds separated ways in April 2011 and filed for divorce in June.
Also View: Kyle Bass Wiki: Married, Wife, Divorce, Children, Net Worth
Like Ned, Kate was also married previously. Ned is the third husband of the actress as she was previously married to Hollywood director, Jim Threapleton from 1991 to 2001 and are the parents of Daughter Mia, age 19.
After the relationship with Jim got over, Kate got married to director Sam Mendes in 2003. They have a son named Joe, age 15. Nothing could save their marriage as they divorced after being together for seven long years.
Job Details And Family Life
Apart from getting recognized as the husband of Kate, Ned has a career of his own. Talking about his job, he works as a Marketing Promotion Head in his uncle, Sir Richard Branson's space travel company called 'Virgin Galactic.' Sir Richard has a good reputation for being a noteworthy Businessman across the United Kingdom.
Talking about Ned's family background and early life, he was raised by his mother, Lindy Branson, and his stepfather, Robin Brockway. His mother and biological father, Robert Abel Smith, parted ways when he was a toddler. Robert is also a businessman who is the Deputy Chairman of Mesopotamia Petroleum Company. However, the actual reason for his parents' separation is still a private matter.
Ned is not the only child in the family as he has four brothers to share a sibling bond. However, the name and job portfolio of his other siblings are still confined.
How Much Is His Net Worth?
Ned knows all the techniques and requirements of doing the right business. He is a prolific marketer who has years of experience in the field. Ned enjoys his work and enjoys a wonderful fortune from his advertising and promoting job. He earns a very lucrative salary and to calculate his net worth; it is estimated to be around $25 Million.
His Short Bio:
Ned celebrates his birthday on January 1. He is 42 years of age, born in 1978 in the United Kingdom. Ned's birth name is Edward Abel Smith, but he later changed to Ned Rocknroll in 2008. The handsome guy stands an elevated height and belongs to Caucasian ethnicity.