Journalist and presenter, Nelufar Hedayat is popularly known for her documentary Women, Weddings, War, and Me. The Afganistan-born lady also worked as a reporter for the children's news program Newsround. The victim of Taliban and war-torn Afghanistan has set remarkable augmentation on Journalism flashing inhumanities occurring around the world in front of audiences.
How Much Is Nelufar Hedayat Net Worth?
Nelufar Hedayat summoned her net worth as being a journalist and presenter. She worked on BBC, Channel 4 and few more international broadcast that helped her gather a considerable amount of wealth.
Working across BBC for six, Nelufar co-produced and written documentary titled Women, Weddings, War, and Me. She also filmed her second programme for Unreported World. Her notable TV shows where she performed as a presenter and reporter include Music; Money and Hip Hop Honeys; Newsround; Vietnam's Dog Snatchers Unreported World; Vaccination Wars; and "The Traffickers" Fusion Media Network.
Nelufar got chance to start broadcasting when she was at university. She traveled back to Afghanistan at the age of 21 to film her first documentary. Besides her career in Journalism, she worked as a sales assistant, perfume seller, and private teacher.
Nelufar's Family; Her Heroes!
Nelufar Hedayat moved with her mother at the age of six In North London. Her mother was a civil engineer and first lady in her family to hold a university degree. Her father was a professor of mathematics.
Nelufar's family battled Taliban Afghanistan war during her young age and witnessed the loss of many beloved family members. Her father was recruited into the army in 1989. And at that time they were facing news about raping and the mutilation of women.
Her father then went missing and was assumed to be dead. However, when her mother moved to North London, her father joined them. He then worked as a toilet cleaner at a hotel. She often praises the heroics of her mother and named her mother as the hero who saved her and her family from war.
As of now, she is residing with her family in London and keeps flaunting photo of them on social media. On 27 January 2018, she shared the picture of her dad and mom mentioning them as biggest hero of her life.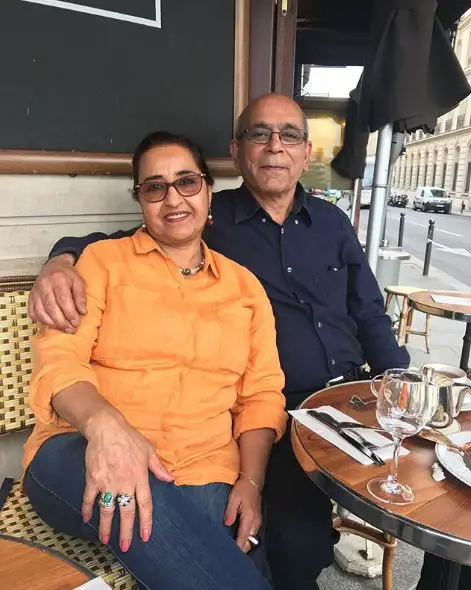 Nelufar Hedayat mentions her dad and mom as her hero (Photo: Instagram)
Alongside her parents, Nelufar has two sisters and a brother named Idris. She has a great attachment to her eleven-years-old brother. Nelufar Instagrammed a photo of her with brother and called him as Nelufar's favorite person in the caption.
Nelufar's Secluded Dating Life
Nelufar has hidden the information about dating affairs from the limelight. She is seen posting career oriented photo on social media and rarely is seen talking about her boyfriend. Though she has kept the information about her personal life a low key, she indeed is not married.
Nelufar has been exploring the marriage in a modern Islamic people. Also, she has been considering four significant faiths on culture, religion and modern identity in marriage.
Back in 2013, she featured in the BBC documentary The Hardest CHoice: Marrying the Faith. In the documentary, she mentions herself as single and doesn't have a husband. She also pointed out on the fact that it is hard for the young people of faith to find a person to send the rest of life with. 
So, did she find the Mr. Perfect with whom she can spend the rest of life with? Not yet, she hasn't revealed her plans of getting married.
Short Bio
Nelufar Hedayat was born in Kabul, Afghanistan on 1 January 1988. Later, she moved to North London. Nelufar completed her high schooling from Haverstock School. Though she was born in Afghanistan, she holds British nationality. She stands at the tall height and has petite body measurement. She follows Muslim religion.