Nick Clooney is the famous TV anchor and game show host of the 1970s The Money Maze and The Nick Clooney Show. He is also an actor who is known for movies such as The Monuments Men (2014), The High Cost of Loving (1958), and Handle with Care (1958). 
Further, he is also famous as a writer for documentaries Rebound: A Basketball Story (2009), Golden Anniversary (1995), and America: A Tapestry (1967).
Nick Clooney's Bio With Age
Nick Clooney was born as Nicholas Joseph Clooney on 13 January 1934 in Maysville, Kentucky. Nick's father came from an Irish and German descent while his mother had the Irish and English roots in her.
He had two siblings Rosemary Clooney born on 23 May 1928 and Betty Clooney who came into this world on 12 April 1931.
Both of his sisters were actresses and singers. Sadly, both have passed away on 29 June 2002 and 5 August 1976 respectively. Betty died due to a brain aneurysm while Rosemary died due to lung cancer.
Another Hollywood Director: Larry Charles Married Status, Family Background, Net Worth & Bio
He also has a half-sister named Gail Stone who was born on 9 February 1945. She is an actress.
Details On Nick's Married Life & Children
Nick shares his household with Nina Clooney. The duo met in an Ohio beauty pageant where Nina appeared as a contestant while Nick was the judge. The two tied the knot on 13 August 1959.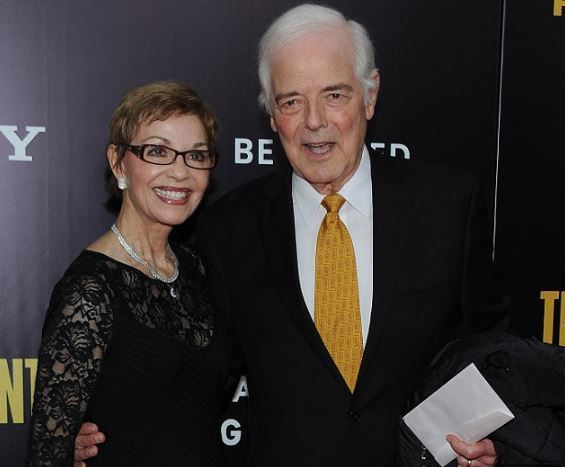 Nick Clooney with wife Nina Clooney at the premiere of The Monuments Men in New York. (Photo: dailymail.co.uk)
Nick and his wife Nina have two children: actor George Clooney, who was born on 6 May 1961, and Adelia "Ada" Clooney.
Famous Son George Clooney
 Nick's son George Clooney is an American actor, director, screenwriter, and activist. He is one of the most notable actors in the movie industry. He started his career through minor roles in TV shows like The Facts of Life (1985), The Golden Girls(1987), and Roseanne (1988).
Eventually, he got his major role in the sitcom called E/R that came out in 1984.
Check Out This Famous Actor: Rob Morgan (Actor) Wiki: Age, Birthday, Height, Girlfriend, Affair, Family
Some of his notable movies are From Dusk Till Dawn (1996), One Fine Day (1996), Batman & Robin (1997), The Peacemaker (1997), Three Kings (1999), Ocean's 11 (20010, Ocean's 12 (2004), and Ocean's 13 (2007). With such credits, George Clooney has made a total net worth of $500 million, as per Celebrity Net Worth.
George got married in Venice with Amal Alamuddin, a British human rights lawyer in September 2014. His wedding was held at the Luxury Aman hotel. In the hotel, a suite can cost more than $3,000 per night.