People have asked the question if Nick Kroll was gay but quoting his own words said in the Kroll show," I'm not gay, I'm Canadian", but neither is he gay or a Canadian in real life.
He is an American and has only dated women in his life, so him being gay is out of the question.
Nick Kroll's Wife Or Girlfriend? 
It is not really a funny business when one of the favorite comical duos in Hollywood breaks up. Nick Kroll does not have a girlfriend as of now but there was a time when this funny guy had an even funnier girlfriend, Amy Poehler. This comical duo was the talk of the town when they started dating in 2013. 
There was a time when Amy was head over heels in love with her then-boyfriend Nick. She even mentioned in her memoir that Nick knew the trick to settle Amy which apparently was just him telling her boring stories.
Amy's 2014 memoir, Yes Please. was also a proof of how considerate of a boyfriend Nick was. It was there where she talked about how on one of their first nights together, Amy woke up apologizing for her snoring and Nick pulled out two earplugs he had worn to bed so he could hear what she was saying. But like they say everything good things come to an end and their love like every good thing came to an end.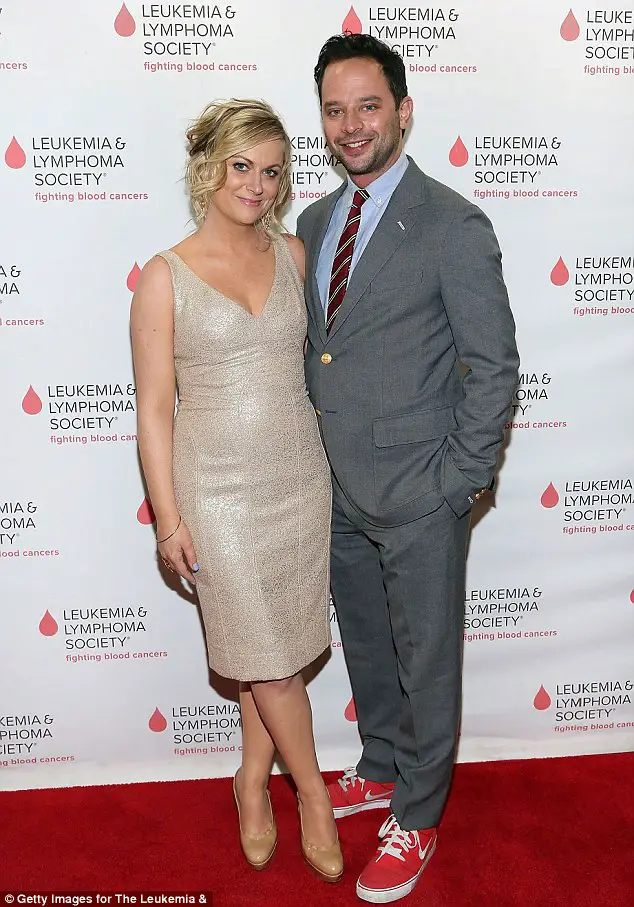 Nick Kroll and Amy Poehler ( Daily Mail)
The spark between the two went missing when the couple was forced to spend a lot of time apart due to their busy work schedule.
According to post in Us Weekly on September 23, 2015, It was revealed by the source that source revealed The couple really tried to make their relationship work but it just wasn't realistic anymore because the pair was spending more time apart then together. 
The two split up in 2015 after two years of dating. This news was a bummer for all the Amy and Nick fans who thought that Nick would wife up Amy.
How much is Nick's Net? Comes From A Family Of Riches.
American comedian and television actor Nick Kroll has an estimated net worth of $10 million. Apart from his own money Nick also comes from a Wealthy Family, his father Jules B. Kroll was the founder of the corporate consulting firm Kroll, Inc. Nick's father sold the company in 2004 for $1.9 billion.
As for Nick, he began his career as a writer in Comedy Central's 'Chappelle's Show'. But his career hit a kick-started when he co-starred in the ABC sitcom Cavemen. But he is best known for he owns show on Comedy Central show called the Kroll Show which was on the air from 2013- 2015.
Nick Kroll Short Bio:
Nick was born on June 5 1978 in New-York city. He was born in a Jewish Family. Kroll Stand stands tall at the height of 5' 9".He has an older brother and two older sisters. He has an undergraduate degree with a major in History and a minor in Spanish from Georgetown University.