Nicky Clarke is a celebrity hairdresser known for his self-titled hair salon and haircare brand. As a hairdresser, he has done hairdo for renowned celebrities, including Joanna Lumley, George Michael, David Bowie, Liz Hurley, and even Diana, former Princess of Wales.
For his services to the hairdressing industry, in the 2007 Queen Elizabeth Birthday Honors List, he was awarded the Officer of the Order of the British Empire (O.B.E).
Apart from being a hairdresser, Nicky is also an actor known for movies such as The Jump (2014), Absolutely Fabulous (1992), and Crocodile Shoes (1994).
Nicky Clarke's Personal Life Insight, Relationship Status
Nicky is in a relationship with his girlfriend Kelly Simpkin. The two have a son born in July 2017 and a daughter, whom the duo welcomed on 5 November 2019.
Nicky was first seen on his partner's Instagram on 16 June 2016, while they had first met when Kelly was a stylist at Nicky's salon in 2008.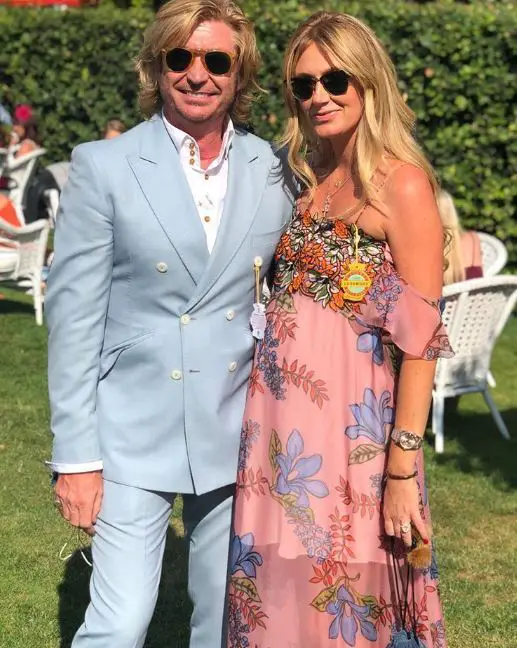 Nicky Clarke with his girlfriend Kelly Simpkin at Goodwood Racecourse on 2 August 2019 (Photo: Kelly Simpkin's Instagram)
Before Kelly Simpkin, Nicky dated Kelly Hoppen. The two had split due to Nicky's alleged infidelity.
Personal Life Of Another Stylist:- Kristin Smith Stylist, Wiki, Age, Boyfriend, Dating, Romance, Family
History With Ex-Wife
Nicky was also supposedly married at one point. He was in a seventeen year-long relationship with Lesley Clarke, which bore two children. In 2017, Nicky's ex Lesley shared that the duo never got married.
It all started out as a misunderstanding and only their close family knew. Of course, the claim seemed rather peculiar as Lesley took Nicky's name. The truth about Nicky and Lesley's relationship was revealed in her statement published by the Daily Mail on 18 March 2017.
His Career/Salon
Nicky Clarke was into hairdressing since he was fourteen years old. He started his career working in a salon called Leonards in London. Later, he worked with John Frieda in some ways until 1990. 
Check Out This Stylist Too:- Monica Rose Wiki: Age, Daughter, Stylist
Finally, in December 1991, Nicky started his self-titled hair salon. Slowly, it went up the ranks, and what started as a two-story salon, became a five-story salon by 1998. His ex, Lesley, is the CEO and CFO of Nicky Clarke Worldwide. The company is based across the United Kingdom and has been able to achieve massive success in the hair industry.
Three Interesting Facts About Nicky Clarke
Nicky Clarke was born on 17 June 1958.

His salon partnered with rosé brand called Mirabeau En Provence and gave away different products to the salon's fans.

Nicky has a total of four children, two from Lesley Clarke and two from Kelly Simpkin.