Nicole Boyd came to the spotlight after she tied the knot with professional skateboarder, Bam Margera. She got married to Bam on a stage which was witnessed by Bam's band members and audiences.
After her marriage, she gained public attention and made people curious about her personal and professional life. The following article sheds light on Nicole and her personal life.
Enthralling Wedding Ceremony!
Nicole and Bam exchanged their wedding vows during a rock 'n roll concert for charity in Reykjavik, Iceland on 5th October 2013. They got married on stage during Bam's performance along with his band members. Later, they kissed each other in front of a large number of audiences who witnessed their marriage. The video of their nuptials was also uploaded on Bam's Youtube Channel the next day.
Don't Miss: Hodgetwins Wiki, Age, Wife, Family, Net Worth
Well, the marriage took place less than a year after Bam got a divorce from his first wife, Melissa Rothstein.
After the wedding, Nicole and her husband, Bam continued their romance which took a significant place on their social media accounts. The couple visited various exotic sites perpetuating their love. They first met at the Phoenix Theater in Petaluma, California, and eventually began dating.
Together, they have a one-year-old daughter whose name is Phoenix Wolf. In February 2019, Bam showcased his daughter Phoenix and his wife Nicole along with a caption, 'A blizzard with Nikki and the wolf!'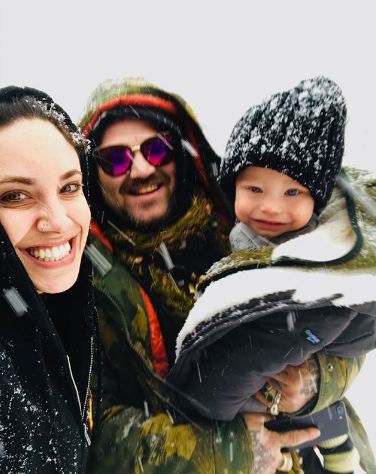 Nicole Boyd with her husband Bam Margera and their daughter Phoenix Wolf in February 2019 (Photo: Instagram)
In December 2018, her husband Bam went to rehab due to drinking problems. However, he left the rehab just after ten days without completing his treatment during the New Year in January 2019. He shared a lengthy Instagram post mentioning why did he withdraw from the treatment early and why the rehabilitation center of California did not work for him. 
While the rehab did not work out for him, the professional skateboarder thrashed Nicole in his Instagram rant in March 2019. In the since-deleted post, he mentioned:
If I don't see her at the show, I'm canceling it, and she better be in a new outfit because she always wears the same thing, or else I'll break shit. I better see you in one hour and 24 minutes, Nikki.
TMZ has the footage of the incident where Bam shouted at the comedy gig and threatened him refusing to do a gig at New York's West Side Comedy Club. As per the Dailymail, after his clash with the manager, he reportedly left the venue and did not perform any gig.
Nicole's Professional Career
Nicole Boyd is best known as the wife of American television personality, Bam Margera. Narrating her profession, she is an eye candy photographer of her husband, Bam's band. Furthermore, she worked as a model graphic artist and designer performer before her fame. According to wiki sites, Nicole also made her name on television by appearing in the 2015 drama series, Togetherness.
You May Like: Jared Abrahamson Wiki, Bio, Age, Birthday, Married, Girlfriend, Dating
From her fantastic career, she probably has earned an appreciable amount of income. However, she has not divulged the exact amount of net worth. Nevertheless, she enjoys a luxurious life with her husband, who possesses a net worth of $50 million.
Arrival Of New Family Member
Nicole and Bam took Instagram to announce that she was pregnant and is expecting a child in December 2017. Further, Nicole demonstrated an excitement of her pregnancy by posting numerous pictures on her Instagram.
On 22 December 2017, Nicole gave birth to a boy named Phoenix Wolf. And by sharing the picture of her son on Instagram, Nicole stated that she is blessed to have such a wonderful baby. Moreover, she posted several pictures exploring love for the newborn baby.
Similarly, earlier this year on 26 February, Nicole shared a heart-warming picture of her small family.
You Wanna Read: Aditi Kinkhabwala Wiki, Age, Bio, Married, Husband, Boyfriend, Ethnicity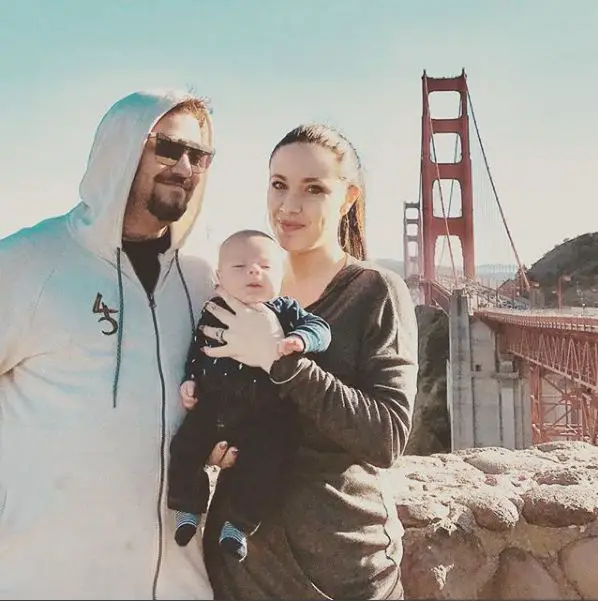 Nicole with her husband and son on 26 February 2018. (Photo: Instagram)
Nicole is enjoying her prosperous family life with the birth of a son that is manifested by her posts on social media. She currently resides in Spain with her husband and newly born son.
Nicole Boyd's Short Bio
Nicole celebrates her birthday every year on 24 January and her birth year is still a mystery. Although the information regarding her family is unknown, Nicole is accompanied by a brother named Warren Michael. She also exhibits her identical love towards her family members through social media.
Recently, Nicole expressed deep sorrow on the demise of her father figure through Instagram.