A small step can revolutionize the mindset of the whole world. For Nicole and her family, it was the issue of discrimination, but it later turned out to be the turning point in identifying transgender people with respect.
American actress Nicole Maines has been the talk of the town to be the first transgender to features as the superhero in the fourth season of the CW series, Supergirl.  She will be featuring as the lead character of Nia Nal, aka Dreamer, which is set to release on 14 October 2018. She also is known for her portrayal in the documentary, The Trans List.
Nicole Maines Came Out As Transgender
In an interview with ABC News in October 2015, Nicole Maines revealed about her side of the story entire the process of transition from male to trans-female.
In the interview, she revealed that she was born as a male with her identical twin brother, Jonas, and was named Wyatt. She identified herself as trans at the tender age of three. She said that she knew that she was supposed to be a girl but didn't know the word "trans" back then.
Nicole's parents spoke that they were aware of her unusual behavior. Also, her mother told that she wasn't like her other twin brother, Jonas. She said that Nicole wanted to dress like a girl and had behavior similar to a girl.
During her fourth grade, she thought of changing her name from Wyatt. She was inspired by the character of Nicole in the TV series Zoey 101 and felt that the role defined her, so she adopted the name.
During the middle of schooling, Nicole fell into the school bathroom issue. She used to girl's restroom, but then one of the classmates' grandfather complained to school officials. Later, in June 2014, she won the lawsuit after Nicole's parents filed for a case for a discrimination lawsuit.
Further on 20 October 2015, Nicole and her parents were featured as the subject of Becoming Nicole: The Transformation of an American Family.
The actress is now set to portray a role of a superhero in Supergirl. She is the first transgender to get cast in the show, which features Melissa Benoist, Carlos Valdes, Mehcad Brooks, and many more.
More About Transgender: Wesley Tucker Wiki: Age, Girlfriend, Dating, Gay, Transgender, Family, Height
Nicole Maines's Family: Adopted During Her Birth!
Daughter of Kelly and Wayne Maines, Nicole Maines grew up with her identical twin brother, Jonas. Nicole and her brother were adopted during their birth. Kelly and Wayne are not their biological parents.
However, her parents are very supportive and helped her to transform from male to trans-female.
Nicole Maines with her parents and a twins brother (Photo: www.pressherald.com)
Nicole's family are even featured in the book called Becoming Nicole: The Transformation of an American Family. Nicole's dad, Wayne even said that it was hard for him to identify Nicole as a trans-female and tried to ignore it. He then added that he had to dig deep into his soul to let her then-son become different.
Glimpse Of Nicole's Relationship; Posts About Boyfriend
Nicole Maines is often seen sharing posts related to boyfriend. On 12 August 2013, Nicole tweeted saying she never had a boyfriend.
However, on Valentine's Day 2013, she posted a photo kissing a guy and said that her companion bought him loads of chocolate for her as Valentine's gift.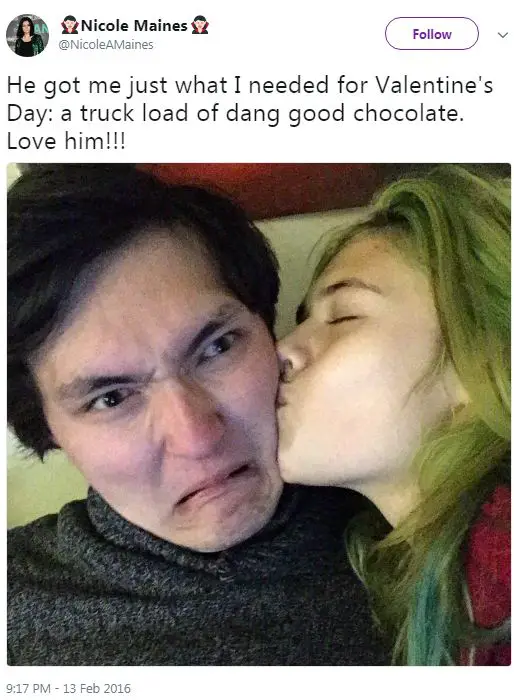 Also, she expressed her love toward the guy through her post, which hints that the duo is in a relationship. However, Nicole is yet to confirmed whether the guy, whom she kissed is her boyfriend.
Short Bio
Nicole Maines was born on 7 October 1997 in Gloversville, New York, United States. Nicole, age 20, went to  Portland, Maine, United States and resided there. Holding an American nationality, Nicole belongs to white ethnicity, as per wiki. 
She completed her elementary education at Adams Elementary School. Later, she attended the University of Maine.