For the entire radio program lover, Nicole Ryan is not a new name. She has made her fame from the radio world. Her SiriusXM's program 'The Morning Mashup' has become one of the popular shows which have helped her voice to be an essential part of her identity. Well, if you are one of the fans of Nicole Ryan then you might have known about her professional life but do you know her on a personal level?
Nicole Ryan's Profession And Net Worth
When it came to pursuing a career, Nicole chose to be a radio host. Now, with the hardships, Nicole has succeeded to become a popular on-air personality.
In the beginning, Nicole worked at the front desk of the Sirius XM Satellite Radio. As the producers of SiriusXM noticed her talent and voice, she was offered to co-host 'The Morning Mash Up' show with Sherrod Small and John Reed which became the main turning point of her career.
She too co-hosts Fuse TV's show 'United States of Hip-Hop.' During her career, she also got chance to take the interview of many well-known stars like Taylor Swift, Lady Gaga, Bruno Mars, Ryan Reynolds, Justin Bieber, Katy Perry and many more.
Nicole has become SiriusXM's entertainment reporter and has covered several events like 'The 2013 Superbowl,' '2013 New Year Eve in Times Square,' Vh1's 'Save the Music' and more others.
Talking about her net worth, she has not disclosed the exact figure of her income and salary. However, on the basis of her professional career, it can be assumed that she is well settled in her life.
Nicole Ryan's Wedding
The beautiful and talented Nicole has already exchanged the vows of marriage. She got married to her long-time boyfriend Matt Ryan, who proposed her romantically live on air. When  Nicole was on the set of 'The Morning Mash Up' on SiriusXM Hits on April 1, 2011, Matt got down on his knees.
At the same time, she was made a fool in the name of Bootleg Breakfast challenge. The couple later tied the knot in 2012.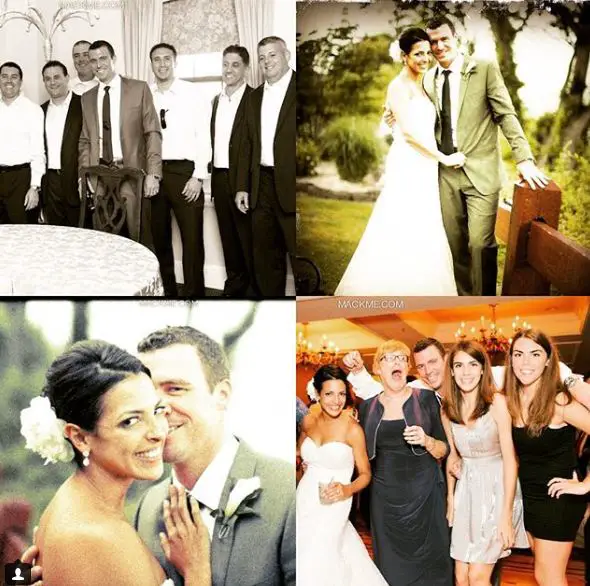 Nicole Ryan with her husband, Matt Ryan, on their wedding day (Photo: Instagram)
Now, the happily married couple is blessed with two adorable kids; a baby boy named Parker Ireland and a girl named Keegan Patrick Ryan. It has been almost five years since Nicole's marriage, and as of now, she is enjoying happy married life with her husband and children. Well, it seems that her marriage is running smoothly as there are no any hints of sourness in their relationship.
More On Nicole's Wiki
Nicole was born on August 26, 1982, in Syracuse, NY with a birth sign of Virgo. Currently, she is 35 years of age and has been balancing her personal as well as professional life.
It's admirable to see her expertness in balancing her different roles like mother, wife, friend, and on-air show host. She has set a perfect example for all the women who want to achieve a successful career managing their personal lives too.