Niki DeMar is a YouTube star famous for her beauty and fashion channel called Niki & Gabi. The channel- which she created along with her twin sister Gabi- boasted over 9.17 million subscribers until January 2020.
Furthermore, the beauty-fashion guru also has her self-titled channel through which Niki uploads vlogs based on her personal life. The channel flaunts a total of more than 2.38 million subscribers to date.
Niki DeMar's Bio With Age
Niki DeMar (real name: Niki DeMartino) was born on 5 May 1995. The Pennsylvania native grew up with three siblings: sisters Alex DeMartino (eighteen months older than Niki), Gabriella DeMartino (twin), and brother Anthony DeMartino (four years younger).
Check This Pennsylvania Raised Celeb:- Anna Congdon Wiki, Age, Parents, Baby, Saquon Barkley
The singer always loved performing in front of the crowd. As such, she would often sing and dance for her extended family. 
Dating Life; Present & Past
The YouTuber's boyfriend is none other than the camera guy and designer for her channels, Nate West. Niki talked about her beau fans for the first time through a video she published on 26 April 2017. 
The two first met in high school, but their relationship was limited to friendship. Eventually, after Niki's breakup with her ex in 2016, the duo started their romance.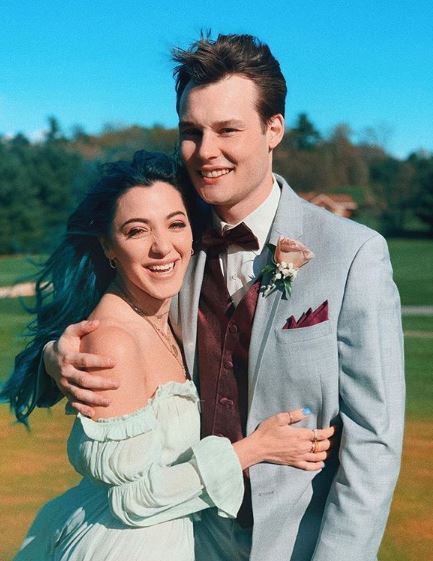 Niki DeMar with boyfriend Nate West on 28 April 2019 (Photo: Niki DeMar's Instagram)
Speaking of her exes, the beauty guru dated another YouTuber named Jerry Pascucci from 2012 till 2016. The singer/vlogger announced her breakup with Jerry, and her sister Gabi further revealed that the two broke up via text as Jerry found someone else while the sisters were on tour.
Niki's Net Worth
Niki DeMar's net worth, according to Gazette Review, is $1 million. Most of her earnings come through the tours she and her twin sister Gabi go on and the music they make.
Furthermore, her earning is further increased through the YouTube channels: Niki & Gabi and Niki DeMar. 
Another Famous Vlogger:- Nicolette Gray Wiki, Age, Boyfriend, Family, Net Worth
But that's not all; she also started her jewelry line called Niknaks in October 2019. She sells different products such as hoops, necklaces, and rings through the e-store.
Surgery Details
Niki has undergone cosmetic surgery to enhance her beauty further. The truth about her surgery first surfaced on 26 January 2018 when she talked about the procedure via a video. In the video, she spoke to her twin sister Gabi about the factor which drove her to undergo surgery.
Through the surgery, Niki has transformed her lips, teeth, and nose. After her transformation, which happened after the sisters started their YouTube channel, the twins were given the title of Opposite Twins.
One Bonus Fact
Niki has a height of five feet and six inches (1.68 m).