Floribama Shore has managed to keep the viewers at the edge of their with engaging story and sub-plots in the build up. Nilsa Prowant is one of the stars, who is the middle of the complicated relationship with her co-stars in the reality series.
American reality star Nilsa Prowant is most famous as the former participant of the inaugural season of MTV's reality show, Floribama Shore in 2017. Before she came to limelight, Nilsa used to work as a make-up artist. She is also known for competing in Maxim Magazine's Finest contest in 2017 before she took part in Floribama Shore.
Married At The Age Of 20; Had Miscarriage; Husband Cheated On Her
The 24-year-old reality star was married to US Army Personnel James Anderson on 1 December 2014. She was at the age of 20 when she exchanged wedding vows with the military. Their married life took an ugly turn when she caught her husband cheating on her.
Nilsa, at the premiere of her reality show, Floribama Shore in 2017, revealed that she was so in love with her then-boyfriend and believed that her leading man would always be with her for a long time.
But after Nilsa suffered a miscarriage, and her bond with James got affected. She was then left to mourn alone as her spouse was deployed, after a month she lost her baby. She said,
The one thing a woman wants to have in life is to have a baby so we got pregnant and then I lost the baby, I had a miscarriage.
She then added that, after the miscarriage, James cheated on her, which inevitably brought curtains down to her married life.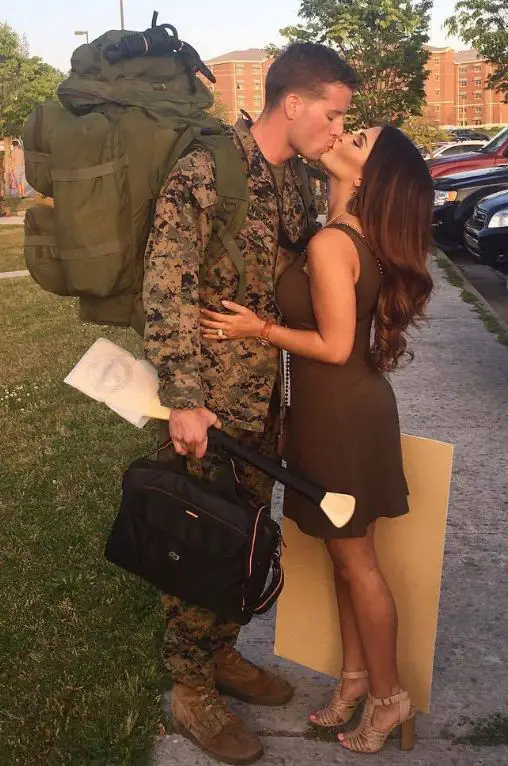 Nilsa Prowant with her former husband, James Anderson (Photo: Wikifeet.com)
Nilsa and her previous beau, James separated on 22 September 2016 when she filed for divorce a year later in September 2017. She also pleaded to grant her divorce as soon as possible.
The pair agreed to part ways with and property settlement before the divorce, on 20 January 2017. James decided to pay $1,000 per month in alimony from 1 February 2017 until 1 July 2017. He even spent the monthly payments of his wife's motor vehicle till 1 March 2017.
The ex-couple mutually agreed to retain their sole and separate property such as cars, jewelry, household accessories, furniture, clothing and more. James reportedly paid $25,850 for the final divorce settlements.
Hooks Up With Reality Star, Not Getting Married Anytime Soon
Nilsa shared an intimate kiss with Jeremiah Buoni's brother, Josh, in one of the episodes of Floribama Shore that aired on 18 December 2017.
The in-house mates of Floribama Shore shared an aggressive kiss and were intimate with one another. Josh stayed the whole night and enjoyed a great night together.
However, the reality star later claimed that she knew nothing about the hook up as she was drunk. In an interview with Life And Style Magazine, Josh's brother Jeremiah spoke that he didn't seek a romantic relationship with Nilsa because his buddy, Gus Smyrnios had feelings for Nilsa. He said, 
"If that wasn't the case, I probably would have gone after her. But even after meeting Gus, I knew that we were similar people and I knew that if I did something, I would have lost his respect immediately."
The second season of the TV series is keeping their daily audiences drooling towards the edge of the seat from romantic fling between Nilsa and Gus. On the 16 July 2018 episode of the series, Nilsa admitted of liking Gus after she slapped him on the previous season in the summer of 2017.
The Reality Star posted a picture with Gus recently on her IG account on 23 July 2018 to address her followers to watch the unfolding of the latest drama on their TV series. She made her fans quite inquisitive about the episode and her love angle with Gus. 
Gus on the other hand also shared an image of hugging Nilsa on his social media page on the same date. He captioned the picture, 
"Tensions run high while in the beach house. It's both a blessing and a curse to feel everything so deeply and that's something @nillythesquid and I have in common. Glad we've came as far as we have since last summer. What are y'alls thoughts on the potential between us? New episode of @floribamashore tonight at 10/9c on @mtv #mtvfloribamashore #mtv #gilsa #bleedlikeme"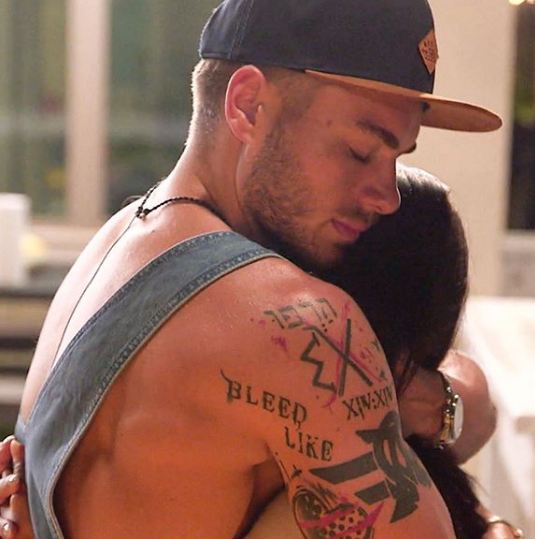 Nilsa Prowant and her co-star, Gus Smyrnios on 22 July 2018 (Photo: Gus's Instagram)
Nilsa even got jealous with one of the bar girls when she was too cozy with Gus. While all the housemates were drunk in the second episode, Gus carried Nilsa to the cab where they were seen kissing each other.
However, after the lip-lock, both Nilsa and Gus realized that they aren't expecting the same thing for their relationship. As of now, they have still maintained the mystery about the conclusion of their relationship and are making people wait until the end of the season.
The reality star, Nilsa seems in no hurry to get married. She revealed that she is not getting married again on her Twitter post on 27 November 2017.
She then posted another tweet on 29 December 2017 about her New Year's Resolution to have a boyfriend so that she could not feel awkward standing in the side of her family picture.
Host Of Summer Party With Floribama Shore Contestants!
Nilsa on her recent Instagram picture on 20 July 2018 revealed that she is hosting the ultimate party along with her Floribama Shore co-stars, Aimee Hall and Kortni Gilson. The event is scheduled for 4 August 2018 at Fort Walson Beach, Florida with "VIP meet and greet" program at Cash's Liquor's situated on Okaloosa Island.
She also addressed her followers about the Twerk contest, DJ V Train, cash prizes and drink specials that are set to be included in the party. The party mongers can get their tickets at Eventbrite. 
Don't Miss: Scott Timlin Wiki, Girlfriend, Dating, Gay, Family, Net Worth, TV Shows
Short Bio
The reality star celebrates her birthday on 2 January. She, 24, was born in the year 1994 in Panama City, Florida as per wiki. She stands few inches shorter from the height of her former fellow contestant, Jeremiah Buoni, who stands at the height of 1.89 m (6' 2"). Nilsa's birth sign is Capricorn.