The romance of the celebrity has always been a matter of curiosity for the fan and followers. The Instagram sensation, Polyxeni Ferfeli, is also on the highlight because of her romantic bond with the professional football player Odell Beckham Jr. Well, you might have known her as Odell's love interest but do you know her on a personal level?
Poly's Love Relation With Beckham
Poly, the Instagram model, is in a romantic relationship with Odell Beckham since April 2017. The couple was then spotted a number of times. In April 2017, Poly and Beckham were seen enjoying their evening time at Six Flags Magic Mountain in California. They were even seen enjoying the beach date in Cancun, Mexico in July 2017.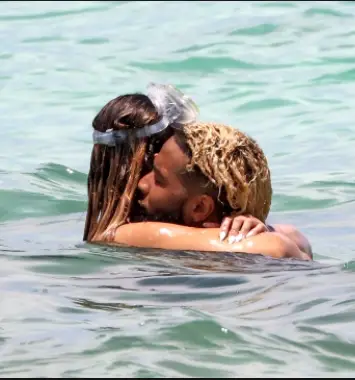 Odell Beckham pictured with Poly in Cancun, Mexico in April 2017 (Photo: tmz.com)
Before dating Poly, Beckham's name was also linked with Amber Rose, Khole Kardashian, and Zendaya. Beckham was even rumored to be in the love relation with Iggy Azalea as reported in Us Weekly in October 2017. However, Iggy and Beckham denied the rumors. As of now, it seems that the relationship between Poly and Beckham is running smoothly.
Career And Progression
Poly is much popular on the social sites and is most famous as an Instagram star. Poly's pictures of her jet-set lifestyle and her fashion sense helped a lot to uplift her career. 
Well, Poly has also worked for Elgeka Group as a marketing assistant from May 2010 to August 2010. She also worked with ELGEKA-FERFELIS SA as human resource generalist. Poly is much conscious of arts and culture, economic empowerment, education, environment, health, human rights, politics and social services.
Poly's Net Worth
Poly has made her name and accumulated fame in the world of Internet and got recognition as the popular Instagram star. Being a famous Internet sensation, Poly might be collecting incredible income from her profession. Despite that, her earnings are confined to herself. As of now, Poly has deactivated her Instagram account.
Short Bio
Poly was born on March 28, 1994, in Thessaloniki, Greece. She is currently 23 years of age, and the birth sign is Aries. Talking about her ethnicity and nationality, she is Greek. Poly had earned a degree in global business management and finance from the Regent Business School of London. She is fluent in speaking English, Greek, Spanish and Romanian languages. She enjoys a noticeable height. She has a sister as her siblings.