Entering in the profession where your parents are already established often pave the way for the negative comments. Olivia Harlan, the daughter of sports announcer on TNT for the NBA game Kevin Harlan, was bashed for nepotism after opting the same profession as her dad. However, her competence and skill have shut the mouths of the critics as she has been gracefully doing three jobs at a time.
Professional Career:
Olivia Harlan was inspired to choose the career of journalism from her father, Kevin Harlan. Kevin is the famous face of American and Radio Sports Announcer who has worked for decades in the broadcasting sector.
Olivia now works as the ACC All Access on Fox Sports South. She previously worked for both the large sports broadcasting channels like ESPN and SEC Network. She also served as the sideline reporter for the host of 'ACC All Access' and NBA's 'Atlanta Hawks.'
Olivia is best known for her work at her college days when she was a football reporter. Apart from that, Harlan also wrote for the school's athletics website at such a young age after her degree in Broadcasting.
Her Nepotism Issues:
Many people criticized Harlan for choosing a career of her father. People claimed that it was easy for Harlan to get work in any broadcasting channel because of her father.  However, she cleared the blame and discussed her struggles in the earliest stage with GQ magazine in December 2015. She said,
"When I went in for the interview they didn't know who my dad was, since he doesn't work for FOX or cover college ball. And then I got my ESPN job through the work they saw me doing on FOX. So nothing I've done has had anything to do with family connections."
Any Plans on Getting Married to Dekker?
Despite her hectic schedule, Olivia Harlan loves spending time with her longtime boyfriend, Sam Dekker.
The couple, who shared a dating affair for a while, is now all set to ring the wedding bells. Harlan made her engagement with Dekker public through sweet Instagram posts on May 2017 where she wrote,
"I've been stupid in love with this guy since day 1. He asked me to be his wife last night that means I can cry from laughing and poke his dimple forever. I thank God every day for bringing me this perfect man."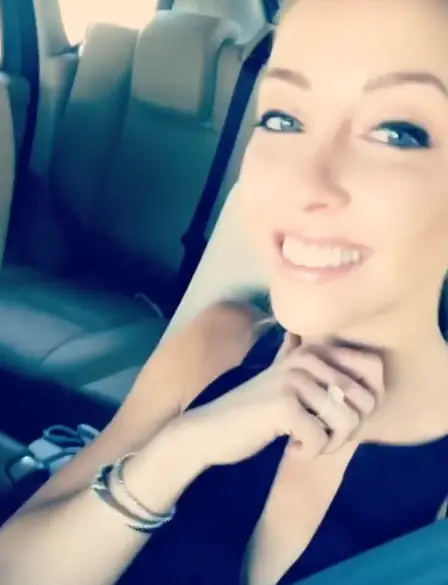 Caption: Olivia Harlan flaunting her engagement ring on May 27, 2017.
Source: Instagram
Her excitement on the post makes it evident that she's super happy for finding Dekker as her ideal match. Harlan also shared a tweet about her marriage in October 2017 where she humorously wrote that she's curious about how her wedding gifts would respond to playing Hamilton soundtrack.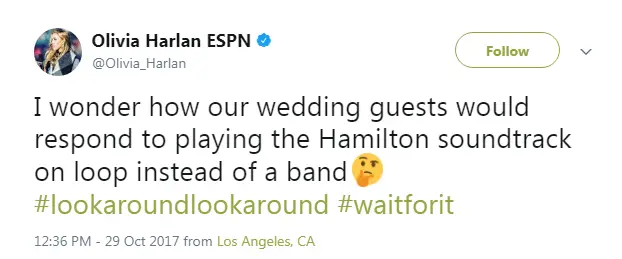 Now that so much has been revealed by Olivia herself; her fans are also looking forward to seeing Harlan and husband-to-be, Dekker exchanging vows.
Her Short Bio:
Olivia Harlan was born on April 9, 1993, in Kansas City, the United States as per wiki. She was raised by her parent Kevin and Ann Harlan during her childhood days with proper love and care. Harlan had attended the University of Georgia with a degree in Broadcasting. She stands a pretty impressive height and belongs to white ethnicity.